Media Watch
1
Media Watch - Pep: I don't forget how good we are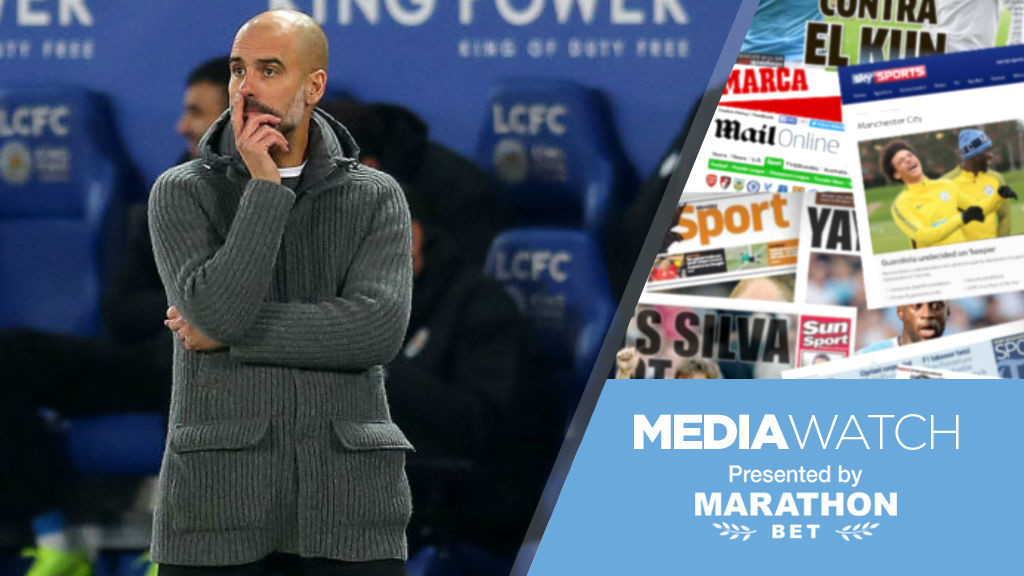 It may have been a Christmas to forget for Manchester City but Thursday's media watch carries a timely message of hope and defiance from Pep Guardiola as the focus switches to the second half of the Premier League season.
With the campaign now at the official midway point, Boxing Day's disappointing 2-1 loss away at Leicester has left us with ground to make up on both leaders Liverpool, who have opened up a seven-point gap and Tottenham who edged above us into second spot yesterday.
But Thursday's national media headlines carry reassuring words from the boss, who points out that there is still an awful lot of football to be played between now and May despite our back-to-back losses to Crystal Palace and Leicester.
We kick off with ESPN whose City reporter Jonathan Smith reports on why Guardiola believes the dynamic and accompanying pressures may have changed at the top of the league.
Writes Smith: "While City now prepare for a crucial trip to take on Southampton this weekend, Liverpool, meanwhile, face Arsenal and Guardiola warned his rivals that it can be difficult to lead from the front when everybody expects you to win.

READ: City v Burton Albion Carabao Cup semi-final home leg date confirmed
WATCH: City stars spread some Christmas cheer on hospital visit
"From January-February [last season, people said] the Premier League is over," Guardiola added. "To live with that is not easy.
"Football is [that] you are able to win a lot of games and you are able to lose a lot of games. When I was at Barcelona for one period I lost four games in a row.
"The less important issue is Liverpool. We have to think about Southampton, recover mentally and recover what we are like a team. I don't forget who we are.
"How good a team we are. How exceptional these lads I have in the locker room. But the reality is we lost three in four games and the last two. If you want to be real contenders you have to win again, if you don't, it will not be possible."
"City are now seven points behind leaders Liverpool but the Catalan insisted his side will still be in with a chance of defending their title if they match the 44 points they collected from the first half of the season.
"But the Blues boss warned that City must regain their winning form soon after a run of three defeats in their last four games.

"Today we finished the first [half of the season] and made an incredible amount of points," Guardiola pointed out. "Normally with those points we would be fighting to be champions. If we make the same points in the second half of the season, we are fighting to win the Premier League.
"But last season, while there were many teams that did well, we were fantastic. This season, there are two or three teams better than us. We're not thinking about taking points, the issue is trying to win again and think ourselves about what we have to do."
Meanwhile in the Daily Mail, Guardiola declared the need for the champions to urgently 'change the dynamic' back to winning games.
And he warned that be considered real contenders for the title, City have to rediscover that winning habit.
Joe Bernstein reports: "Guardiola acknowledged: "'Now there will be doubts among my players.
READ: Four Manchester City February fixture changes announced
WATCH: Bernardo Silva | 'We need an instant response'
"'What we have to do is try and change the dynamic to winning games. We are able to do that but I have to reflect myself, think about what the team needs and try to help them.
"'That is what will concern me for the next few days. Good results are miracles for the mind and I have to help the players come back, change something and try to win again."
The City boss ignored questions about next week's six-pointer against Liverpool, insisting they first had to beat Southampton at the weekend. And he will hope the match sharpness shown by Sergio Aguero and Kevin De Bruyne kicks on after their respective after injury lay-offs.
"'Some players needs time and minutes in their legs,' said Guardiola. 'We lost again and have to accept it but in all the games (City lost) we were better. We conceded another fantastic goal that gave Leicester their win.'"
Finally, one of the bright spots from a disappointing afternoon in the East Midlands was the reassuring sight of John Stones back at the heart of the Blues' defence.
And the Manchester Evening News's Simon Bajkowski was amongst those to highlight the England man's performance

Bajkowski scribed: "One positive to take was the return of John Stones to the defence.
"It was on this ground in 2016 that the Guardiola project and Stones suffered one of their lowest days, the England man held up as the posterboy for a style of football that many concluded would not work after a 4-2 defeat here in which the scoreline flattered the visitors.
"Two years on, how the critics have quietened and Stones showed how much has changed in the opening minutes.
"A hoofed Danilo clearance had Jamie Vardy smelling the back of the net as he hared forward ready to take advantage as the ball dropped over Stones's head.
"Instead, the centre-back plucked the ball from the sky, feinted to go one way before giving it the other way to Ederson who promptly knocked it past Vardy."