Media Watch
1
Media Watch: Sane on City's 'wake-up call'
LEROY LESSONS: The German winger hopes City have learned from last weekend's 'wake up call'
Rise and shine! Morning has broken on another City matchday, as the Blues have the chance to return to the top of the Premier League table with a lunchtime kick-off against Everton.
The visit of the Toffees – a potentially sticky test with Pep Guardiola never having beaten the Merseysiders on home soil – provides the chance to return to winning ways in the league, following last weekend's defeat to Chelsea and Leroy Sane hopes his side have learned lessons from their 'wake-up call'.
Speaking to Sky Sports, the in-form German winger admitted: "It is always kind of annoying and it hurts, to lose especially a big game. We were really disappointed because even at the beginning the game looked in control and we had quite a few chances.
"I think everyone could see again that at a high level it is really difficult and hard to play. I think this game was a little bit of a wake-up call, but we are still really hungry, everything is still really tight, and still kind of early.
READ: Guardiola gives Aguero, De Bruyne, Stones update
WATCH: City spread festive cheer at Manchester hospitals
GALLERY: Top of the class! | Foden's Christmas treat
"I think sometimes we make some simple mistakes in our game, like simple passes when we are not really awake, or 100 per cent focused on the beginning, we can lose and miss goals.
"Those kind of things can sometimes create some difficult times, create chances for other teams and they get confident. We have to be more focused on our game, to use our chances also at the front, to create more hunger. I think we improved already a lot this season again."
Sane also opened up about his disappointment, having been left out of Germany's World Cup squad, but asserted the setback inspired him to reach the next level.
"[The World Cup] motivated me much more to say I have to be at the next big tournament," he added. "It's a dream for me, and when I saw friends and team-mates playing, I was quite a bit jealous of them, of course, and happy for them too.
"For me, I don't care anymore and don't even think about it anymore, it is done.
"I think at the start of the season I wasn't playing that much, and we had a good strong team, and it can happen that you're not staying in the starting line-up.

"But I am happy about that, because I think everyone can just improve because you have to work hard to be kind of better than the other ones!
"I think this is pushing the other people too. This was what was pushing me, and I tried to give my best, to improve and come back stronger than the past season."
Meanwhile, Everton boss Marco Silva has urged his side to show 'ambition' against the Champions.
"We will have a similar mentality to that we showed at Anfield [two weeks ago]," he told press. "Each game you have to put the same ambition on the pitch, even if you know in some moments they will control the game.
"I don't like to concede goals, but when you play against City they will have a chance to score. You have to accept they have that capacity — not just against us but against all the clubs in the world.
"So, my feeling – my plan – is when you play against City if you don't score at least one goal you have a low chance to achieve a good result. When we have the ball, we have to try to play our game to try to create the chance to score.
"I think we play against the best Premier League team, the incredible high quality they have, the fantastic football they play at times – but they have some weakness as well.
"We will try to take advantage of that in some specific moments of the match as well.
TALKING POINTS...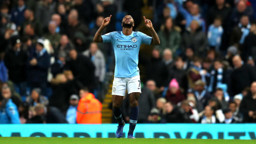 "We know City take some risk in their game as well, they play offensive football and some moments they will obligate us to do what we don't like, to run back to the ball.

"So, when we have the ball we have to try our game and try to create chances to score and play with ambition in some part of the game."
In other news, there's a snippet of transfer gossip as Calcio Mercato claim to have an update on the alleged interest in Frenkie De Jong, asserting the Dutchman has set his sights on a move to Barcelona with his Ajax teammate.
An article reads: "Matthijs de Ligt and Frenkie De Jong are one of the hottest names on the transfer market.
"The two players are the primary objectives of Barcelona but are also on the radar of the majority of top clubs around Europe like Manchester City, Paris Saint-Germain or Bayern Munich.
"However, the desire of both players seems to be to play together at the Camp Nou.
"Neither De Jong nor De Ligt have yet made a decision about their future. They do not want to rush are not in a hurry to choose their destination, but both are waiting for Barcelona, a club they prioritize ahead of the other suitors."