Media Watch
1
Media Watch: Pep - City ready for fixture pile-up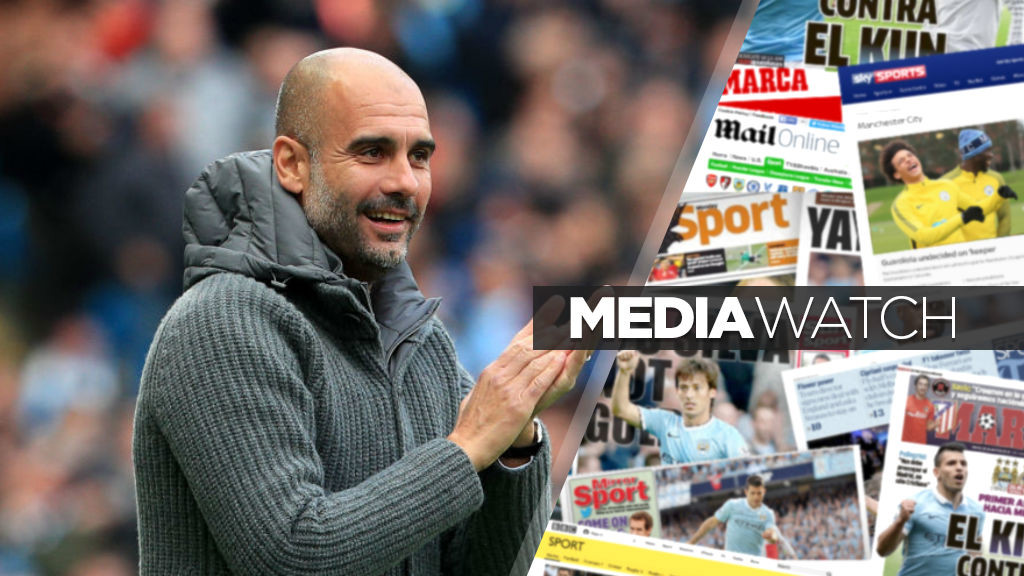 ACTION STATIONS: Pep Guardiola and his Manchester City squad face a gruelling run of fixtures over December
It's December and as City kick-off a marathon run of games at home to Bournemouth, Media Watch carries news of how Pep Guardiola is confident the Blues can cope with that frenzied fixture schedule.
Saturday's round-up of all the City-centric headlines also carries the Blues manager's thoughts on midfield reinforcements in the January transfer window, high praise for Aymeric Laporte and some sobering statistics for Bournemouth fans.

But we kick-off with a look at the month ahead. Bournemouth are at the Etihad today at the start of what promises to be a gruelling December with nine games shoe-horned into the month across three competitions.
Despite that intense workload however, the Blues manager says he is confident that even with injuries to Benjamin Mendy and Kevin De Bruyne, the City squad will be able to manage the demanding schedule.
READ: Talking points | Blues look to profit from derby weekend
WATCH: Guardiola unfazed by Blues' Bournemouth record
Reporting in the Manchester Evening News, Simon Bajkowski says Guardiola has seen nothing to suggest City will not be able to keep their form through a dense schedule.
Bajkowski writes: "When we are not able to win the games, people are going to say we cannot keep the standards but we have been at the same level for the last 16 months," he said.
"I don't have any reason to think we will not try or be who we are.
"That doesn't mean win or lose because opponents are good and anything can happen, but the way we have approached the games over the last 16 months I don't see any signals to see we are not going to try or be who we are.
"Maybe it will be a surprise! If it happens, we will be surprised a little bit and we will correct it."
Meanwhile Sky Sports runs a story on how Pep has no plans to bring in a January back-up for Fernandinho despite our demanding fixture list and how he is happy with City's alternative midfield options.

Sky's James Dale scribes: "Fernandinho turns 34 before the end of the season but has started every Premier League game for leaders City, who have not conceded a goal in open play in the competition in three months.
"The Brazilian's current contract will expire at the end of the 2019-20 campaign and manager Guardiola admits the player is his only "specific" option in defensive midfield, but insisted there is "no way" Fernandinho can continue playing each match as City approach a run of 10 games in little over a month.
"But Guardiola has ruled out dipping into the market to bring in back-up for Fernandinho.
READ: Pep | Mendy can learn from Fernandinho
WATCH: Lyon 2-2 City | Champions League highlights
"We have alternatives - John [Stones] can play there, Danilo can play there, Fabian Delph - even [Oleksandr] Zinchenko can play there, Ilkay Gundogan can play there," he said. "We have a good squad depth and a few players can play in several different positions.
"I said previously we are not going to the transfer market, I'm so delighted with the squad we have.
"I am sad when many players deserve to play do not play - imagine if we bring another one. It's better like this."
Aymeric Laporte is another City player to have been in imperious form so far this season and there is high praise for the Frenchman fromTV pundit Jamie Carragher.
The Metro reports how Carragher believes Laporte and Liverpool's Virgin van Dijk have emerged as the Premier League's top two centre-halves.
The pair joined their respective clubs in the January transfer window and have made a dramatic impact over the past 11 months.
The Metro writes: The former Liverpool and England centre-half told TalkSport: 'I think he's (van Dijk) brilliant. I think he's the best centre-back in the Premier League and I also think Aymeric Laporte at Man City has been brilliant since he came in.
"'Forget his actual position; when you think of maybe the best top ten players you think of Kevin De Bruyne, David Silva, Sergio Aguero, Harry Kane, Mohamed Salah, David De Gea and Eden Hazard as well.

Finally, looking ahead to this afternoon's game at the Etihad, the Cherry Chimes weblog has pored into the Premier League stats and revealed how it makes for sobering reading for Bournemouth fans.
They report: "Eddie Howe has a big job on his hands looking at the stats for Man City. They top just about every chart and table and it can't make good reading for any Premier League manager plotting to overturn Pep Guardiola.
"Possession can almost expect to be conceded with Man City having made 9100 passes so far this season compared to Bournemouth's 5536. City average almost double the amount of passes to Bournemouth per game and of course City are out scoring everyone having scored 40 goals compared to Bournemouth's 22.
"In that respect losing by less than three goals could be considered a good performance as that is what City are averaging per game.
"Surprisingly Bournemouth do beat City in at leat one statistic. On penalties City have not had one whereas Bournemouth have scored five. On clearances as well Bournemouth have had to make more with 392 compared to 187. Begovic has also been the busier keeper making 36 saves compared to Ederson's 20 saves."