Media Watch
1
Media Watch: Glowing praise for City's 'old guard'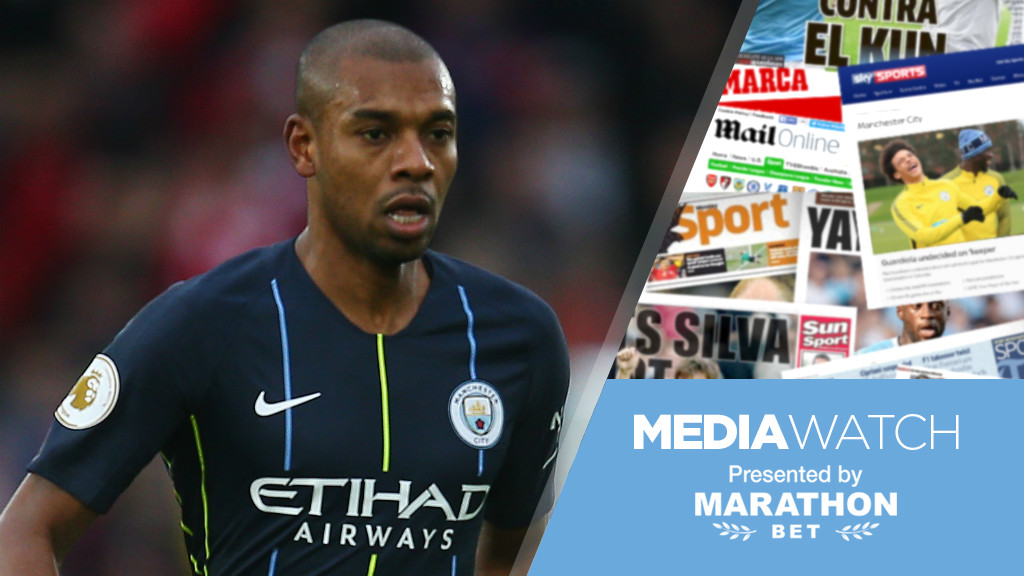 FAB FERNA: The Brazilian earned plenty of acclaim, following another influential display...
Signing off 2018 with a win! City rounded off an astonishing year with a timely return to winning ways at Southampton.
After a difficult period of results, victory at St Mary's was imperative with Liverpool having extended their lead atop the Premier League table ahead of Thursday's crunch match… and the Blues completed the task.
The margin of victory could have been higher but it was a case of: 'job done' for the Champions and while several players produced impressive displays, the footballing world acknowledged instant improvement with the inclusion of the previously sidelined Fernandinho and David Silva.
Matt Barlow of the Daily Mail reflected: "There was an element of swagger back in Pep Guardiola's team after three defeats in their previous four games and there were long spells of dominance, strewn with familiar quick-fire passing sequences which shredded Saints.
READ: City back on track with fine win at Southampton
WATCH: Southampton 1-3 City | Extended highlights
GALLERY: Saints alive | City back in the groove
"There was the reassuring presence of Fernandinho, back after a fortnight out and patrolling on the toes of the back-four as if never away and relieved to escape injury from a reckless tackle for which Pierre-Emile Hojbjerg, Southampton's goal scorer, was sent off late in the game.
Jack Gaughan of the same source agreed: "This result resembled something of a reboot, City rediscovering an element of zip, a more cohesive unit with arguably their two most important men back.
"Fernandinho is understated, the sort of quietly dependable character who never forgets to take the bins out. In this case, he is the quietly dependable player who refuses to deviate from his station.
"That offers City a base they simply do not have otherwise and it became even more blindingly obvious during those ruinous Christmas defeats.
"Apart from his positional sense, there comes added trust when Fernandinho anchors. City are liberated, owning a confidence to take more risks while safe in the knowledge he will happily bail them out otherwise.
"It is more what he does without the ball but Fernandinho also has no issue gathering possession in tight spaces, as evidenced when he pierced Southampton from his own third after Ederson had diced with disaster inside City's six-yard box with Zinchenko and Vincent Kompany.
"One comes with the other where Fernandinho and Silva are concerned. This is their sixth season together, telepathy clear.

"Silva flourishes with him – scoring the opener, creating four chances, his pass completion touching 90 per cent. He might look like a new man but City realise the value of their old guard."
On Fernandinho's influence, the BBC's Garth Crooks hailed: "Boy, have Manchester City missed this lad.
"You can talk all you want about Kevin De Bruyne and David Silva but it is clear to me that over the festive period City have not been the same force without Fernandinho.
"The Brazilian returned from injury for the clash with Southampton and he was instrumental in re-establishing City's personality on the game again. They can't win the title without him."
The Independent's Jack Pitt-Brooke also opined: "City began the game playing just as they would want. With controlling, creative football, pinning Southampton back and opening them up.
"With Fernandinho fit, City had their midfield keystone back and suddenly the whole structure made sense again.
"The opening goal, 10 minutes in, was a classical Manchester City goal, the type of goal that comes from years of work on the training ground.
"[In the second half] City had a two-goal lead and there are no better teams at managing a game from a position of such strength than them.

"They regained control of midfield, kept the ball and created enough chances to win the game by a distance."
Our Brazilian enforcer Ferna scooped several Player of the Match awards, including our own. The Manchester Evening News, who also reserved praise for David Silva and show-stopper Ederson scribed: "(Fernandinho) showed exactly why City were so desperate to get him back in action, shielding the back four perfectly, winning key challenges, and proving to be the pivot of every attack."
Meanwhile, El Mago, who opened the scoring, earned the 'star man' plaudits from elsewhere.
Sky Sports purred: "Back in the starting XI, Silva opened the scoring and was City's chief creator in a largely dominant first half.
"He crafted four chances, was accurate with 91 per cent of his passes and has now scored home and away against the same side in a single season six times (Arsenal 13-14, Newcastle 14-15, Stoke 17-18, Swansea 17-18, WBA 14/15, Southampton 18/19)."
Jonathan Smith of ESPN wrote: "(He) offered City much control when they were going forward. Unusual lack of composure when he fluffed an early chance but made up for it with a neatly taken opener."
Eurosport echoed: "The playmaker is often overlooked, but he is the player who makes City click in the final third. This performance served as a reminder of Silva's quality."
RALLYING CRY...
Absolutely magic.

In other news, despite Guardiola's assertion City are not looking to do business in the January transfer window, the Mirror claim the Blues are targeting Real Betis full-back Junior Firpo.
According to Francisco Acedo: "Blues boss Pep Guardiola has been checking on the 22-year-old, who has been heavily linked with Real Madrid as a long-term replacement for Marcelo, who turns 31 this season.
"Premier League champions City are now weighing up whether to make a move for Firpo, who could provide cover, and competition, for Benjamin Mendy.
"City have been struggling for defensive cover with Mendy once again injured and Fabian Delph currently suspended, and Firpo is seen as one of Spain's best young prospects.
"Betis would be looking for £40million-plus if they do a deal in January, plus the potential of signing a player on loan.
"European champions Madrid appear to be in pole position to get Firpo, but City are watching developments closely."
Finally, the Times report City have had a £45million bid rejected for Lyon midfielder Tanguy Ndombele with the French outfit allegedly holding out for their £75million valuation.