Media Watch
1
Media Watch: We can break more records - Bernardo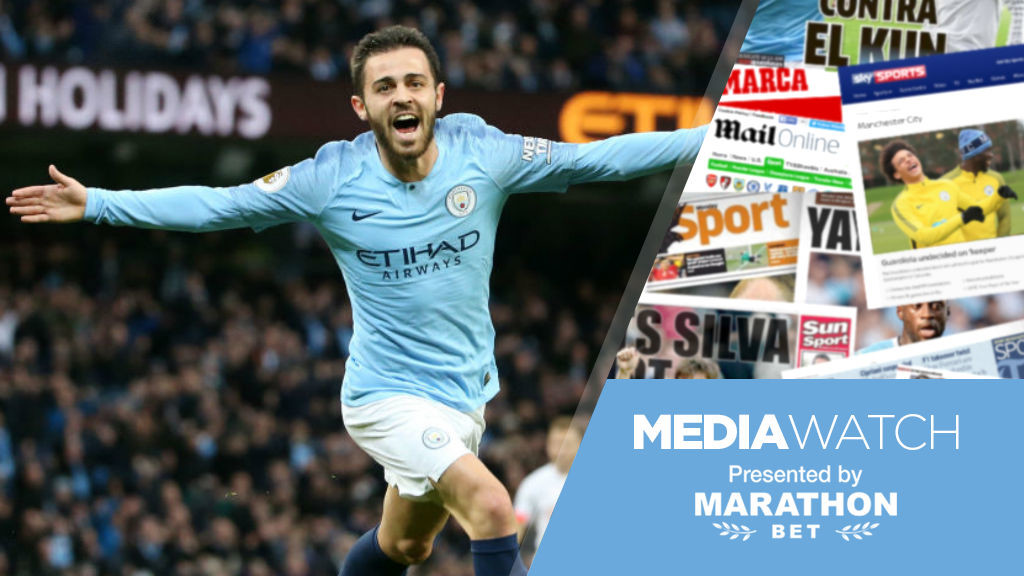 SHARP SHOOTER: Bernardo Silva was on target for City in our 3-1 win over Bournemouth at the weekend
​Monday's media round-up kicks-off another busy week for Manchester City with a claim from Bernardo Silva that the Blues have the potential to eclipse last season's historic achievements and re-write the record books once more.
There's also further evidence of Leroy Sane's key impact on Pep Guardiola's side and reflections on what was a crucial win for City's women in their their top-of-the-table showdown with Arsenal.
But we start with Bernardo who made an impressive return to action after a brief injury lay-off against the Cherries, scoring City's opening goal in Saturday's 3-1 win.
It was the Blues' sixth straight Premier League victory and maintained our two-point advantage at the top over Liverpool ahead of Tuesday night's league trip to Watford.
However, the Portuguese midfield marvel told BT Sport that he also feels the team as a whole are still improving and possess the potential to better last season's historic achievements which saw us win the Premier League with 100 points, 32 wins and 106 goals – all domestic records.
BT Sport reported: "Looking ahead, Silva said: "It's almost the same squad with some improvements, like Riyad (Mahrez), and more time together.
READ:Pep Guardiola hails Gabriel Jesus's work ethic
WATCH: Tunnel Cam | Three goals, three points!
GALLERY: City 3-1 Bournemouth | Blues stay in pole positIon
"So, yes, we might be a bit better. We want to break the records of last season, but it's not easy.
"Each one of us knows the other better so it's easy.
"This squad has the quality to change a few players and still not notice much difference. We have a lot of quality players.
"It's a little bit of pressure for our rivals – they have to win to stay close to us but it's only the start of December so too early to talk about pressure."
"Bernardo was also effusive in his praise for Raheem Sterling who struck again against Eddie Howe's side for his ninth goal of the season.
"The Portugal international said: "I hope he can get more than he got last season. He has been in fantastic form.

"He is so aggressive with the ball and so focused on the goal. If he continues like this he will help us win some titles."
Another man to impress at the weekend was Leroy Sane who proved a thorn in the Cherries side all afternoon.
And the Manchester Evening News carries evidence of Sane' remarkable impact over the past 18 months – not least in the number of assists chalked up by the 23-year-old.
Joe Bray reports: "To highlight just how ruthless City have been over the past two seasons, the list of assists provided since August 2017 is dominated by City players.
"Leroy Sane put in a man-of-the-match display against Bournemouth on Saturday, and took his tally of assists up to 20 since the beginning of last season - more than any other player in the Premier League.
READ: Pep Guardiola explains Sergio Aguero absence
WATCH: Inside City Episode 319
"Closely behind him is Raheem Sterling (17) and Kevin De Bruyne (16), while David Silva has 13.
"Only Tottenham's Christian Eriksen stands in the way of a clean sweep for City with his 14 assists.
"Discussing the incredible statistic on Match of the Day, pundit Danny Murphy hailed Sane's performance against Bournemouth and the impact of Guardiola's philosophy.
"Murphy said: "(Sane) was incredible to watch. Maybe he's had a point to prove after being left out of the World Cup squad.
"What I saw on Saturday was a player who was hungry, works hard as Pep (Guardiola) loves.
"He's absolutely devastating, with his pace, with his ability to run with the ball at pace, and of course what any good winger can do picking the right choices when you get in there - end product.
"Nobody's got more assists since the beginning of last season. That's exactly what Pep wants.

"Bournemouth were terrific for much of the game but they still couldn't cope with this. [Steve] Cook and [Simon] Francis couldn't cope with him, whether to drop off or go tight. Even when they did get in the right positions he was too good for them."
It was also a memorable weekend for Manchester City's women who recorded a superb 2-0 win over leaders Arsenal in a crucial FA Women's Super League encounter.
And according to the Guardian, the result could prove pivotal come the end of the season.
Suzanne Wrack writes: "A Georgia Stanway double and a tactical masterclass from Nick Cushing, who said Manchester City now have a "fighter's chance" at the title, led the home side to become the first team to take points off an injury-hit Arsenal and closed the gap at the top of the Women's Super League to three points.
READ: Man City 2-0 Arsenal | Stanway brace downs the Gunners
WATCH: 30 years of women's football | Round table part one
"In this isolated period nine points is very difficult, six would have still been a challenge, three and we've given ourselves a fighter's chance," the City manager said.
"But it doesn't mean anything. I remember eating my Christmas dinner last year and we were top of the league unbeaten, won every game, Continental Cup final, FA Cup semi-final, Champions League quarter-final and by the end of the season we took nothing."
"I can't do much more than I'm doing and hopefully he sees that," said Stanway of national manager Phil Neville, when asked about her England World Cup chances after her two goals in front of the national manager.
"But at the end of the day I'm still young (19), I have loads of time and there's massive competition. It would be a dream come true to go but I'm at the start of my journey."