Media Watch
1
Media: Laporte one of Premier League's best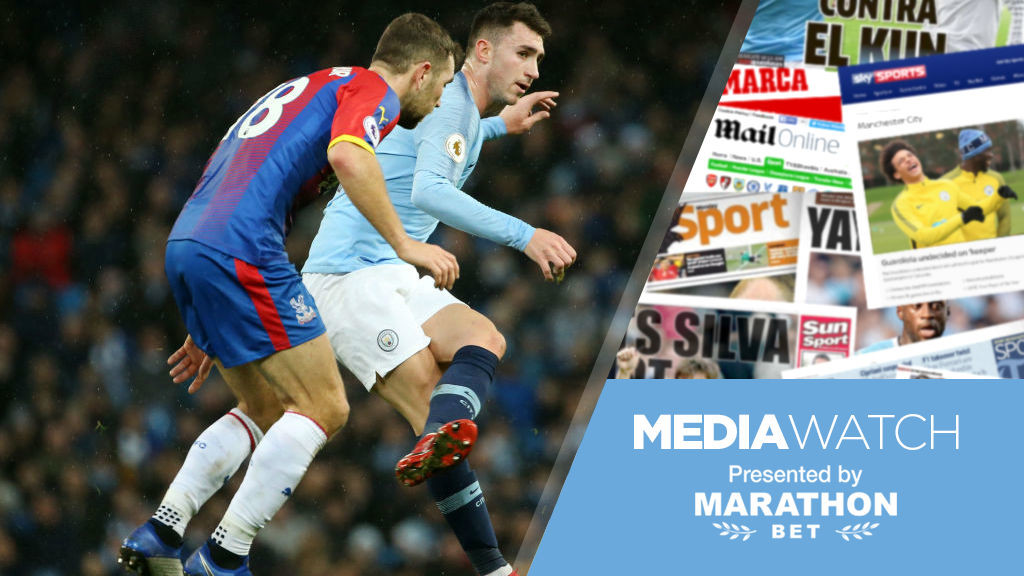 MEDIA WATCH: Your Sunday round-up!
It's your Sunday media round-up…
A reflection on yesterday's disappointing result against Palace, plus a sprinkling of festive transfer gossip feature in today's media watch!
First up, we begin with a word on Aymeric Laporte.
Despite City's 3-2 defeat to the Eagles on Saturday afternoon, the Manchester Evening News have picked out a positive in their post-game talking points.
Simon Bajkowski comments on our defender's quality, claiming he is one of the best in the top flight.
The MEN journalist scribes: "Aymeric Laporte has been at least one of the best central defenders in the Premier League this season, if not top of the tree.
"His ongoing France snub is bizarre, with Didier Deschamps coming out and saying it is impossible to play with two left-footed centre-backs in your team.
"Guardiola would surely manage it, and regardless the City boss views Laporte as the best left-footer in the world for his position so it shouldn't be a problem anyway.
"France's loss remains City's gain and while Virgil van Dijk is in line to be touted as the greatest footballer to have graced the game as the hype brigade charges on relentlessly, there is nobody Guardiola would swap Laporte out for.
"Up against Mamadou Sakho on Saturday, a player currently held in high esteem by Deschamps, there was no question as to the better defender on an otherwise tough day for the City defence."
Meanwhile, our boss hailed Palace as "brilliant" and gave credit where due.
READ: Blues stunned by Palace smash-and-grab
WATCH: Inside City | Episode 322
GALLERY: Fightback in vain
"We have an incredible team – fantastic players," he stated. "We started quite decent and created chances. We scored a fantastic goal and after they passed the halfway line they scored," Pep stated after the game.
"The first two times Crystal Palace crossed our halfway line, they scored. We played good. Their second goal was an incredible goal.
"We reacted well to the second goal and in the second half, we started okay. We put more people in the box.
"The third goal... the penalty was really tough for us. We cannot concede the penalty we conceded. We have to try and avoid it. Football is like this – three shots on goal and three goals.
"We scored a goal – a little bit late but even then, we had chances to score. We did absolutely everything.
"They arrived two times and before the penalty, they hit the post but they didn't have another shot on target.
"Congratulations to Palace. Defensively, they were brilliant. I give a lot of credit.
"That is football and sometimes it happens. The teams are good and there is a lot of quality.
"Now, we must go onto the next one. There are a lot of games to play. We have to recover mentally and recover our physicality."
Finally, we finish off your round-up with the latest transfer rumours.

Although Pep has stated time and time again in recent press conferences that he has no wish to recruit any new squad members over the upcoming transfer window, but it doesn't stop the press from speculating about the summer!
The latest come from the Sunday Express…
The newspaper claims: "Manchester City have emerged as surprise favourites to lure Spanish superstar Isco away from Real Madrid this summer.
"Isco, 26, who has won four Champions League titles, fears for his future with Real ready to bid for Chelsea's Eden Hazard.
"The Premier League champions, who have ruled out any activity in the winter transfer window, are keen to thrash out a summer deal for the Spain international. City boss Pep Guardiola is known to be a big fan of Isco, and would jump at the chance of taking him to the Etihad.
"Isco knows that his time on the pitch will be cut dramatically should Real land Hazard and he has made it clear that he would seriously consider a switch to the Premier League."
That's all for today's media watch, but we will back tomorrow with you Christmas Eve round-up!