Media Watch
1
Guardian: City 'unparalleled' in PL era
MEDIA WATCH: City's football is "unparalleled" in the Premier League era.
With the new Premier League season just days away, we have a bumper edition of Media Watch for you this morning to whet the appetite.
Let's start with the Guardian's preseason predictions feature.
Their army of football writers have all had their say on who they think will win the title and have collectively tipped City to retain the trophy.

And their man Nick Ames believes City's edge comes from manager Pep Guardiola, who he says has built a side "unparalleled" in recent English top-flight history.
Ames writes: "Under Pep Guardiola they have played football of a standard unparalleled in the Premier League era, give or take Arsenal's sides from the early 2000s, and sent records tumbling in the process. The bar has been set dauntingly high and the measure of the project's next phase will be City's ability to meet it, then outjump it.
"The biggest factor City have in their favour for the nine months ahead is Guardiola, whose intense and sometimes prickly persona is the by-product of a ferocious desire for perfection. It seemed like a coup when, in May, he extended his contract for two years until 2021; he has never been committed to a football club for this long in his managerial career and appears besotted with an environment that has been purpose-built for him. A lack of internal politics helps: Guardiola has been allowed to work with scant distraction and the benefits have been astronomical.
"So how does one improve the side that has everything? This has been a summer of relatively minor tweaks, and City will essentially go with the squad that was expensively assembled to Guardiola's satisfaction last season. The exception is Riyad Mahrez, who had been sought in January but arrived from Leicester for £60m in July. Mahrez, the best creative player outside last season's top six, does not obviously replace anyone in the starting XI but his versatility will prove as useful as his flair."
Meanwhile, the Manchester Evening News' Richard Fay believes Douglas Luiz has a big future at City.

Fay says his early performances in LaLiga last season when on loan at Girona, allied with the glimpses of quality he showed on the Club's US Tour, mean he could stake a claim for a place in the Blues side, starting as Fernandinho's understudy.
"City have applied for a work permit as they look to bolster their midfield options ahead of the new campaign in the light of one-time target Jorginho's switch to Chelsea," he writes.
"And there is good reason behind it.
"Fernandinho accumulated nearly 4,000 minutes of club football last season and despite his near-flawless displays the veteran Brazilian needs to be supported if he is to produce his best from again next season.
"It would be is a tall order to match the mark of World Cup winner Busquets instantly, but Douglas' emergence into the first-team could spur Fernandinho on to ensure his exceptional standards don't slacken if nothing else.
Have you seen...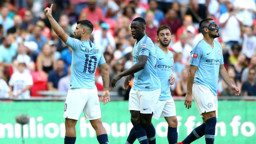 "One of Douglas' standout performances in La Liga last season saw him dominate a midfield battle against Ivan Rakitic as plucky Girona battled the Catalan giants.

"His strong displays in midfield saw him rise to prominence in native Brazil and he again showed glimpses of his commanding physical approach during the recent pre-season tour.
"Guardiola wants an alternative option heading into the new season, and Douglas could provide that. His passing range is impressive and he possess an encouraging athleticism which bodes well for adapting to English football."
And Nick Wright, writing for Sky Sports, says Unai Emery could provide a stiff test of Guardiola's managerial acumen when the two managers meet on Sunday.
City travel to Arsenal for this weekend's blockbuster Premier League opener, with the new Arsenal manager renewing his rivalry with Guardiola.
The pair met ten times in LaLiga when Pep was Barcelona manager and Emery was in charge at Valencia.
Wright scribes: "The work has only just begun for Arsenal under their new head coach, but City were irresistible last season and picked up where they left off against Chelsea on Sunday. Emery has never beaten Guardiola. Why should that change now?
"It is certainly a daunting start, but Emery's record of no wins, four draws and six losses against Guardiola is somewhat deceptive. In reality, he tested the Catalan like few other managers in La Liga. Barcelona inflicted some heavy defeats at the Nou Camp, but they only won once in five games at Mestalla. Guardiola had a better record at the Bernabeu than he did there.
"It could easily have been worse for him, too. Barcelona were historically good under Guardiola, perhaps the best club side of all-time, but in four of those five meetings at Mestalla they had to come from behind to draw. At a time when Barcelona were sweeping aside all before them, games against Valencia were usually tense and tactically tight."
That's all for this morning's media roundup. Stay with us throughout the day here on mancity.com as we continue to build up to the new Premier League season.