Media Watch
1
David Silva reveals his greatest moment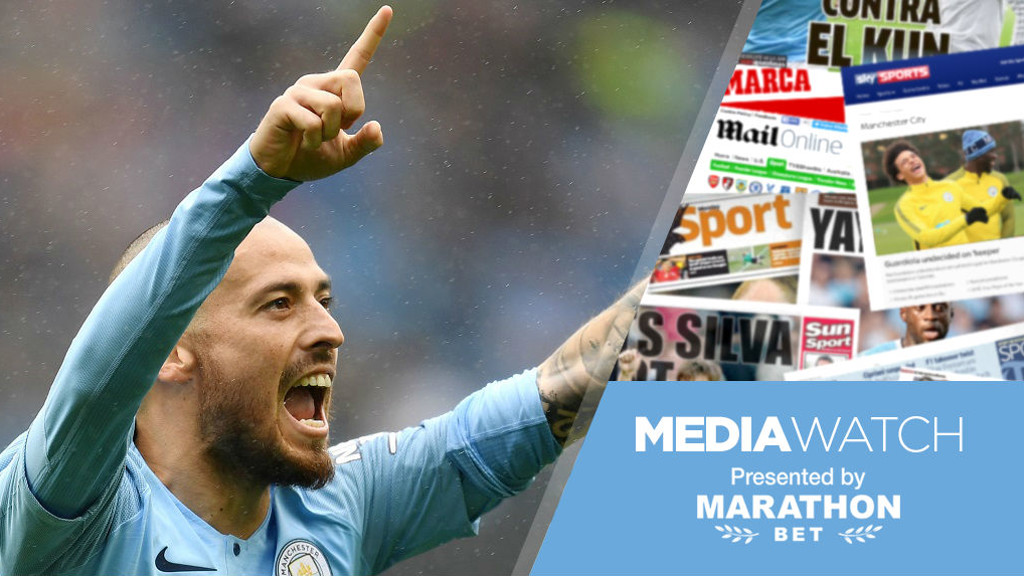 It's match day and as City travel to Wolves for the lunchtime kick-off, we look at the stories making the headlines this morning.
Let's begin with an uplifting story in The Daily Mail who focus on City legend David Silva's greatest moment yet – and it wasn't his goal against Huddersfield last week.
The report reads: "David Silva says taking his son onto the pitch at the Etihad before Manchester City's 6-1 win over Huddersfield last Sunday was 'the best moment of my life'.
WOLVES v CITY: Where can I watch the game?
TALKING POINTS: One for the purists?
"The Spaniard's son, Mateo, was born extremely premature in December last year and remained in hospital for five months.
"And having recently revealed he was getting 'stronger and stronger', he was delighted that he could finally take him to watch him play.
"The 32-year-old, who hinted on Friday that his playing days could be coming to an end, paraded his young son in front of the home fans and crowned the occasion with a goal from a free-kick.
'It was very special [having Mateo at the Huddersfield game]; the best moment of my life,' Silva told Sky Sports ahead of City's game at Wolves on Saturday.
'When it all happened, I was only thinking about everything going well and I wished I could have him one day with me at the stadium, and it finally happened.
'I have two more years on my contract here. I feel great here.
'I want to stay until the end of my contract and then I'll see how I feel physically and mentally to carry on.'
Hopefully, Mateo will be a regular attender throughout the campaign.
We move on to the Wolverhampton Express and Star's feature on how Wolves boss Nuno Espírito Santo is plotting the champions' downfall at Molineux.
They write: "Wolves go in search of their first win today against Manchester City at Molineux.
"Nuno expects a tough game against Pep Guardiola's Manchester City but says he has analysed City for their weakness.
'Every team has one,' said the 44-year-old. 'If I say to you the way I work this week and refer to the weakness then maybe I will ruin my game plan, so I will not do so.'
Fair enough!
We'll finish with a story from The Scotsman which shows how the Blues' influence is spreading far and wide.
In a bid to inspire Dundee to a first victory against St Johnstone today, manager Neil McCann chose not to focus on the opposition, but take inspiration from the Amazon Prime City documentary All or Nothing…
"Well aware just how much his winning goal against Airdrie is revered at Dens, McCann is alert to the dismay that greeted the ill-disciplined performance – Dundee finished with nine men – against Ian McCall's side seven days ago.
"One of his stated aims when agreeing to sign on permanently at Dens Park following a successful short-term spell in charge was to improve the club's dire cup form.
"He has chosen not to dwell on the defeat. Right-back Jesse Curran has revealed the players were not forced to sit through a re-run of the match.
"Rather, they watched the first episode of the behind-the-scenes Manchester City documentary, All or Nothing. "The manager wanted to get the boys thinking positively again," he said.
Look out for Dundee's result this afternoon…