Media Watch
1
Media Watch: Bernardo Silva set for centre stage?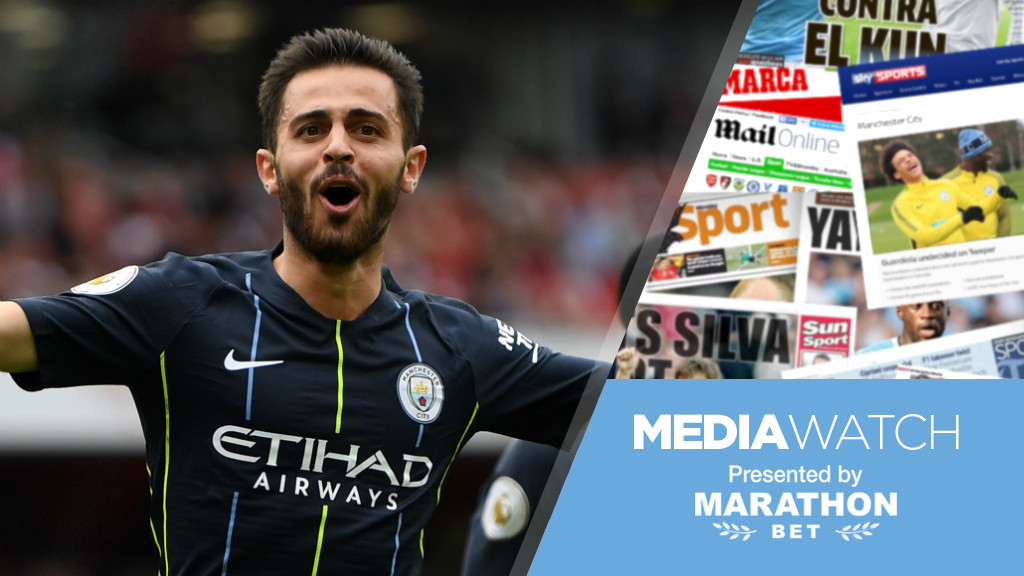 BRILLIANT BERNARDO: The Portugal star shone in the Premier League opener against Arsenal
A toast to Bernardo's brilliance, remarks from title rivals and more… It's your midweek media round-up.
The dust may have settled on the weekend's Premier League action but Bernardo Silva's breathtaking display against Arsenal still has the press purring.
Sky Sports' Adam Bate has in fact penned a piece on the Portugal star, highlighting the potential impact he could effect on City's new campaign.
The feature reads: "Only goalkeeper Ederson and player of the year Kevin De Bruyne were involved in more games than Bernardo Silva in Manchester City's title-winning season.
"The problem for Silva was that 13 of his team-mates made more starts. He was present but peripheral. Always available but rarely given the opportunity to take centre stage.
"The early signs are that this could change in his second season with the club - both figuratively and literally. Operating in a central role, it was Silva's crashing first-time shot that settled the game in City's favour in their 2-0 win over Arsenal. This came after he had been even more impressive in the Community Shield win over Chelsea.
READ: De Bruyne praises Bernardo's early season form
WATCH: Match highlights | Arsenal v City
GALLERY: City's win at Arsenal in focus
"Guardiola's (post-match) reference to Silva's superior conditioning was evident in the stats against Arsenal too. He covered 12.68 kilometres - over a kilometre more than any of his team-mates but also more than anyone on the opposition line-up, despite the fact that they were the team chasing the ball. Silva just never stopped moving.
"City needed this sort of form from him. By deploying Silva in the middle rather than out wide on the right, Guardiola has not only been able to accommodate his £60m club-record signing Riyad Mahrez but also ease the key pairing of David Silva and De Bruyne back to full fitness too. Bernardo Silva has plugged a gap but he has done so in style.
"Against Arsenal, only 29 per cent of Silva's touches actually came in the central third of the pitch. It was his starting position but he still had the licence to drift into half spaces in order to free himself. The flexibility of City's system is such that he is encouraged to find those pockets out wide - something which, of course, suits him very well.
"Silva may be a happy soul, beloved by his team-mates. No doubt he enjoys just being a part of this Manchester City story. But every indication so far suggests that he is ready and able to take on a much bigger role. Maybe it is now time for Bernardo Silva to take centre stage."
Moreover, the Portugal star's impressive stats earned further praise, with the midfielder having covered the most distance in the Premier League's opening weekend. Kyle Walker also topped the chart for the fastest speed recorded.
The Daily Mail's Max Winters reports: "Manchester City were comfortable winners against Arsenal in their opening Premier League fixture on Sunday and statistics show they enjoyed physical dominance over the rest of the division too.

"Raheem Sterling and Bernardo Silva both scored in a routine 2-0 win over the Gunners at the Emirates and the figures prove Pep Guardiola's side ran the hard yards to secure three points.
"Silva slammed home an audacious half volley to wrap up the three points in the second-half and got through a lot of work in North London, running 12.69 kilometres in total.
"There was also so much pace about City's performance in north London and right back Walker showed his speed up and down the wing all afternoon.
"The England defender boasts the fastest recorded sprint of the opening weekend with his best of 34.84km/h."
HAVE YOU SEEN...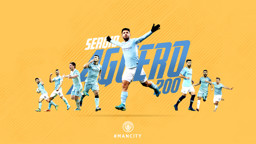 Further north and switching topic, Liverpool boss Jurgen Klopp has shared his thoughts on his side's title chances against the Champions, asserting his goal is to 'beat City as often as possible.'

"If a team is better than yours, then you have to work out how to be at their level and how to beat them," he declared.
"I have never wanted to have the best team. I have never wanted to be the best player or the best manager.
"What interests me is to beat the best. The best team today in England is Manchester City.
"That means that the other teams are not the best. The goal then is to beat City as often as possible."
Meanwhile, Reds midfielder Georginio Wijnaldum opined: "If City are going to play like they did last season then it will be really hard because they only lost two games and had a few draws.
"If you want to compete with them you can barely drop points. That's really difficult but something we look forward to because you want to compete with the others and City are one of the best. So, we will go for it."
Elsewhere, there's an interesting tactical take in the Manchester Evening News, whose reporter Simon Bajkowski believes Sunday's opponents Huddersfield could provide tricky opposition if last season is anything to go by.
Bajkowski reckons: "Having been asked a variation on the question in almost every interview since winning the title, Pep Guardiola has had plenty of practise in answering how Manchester City can improve on last season.

"The most common response has been that they can't, if they are to be judged by any identifiable metric. The aim of every team is of course to do better and better every year but when you've hit heights never previously reached there isn't much room left to keep going.
"When pressed or when the mood has taken him though, the City manager has expanded on some specifics of what the coaching staff and players can do to take their game up a notch."
Guardiola said of the team's approach for the year: 'The fundamentals will be the same but we found a lot of problems attacking [in a] 5-4-1.
"'In the '1' the striker is with the holding midfielder and 10 players [are] defending so, so deep. We are thinking about how to attack in that system."
Bajkowski continues: "The team that gave City the most trouble using this shape last season were undoubtedly Huddersfield Town. David Wagner instructed frontman Laurent Depoitre to sit on holding midfielder Fernandinho when the teams met at the John Smith's Stadium in November, gifting possession to the visitors but making it difficult for anyone but their centre-backs to travel with the ball."
The analysis continues here...
Previewing Sunday's clash, Terriers defender Chris Lowe asserts his side will have to produce another dogged defensive display if they are to leave the Etihad with a positive result.
READ: Football world hails David Silva
WATCH: Match highlights | City EDS 6-5 Arsenal
GALLERY: City in the gym
"We probably have to play the same sort of style, the same as we played against them last season," he stated, as quoted in the Huddersfield Examiner.
"We have to try not to make easy mistakes, and then we can see. Maybe we will get some chances, which we have then got to take.
"It will be difficult but, as always, we go there trying everything and maybe we will get something."
In other news, FourFourTwo have included our young starlet Phil Foden in a feature on the League Cup.
They write: "Guardiola knows a thing or two about developing young talent and will surely be pinpointing the domestic cup competitions as an opportunity for Foden to continue his steady rise to prominence.
"An impressive Community Shield performance can only have aided the midfielder's cause, and the likelihood of him starring in the early rounds of the League Cup seems high – particularly after the way his technique and flair stood out against Chelsea at Wembley.
"Against more mediocre opponents, Foden could cause serious problems."