Media Watch
1
Independent: City set for best UCL campaign yet?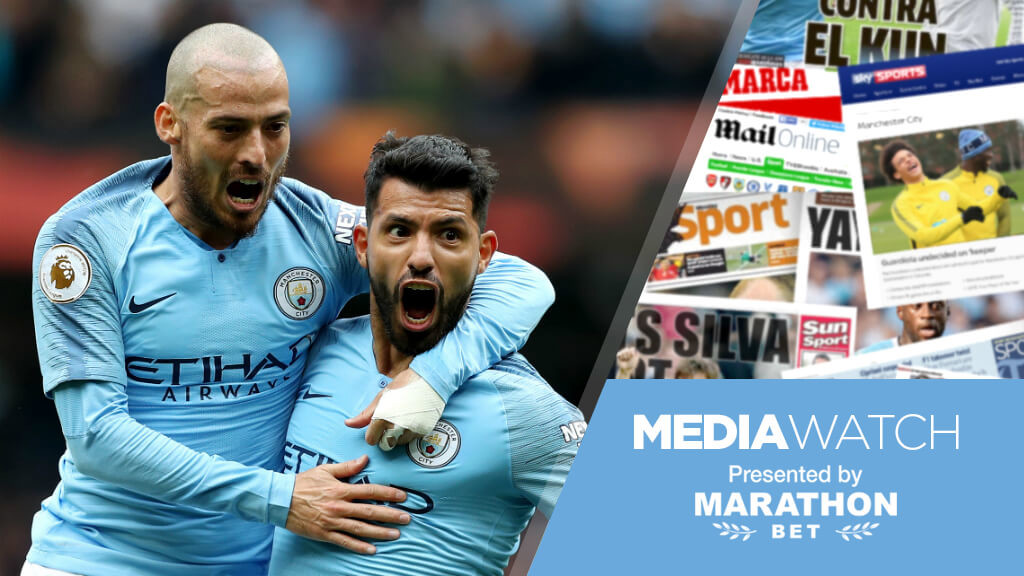 BLUE IS THE COLOUR: Can City end 48-year wait for Euro success?
With reaction to the Champions League and Carabao Cup draws – plus the impending Premier League clash with Newcastle United – there's plenty to go at this morning. ​
We'll kick off with the Independent's assertion that the Blues' hopes in Europe have been given a boost by yesterday's Champions League draw – though Pep Guardiola will no doubt rightly point out that there is plenty of work ahead to qualify for the knockout rounds.
"Manchester City have been drawn alongside Shakhtar Donetsk, Lyon and 1899 Hoffenheim in Group F for this season's Champions League campaign," write The Independent.

"Guardiola's side reached the quarter-finals of last season's competition where they lost to Premier League rivals Liverpool across two legs.
CHAMPIONS LEAGUE: City's dates confirmed
CHAMPIONS LEAGUE: Talking Points
"This will be City's seventh consecutive season appearing in the Champions League, the longest run of any current English club.

"After storming to Premier League success earlier this year, breaking numerous records along the way, City are among the favourites to lift the title in Madrid next year.

"The knockout rounds begin in February, with final taking place at Atletico Madrid's Wanda Metropolitano on 1 June, 2019."

Elsewhere, the official Bundesliga website carry this interesting snippet: "Competition debutants Hoffenheim welcome English champions Manchester City, as well as Shakhtar Donetsk and Lyon, to Sinsheim, which will be the smallest town ever to host Champions League football."

The Daily Mail continue the theme as they write: "Pep Guardiola had reason to look relaxed on Thursday evening after learning that his Manchester City side would have a strong chance of reaching the last 16 of the Champions League.

Guardiola's side trained after City had been handed the easiest of Champions League draws in Monaco.
"City, who are unbeaten in the Premier League, know they must challenge for Europe's greatest club prize if they are to move forward.
"City have struggled in Europe in previous seasons. Guardiola's side were knocked out at the quarter-final stage by Liverpool last term.

"On Thursday, they were drawn against Shakhtar Donetsk, Lyon and Hoffenheim. It represents the easiest chance any side has of progressing to the knockout stages."

Not sure the boss would agree with easiest – or our opponents' managers and players…

Moving on to another cup draw just a few hours after the UCL (has that ever happened before?) – as defending Carabao Cup champions City were paired with Oxford United – and the U's seem pretty happy about it.

The Oxford Mail write: "Oxford United are celebrating after landing a plum tie at home to Manchester City in the Carabao Cup.

"Pep Guardiola's Premier League champions are due to visit for the third round tie in the week commencing September 24.

"It is 16 years since the U's have reached the last-32 stage, but the prospect of taking on City's stars – who won the cup last season – means it should be worth the wait.

"U's head coach Karl Robinson, whose MK Dons side beat Manchester United 4-0 in the competition four years ago, believes it will be a memorable occasion for everyone.

'It's great for the club, an unbelievable draw for the fans,' he said.

'They're the champions of England and one of the greatest sides in Europe.

'If you look at the team Pep Guardiola put out against Wigan, who were in League One, last year in the FA Cup it was enormously strong.

'We know we will be up against one of the most talented teams in the world, but we will conduct ourselves in the right way.

'The pitch will be immaculate, and the fans will be outstanding.'

"City lost the game at Wigan 1-0 and this tie is likely to be a strong candidate to be chosen as a televised game, while United should expect to sell-out at the Kassam Stadium."

Finally, north-east paper the Shields Gazette carry an interview with a Newcastle player who is promising a similar defensive rear-guard performance to last Sunday's war of attrition with Chelsea.
It reads: "Newcastle United are ready to put in a "big effort" against Premier League champions Manchester City, according to Federico Fernandez. Rafa Benitez's side are yet to win this season.

"Newcastle were knocked out of the Carabao Cup by Nottingham Forest at the City Ground on Wednesday night. The defeat followed a Premier League loss to Chelsea last weekend. Fernandez, signed from Swansea City in the summer, started both games, hopes to keep his place at the Etihad Stadium, where Benitez could again field a five-man defence.

'We know how tough our start of the season is,' said Fernandez.

'It was brilliant to finally make my debut at St James's Park. The stadium has a great atmosphere, and I'm really happy to play my first game there. F
'Our focus is now on Man City, and they have more or less the same style as Chelsea, if not better.

'We have a few days to work in training, decide on the system we will play, and we will see if it's the same.

'It's always positive to have played a system already, and we have done that now. We need we need to stay in the game for as long as we can, to defend, move side to side, run a lot – and then attack when we can.

'The lads all work so hard and will put another big effort in at Man City. Hopefully, we get a positive result there – and a bit more luck.'

There'll be more match build-up throughout the day on mancity.com