Media Watch
1
Gossip: City eye England youth international
GOSSIP: City are once again featuring in the transfer columns
After City's win over West Ham United on Sunday, there's plenty of talk about records and milestones this morning.
And there is, as ever, one or two names thrown in the mix ahead of this summer's transfer window opening.
Let's start, then, with Fernandinho, who says he wants City to be "remembered in 100 years" for the quality of the team's performances this season.
The 4-1 win at the London Stadium two days ago means City are now tantalisingly close to breaking records for the most points, goals and wins in a single Premier League season.
And if those milestones are reached, the Brazilian midfielder says will mark us out as a special side that will go down in the annuls of history.
In an interview with ESPN's Jonathan Smith, he says: It's a fact, we have a clear chance to break those records and we have to go for it. Otherwise it doesn't make sense to play football any more.
READ: Tommy Caton | The teenage sensation gone too soon
READ: Zabaleta | The table doesn't lie
"We have three games and have the chance to break most of the records and we're going to do that. It helps us to keep our performance and play the same way as we have all season.
"In 100 years it will be remembered that Manchester City in 2017-18 broke all those records and played amazing football."
Meanwhile, according to James Nursey writing in the Mirror, City are eyeing up England youth international James Maddison.
The Norwich youngster was recently announced as the club's Player of the Year and, according to Nursey, is valued at around £30 million. Liverpool are also thought to be interested.
"Norwich are set to cash in on young midfielder James Maddison," Nursey writes.
Have you seen...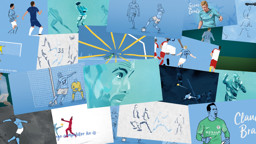 "The mid-table Championship club have put a £30million price tag on Maddison, who was crowned their Player of the Year.

"England U21 attacking ace Maddison, 21, who has 15 goals this term, is wanted by the likes of Liverpool and Man City."
That's all for this morning's roundup, Blues. Stay with us, though, as we begin looking ahead to this weekend's home match against Huddersfield where we finally get our hands on the Premier League trophy.