Media Watch
1
Media: Former boss hopes to hinder PL Record push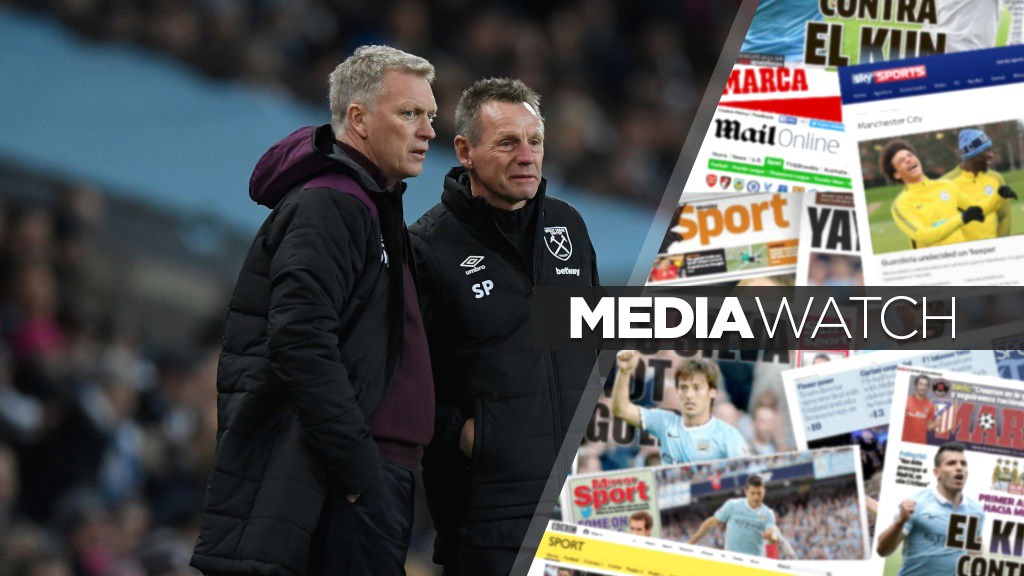 Media Watch: Stuart Pearce warns West Ham will make life difficult for Pep Guardiola's side.
Morning Blues! Your matchday media watch brings talk of another set of potential Premier League records, a warning from Stuart Pearce and rumours surrounding a Serie A starlet.
City travel to West Ham this afternoon and the Blues will be looking to stay on track to make even more history this season.
As Sky Sports note: "City have scored 98 Premier League goals this season - only three teams have reached 100 goals in a single season in the competition's history (Chelsea 103 in 2009-10, Man City 102 in 2013-14 and Liverpool 101 in 2013-14).
"Indeed, if they score their 100th in this game, it will be the fastest a team has reached 100 top-flight goals in a season (35 games) since Everton in 1931-32 (32 games)."
WATCH: Sergio Aguero | Made in Argentina
The Hammers will not make it easy, though, according to former City boss Stuart Pearce, now David Moyes' assistant at the London Stadium.
"We face Manchester City on Sunday and we will be tested because we're playing against an outstanding side in this division, but that's the level you've got to attain to," he told West Ham's website.
"There's no point setting your standards much, much lower – you've got to attain to the best team in the league and try to match them equivalently."
READ: Pep heaps praise on John Stones
READ: West Ham preview
Moyes echoed Pearce's sentiment, and says contingency plans are in place for having little in possession against Pep Guardiola's side.
"I don't think you can play Manchester City with one formation," he told the Mail. "You probably need to have two or three through the game because if you find a way to stop them or work them out, they'll overrun it.
"There's not a team where they have not had the possession or chances. For anybody to think that we are going to have that would be naive.
"We'll do our best to make it as hard as we can for them."
City's women, meanwhile, carry a goalless draw into the second-leg of the Champions League semi-final away against Lyon, which kicks off at 13:45 BST.
The Blues will be the first English side to reach the final of Europe's premier competition since Arsenal's triumph in 2007 with victory - or a score draw - at Parc OL.
"It makes for an intriguing semi-final second leg in Lyon on Sunday," writes Louise Taylor in the Guardian.
"Especially as the score is 0-0 after last Sunday's first leg in Manchester where, perhaps crucially, [Nick] Cushing's [Manchester City] team denied [Reynald] Pedros's [Lyon] players an away goal.
"Given that Lyon had won all of their previous 28 competitive games this season, that represented quite an achievement in itself. Now, though, City must go one better and find a way beyond Wendie Renard, Pedros's imperiously assured France centre-half, and company."
To transfer speculation now, and the Manchester Evening News report that the Blues will make a move for Napoli's Italian holding midfielder Jorginho in the summer.
"Guardiola will sit down with chief executive Soriano and sporting director Begiristain to finalise summer recruitment plans," reports James Robson.
"Despite City dominating domestically this term, he is known to want to build from a position of strength.
"A holding midfielder and versatile forward are his priorities.
"Napoli's Jorginho is now his preferred choice in midfield, while Riyad Mahrez remains high among his targets in attack."