Media Watch
1
City gossip: Team news, Serie A speculation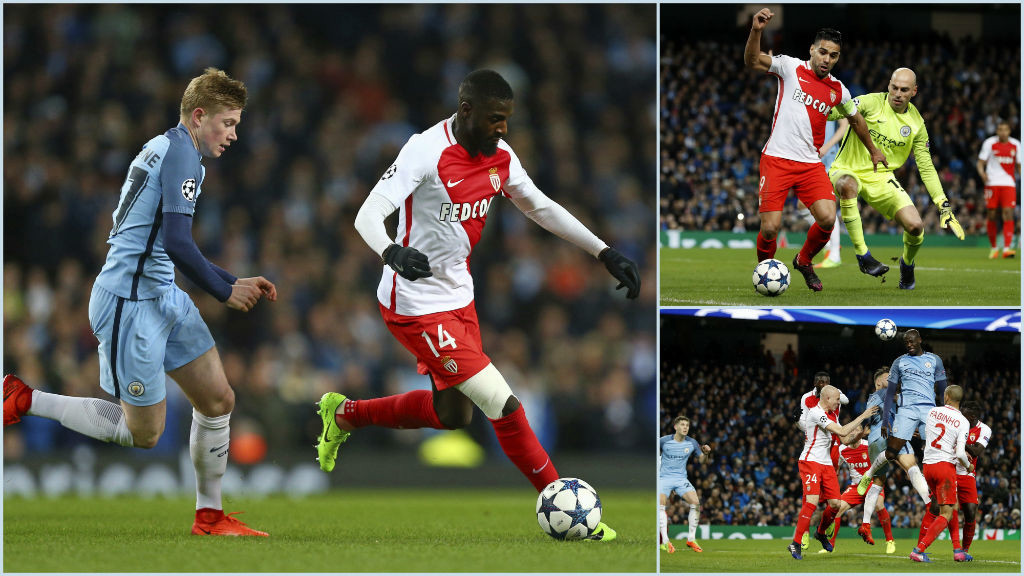 CHAMPIONS FOCUS: Kevin De Bruyne, Yaya Toure and Falcao feature in Tuesday's media reports
There's plenty of paper talk ahead of Manchester City's Champions League clash with Monaco on Wednesday, including team news, transfer speculation, plus an interesting insight into player motivation.
So without further ado, let us don our galoshes, wade into the choppy media waters and see what we can fish out...
First to the Daily Mail, who offer an injury update on a certain Colombian striker.
"Radamel Falcao is hopeful of being fit for Monaco's Champions League last-16 second leg against Manchester City on Wednesday," their report reads.
"The Colombian came off the bench for the last 25 minutes for the Ligue 1 leaders' 2-1 win over Bordeaux on Saturday and immediately inspired the opening goal for Kylian Mbappe.
"Coach Leonardo Jardim revealed Falcao suffered a hip injury in the final moments of the match which could rule him out as Monaco seek to reverse a 5-3 deficit against Pep Guardiola's men.
"But Falcao returned to training in a limited capacity on Monday and gave an encouraging update on his fitness afterwards.
"'I feel good,' he said. 'I hope I will play.'"
"Falcao scored twice but also missed a penalty as City came out on top in a thrilling first leg three weeks ago."
There's a spot of transfer speculation over in the Daily Express with a young Juventus star seemingly attracting attention.
Joe Short writes: "Juventus are reportedly on the verge of wrapping up youth star Moise Kean's new contract in a deal that will end Arsenal and Manchester City's interest in the youngster.
"Juventus want Kean, 17, to sign a new contract now in order to keep him tied to the club.
"They are aware that he could leave as early as 28 February next year, when he turns 18 years old.
"In November Arsenal, Manchester City and Ajax emerged as suitors of the frontman, who made his debut that month in a 3-0 Serie A win over Pescara."
Let's throw that one back in and return to Wednesday's match, with Kevin De Bruyne typically clear-minded in his motivation for the game.
David Anderson reports: "De Bruyne joined City from Germany's Wolfsburg in 2015 to try to win the Champions League and he hopes to lift the trophy at least once in his career.
"'That would be fantastic,' said the 25-year-old. 'I think that's what we're here for. We want to do the best we can and win as much as possible.
"'Hopefully at the end of my career, I can say that I have won it at least once.'"
And finally news agency Reuters carry an interview with Yaya Toure, who maintains a familiar theme among City players this week in that the Blues will not change their attacking style to protect the lead.
They report: "City hold a 5-3 advantage over Monaco ahead of the away leg in their Champions League last 16 clash on Wednesday and have risen to third in the Premier League after winning four of their last five matches.
"'We are playing very well at the moment and we have a team that plays mostly attractive games and sometimes the pundits are waiting to analyse,' Toure added of the Monaco clash.
"'We are going to attack, we never do it the other way, we will attack and they will expect that as well. The best defence is try to score.'"
That's your lot for today, we'll be back same time, same place for all the pre-match media build up.