Media Watch
1
Gossip: City close in on Monaco star?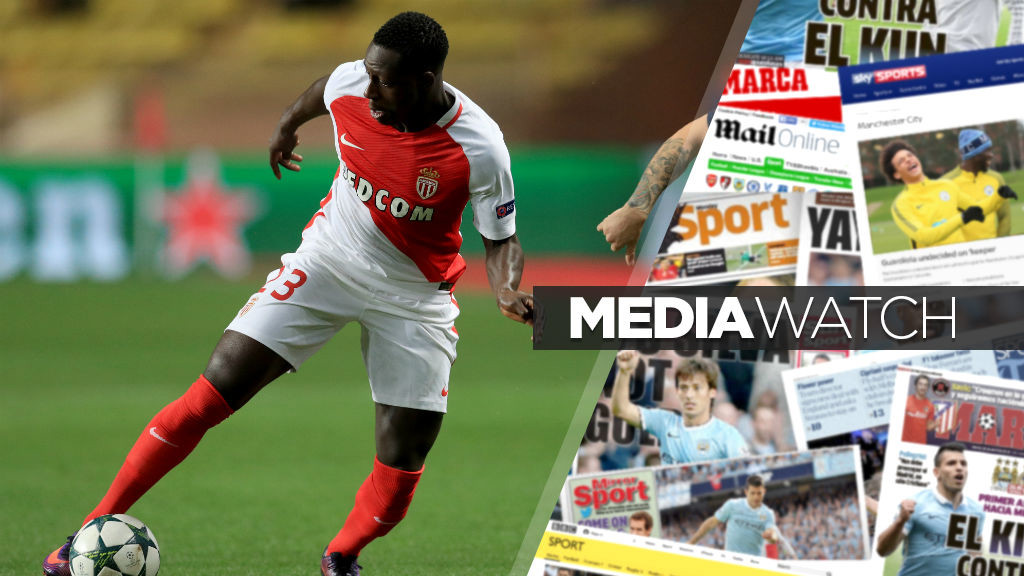 GOSSIP: Blues set for defensive reinforcements?
Pre-season is well and truly up and running with City in the States and preparing for the first overseas Manchester derby.
But according to this morning's press reports, there's plenty going on behind the scenes back in Manchester.
Two players linked all summer – and we mean all summer – are Benjamin Mendy and Alexis Sanchez and in truth, it's unlikely to end anytime soon.
That is, unless you believe reports that Mendy will imminently become a City player, as reported by Italian website Calcio Mercato who write: "Pep Guardiola looks like he's one step closer to revamping his defence, if the latest reports are accurate.
"According to the Independent, Manchester City look to be nearing an agreement on a fee with Monaco over left-back Benjamin Mendy.
"The Sky Blues are engaging on a summer spree of epic proportions, already overtaking the £200 million mark by nabbing fellow Monaco man Bernardo Silva, goalkeeper Ederson and Kyle Walker, who was signed for £50m (€56m) on Friday.
"It looks like Mendy will cost a similar amount, after Monaco had rejected previous bids which were clearly inferior."
Before the daily dose of Sanchez reports, Transfer Market Web suggest City are pursuing Polish striker Robert Lewandowski.
It's a reasonably new thread if nothing else!
It reads: "City management are trying to complete a deal for the former Borussia Dortmund hit-man.
"It is said Guardiola and co are willing to table an opening offer of around £64m.
"But the reports add that Bayern won't entertain the idea of Lewandowski leaving Bavaria and are determined to keep hold of him.
"Despite this, reports in Germany recently claimed that the striker is starting to grow frustrated at Bayern."
OK, on to the story that just keeps giving for the back pages.
The Daily Star (via The Mail) have squeezed yet more life from the transfer rumour that refuses to run out of fuel.
They write: "The Chile striker is entering the final 12 months of his contract this summer and he's not thought to be keen to pen a new deal at the Emirates.
"As a result, he's been linked with a host of clubs such as Bayern Munich and Barcelona.
"But he's thought to favour a move to Premier League rivals City.
"And the Daily Mail say Sanchez and his representatives reckon Arsenal won't stand in his way.
"The Gunners have been steadfastly refusing to sell their top scorer from last season to this point.
"And it's even been suggested they could let him continue playing next campaign and risk letting him leave for free in 12 months.
"But the Mail say Sanchez's people think Arsene Wenger's side will cave before the end of the transfer move and let him move to City.
"Pep Guardiola's side are one of the few clubs who can meet the 28-year-old's massive wage demands."
Finally, ahead of England Women v Scotland Women, a rare chance to feature that fine paper North of the Border, The Scotsman.
In what for City is a genuine Battle of Britain, MCWFC's Jane Ross previews the game that has huge interest for Blues' fans.
The story reads: "One of Sampson's first acts was to make Houghton his captain, and Ross says of her team-mate and tomorrow night's direct opponent: 'She's obviously a top-class player. She's very good for our club and England as well, so I'm sure she'll be looking to make it as difficult as possible for us.'
"Ross will have her proud parents, brother, sister and friends all in attendance tomorrow night, while many more will watch the game in the pub which the family run in Rothesay. To play England in Scotland's first-ever match in a major tournament will be the pinnacle of her career so far.
'It's amazing,' she smiles. 'You can see from everyone's faces that they're loving every minute of being here. We've finally achieved our goal after so many near misses.
'There was a lot of banter with my England team-mates when the draw was made and for a few months afterwards, but recently all my focus has been on the national team.'
Should be a great game.
We'll return with more transfer speculation, gossip and anything City-related tomorrow…