Media Watch
1
Rivaldo: Jesus will make English football history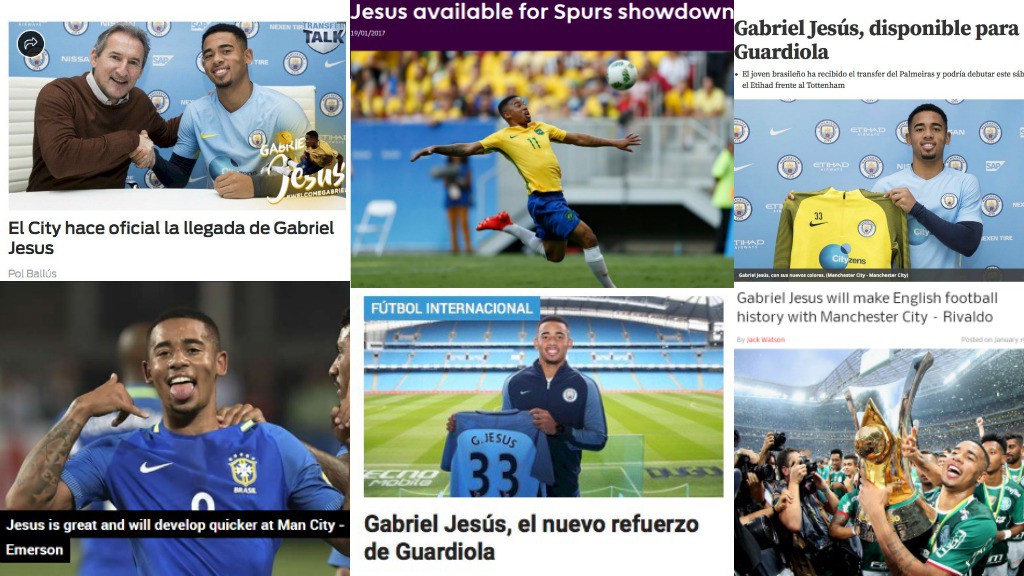 HITTING THE HEADLINES: Let's see what the footballing world make of Man City's Gabriel Jesus...
It's safe to say the footballing world are excited to discover the impact Man City's Gabriel Jesus will have on the Premier League.
Since his signing was confirmed on Thursday, the media have been sharing their thoughts on the striker's move, and they are certainly looking forward to seeing what he has to offer.
Brazil legend Rivaldo has tipped Jesus for great things.
Quoted in an article on Sky Sports' website, he purred: "He is a player of the future, isn't he?
"He is a young player – he's only 19 – and he has been playing football in England, which is hard football. It is not easy.
"They need to be patient. He needs time to adapt to the cold. But he's a player who I believe will make history in English football because he's a great player.
"It's just that: I think everyone needs to be a bit patient only because of his age but from what I saw of him in Brazil, he's a great player."
Former Juventus and Real Madrid midfielder Emerson echoed: "Brazil produces these kind of things – we have this marvellous thing that we can have talented people anywhere, and Gabriel Jesus is one of these talents.
"He's young – he's a kid that still has a lot to learn – but despite being so young he's already successful. And I wish he does very well because his success is the success of the Brazil squad.
"He's a great player. Going to Europe is a good thing for a player. He will grow quicker, he will start to understand football in another way and also be respected inside the football scene.
"I guess that for Gabriel Jesus, it was a good thing to leave Brazilian soccer. He did everything he could in [Brazil]. He's going to a very difficult, competitive [type of football] but I think that he can be successful."
Analysing the positions in which Jesus could be employed, ESPN's Jonathan Smith scribed: "Jesus will add another attacking option at the Etihad and Guardiola must now decide where he can get the most from the £27 million signing from Palmeiras.
"The 19-year-old is able to play anywhere across the front three – with his pace and skilful, quick feet causing problems to defenders out wide while his movement and ability to find space in the box making him a goal threat.
"At Palmeiras, Jesus chipped in with 12 goals and five assists from 27 appearances after spending the whole of last season with the Sao Paulo club and helping them to their first Brazilian championship in 22 years.
"His form earned him a place in the national team playing as a centre-forward and he has been a revelation for the Selecao, scoring five goals in his first six appearances.
"He also helped Brazil win gold at the Rio Olympics in the summer and national team boss Tite has said that the No. 9 role is his best position.
"Guardiola says it shows Jesus' quality that he is able to lead the line for Brazil at such a young age but the City boss insists he doesn't want to put too much pressure on him while he finds his feet in the Premier League."
Writing for It's Round And It's White, Jordan Street stated: "Now all the hardships are over, and the young man can solely concentrate on playing football in the most competitive league in the world.
"The teenager had been plying his trade for Palmeiras in the Brazilian league – and made his debut for them in 2015. Since being given his opportunity, he simply hasn't looked back, and, in the end, he represented the side a hugely impressive 83 times; finding the back of the net on 23 occasions.
"I personally believe it speaks volumes that he already has six full caps for his native Brazil under his belt at such a tender age. Then you divert your eyes over to his national goalscoring column and see that he has scored four goals for them – which is obviously a brilliant start for him.
"In terms of his style of play, Jesus is an attacking midfielder who can play all across the three spots just in behind the main striker. He is known for his lightning pace, astute finishing and his tireless running.
"This combination seems absolutely perfect for a Josep Guardiola team, and when the little Brazilian has worked with his new boss for a few months, that could well spell problems for the Premier League if he lives up to the hype."
Joe Prince-Wright of the USA's NBC Sports agreed: "Jesus scored 28 goals in 85 games in all competitions for Palmerias and has shown great promise for the Brazilian national team, scoring four goals in his first six appearances for the Selecao in 2016.
"Jesus has arrived at the perfect time to give an ailing City side a boost.
"We all saw just how good Jesus can be during the 2016 Olympics in Rio. Now he has all eyes on him as he prepares to make his long-awaited debut against Tottenham."
What do you make of City's new number 33? Tweet us @ManCity with #WelcomeGabriel!