Media Watch
1
Sterling hailed as one of Europe's best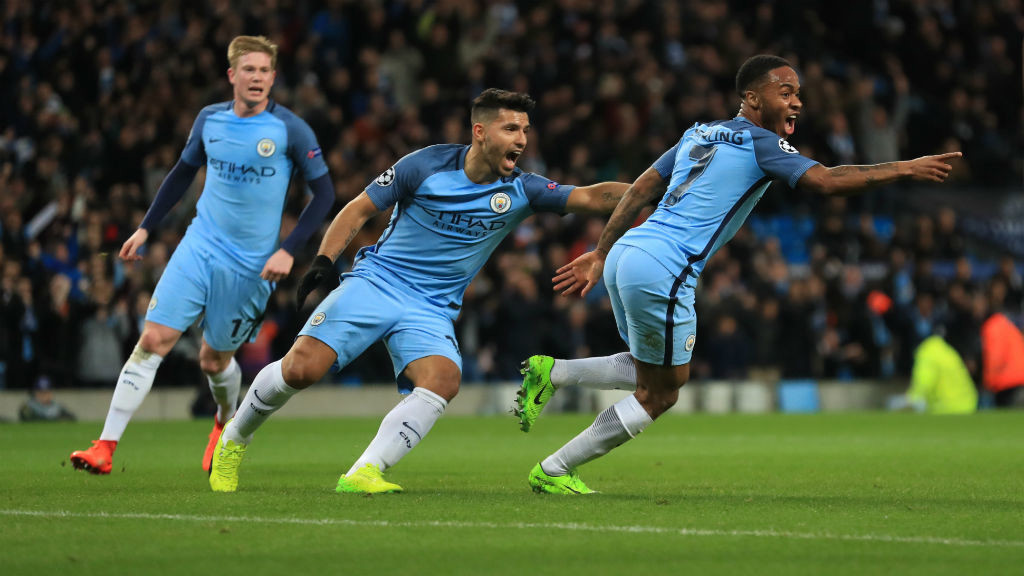 OPENER: Sterling celebrates putting City in front
Such was the quality of Manchester City's performance against Monaco on Tuesday, it continues to permeate the media across the world.
Pep Guardiola and his players are currently enjoying some warm-weather training in Abu Dhabi – but that hasn't stopped the press wanting to discuss the 5-3 win against the Ligue 1 leaders.
Raheem Sterling, who scored the opener against Monaco and continues to impress with his all-round contribution, has been heralded as one of Europe's best by ESPN's Jonathan Smith, who believes the impact Guardiola is having on the 22-year-old's career is clear for all to see.
Smith writes: "In a match that showcased some of the most exciting young attacking talents in Europe, Sterling wasn't afraid to show he belonged among them -- only Sane and Monaco's Bernardo Silva attempted more dribbles and only strikers Sergio Aguero, Radamel Falcao and Kylian Mbappe had more shots.
"In Europe particularly, Sterling has blossomed. He has been directly involved in seven of City's goals from his seven starts, with two goals and five assists.
"His impact in the Premier League has mirrored City's wobbly first season under Guardiola, but there is no doubt he's improved massively under the guidance of the former Barcelona and Bayern Munich coach.
"Sterling's finishing has improved and his goal against Monaco came eight days after he scored the crucial opener in a difficult 2-0 win at Bournemouth. Surprisingly, he has fewer goals than at the same stage last season -- nine goals compared to ten -- but he scored just once from February onwards last season as his development and confidence stifled under previous boss Manuel Pellegrini, who had a more regimented setup and played with less freedom."
Meanwhile, CNN have spoken to Belgium ace Kevin De Bruyne about playing alongside David Silva in an attacking City lineup.
The pair have operated in central roles for much of the season and both appear to be playing their best football, something De Bruyne feels is working successfully.
"I think it's going very good; at the beginning of the season we played there and it was going well," De Bruyne says.
"After that we changed it a little bit and the manager wanted to see what was possible in the way the team could play and maybe evolve, but maybe it was not the right time for the team because everything was new for us.
"But I think it's going really well. To play with David and Yaya (Toure) in the last few games, who are so strong with the ball, it definitely helps the team out."
And, finally, there's some transfer news for you to digest.
According to the Sun, City will launch a summer bid for Inter Milan goalkeeper Samir Handanovic.
Handanovic is keen to test himself in the Champions League is understood to be open to the possibility of moving to the Etihad Stadium.
Inter have reportedly lined up replacements for the 32-year-old, smoothing the way for him to join Guardiola's revolution.
That's all for today, Blues. Same time, same place tomorrow for another roundup!