Media Watch
1
Press preview Brighton clash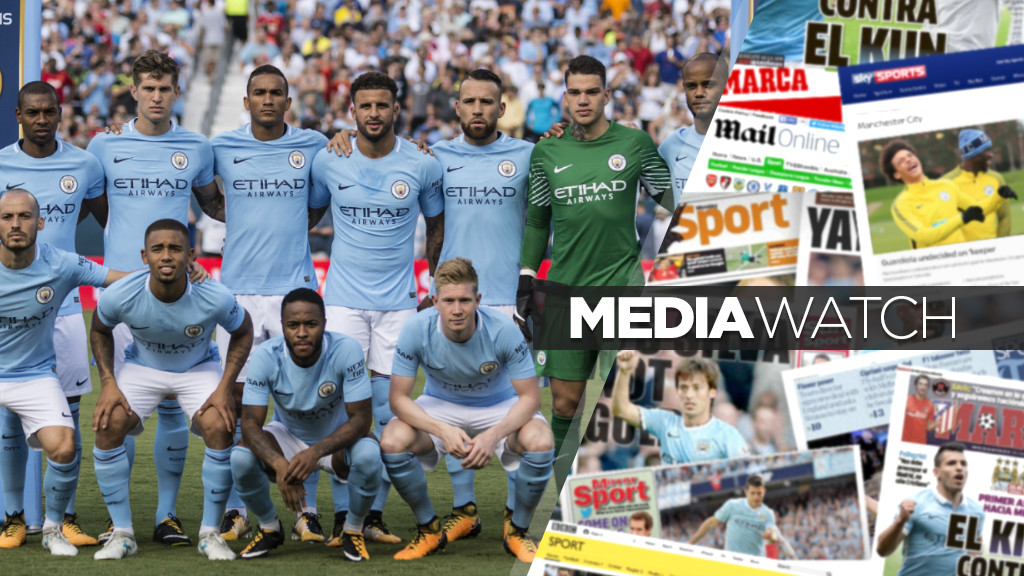 PRESS PREVIEW: The media look ahead to this evening's clash with Brighton.
Pre-season is complete and City are ready to return to Premier League action this evening against Brighton and the media is full of previews for the game.
Pep Guardiola takes his side to the South coast for a 5.30pm kick off and will be hoping to get off to a good start against one of the league's new sides.
The question on every fan's lips at the moment is 'Who will be in the starting XI?' and the Manchester Evening News try to answer that question this morning.
Chris Slater is one of three journalists to have their say and he remarks: "Three at the back has worked remarkably well for Pep Guardiola during pre-season.
"And I imagine that's how City will line-up in the Champions League and games against the Premier League's top six.
"However, Pep has so many attacking options and I think against newly promoted Brighton he can afford to lose one centre back to shoe-horn in another of his forwards. Particularly with the energy of Fernandinho shielding in front of them.
"Kevin De Bruyne and David Silva pick themselves and I think the pace of Leroy Sane will be key to opening up a what will surely be a stubborn and well-organised defence.
"Bernardo Silva will have to be content with a place on the bench, and is a great option, along with Raheem Sterling, if City can't find a way through.
The Premier League's official website also has an opinion piece of the starting XI question with them talking about the Sergio Aguero and Gabriel Jesus partnership.
Adrian Clarke comments: "One of the most appealing factors of a 3-5-2 is the potential for strikers Gabriel Jesus and Sergio Aguero to partner one another in a fluid twin strikeforce."
He continues: "While Guardiola is spoilt for choice when it comes to attacking options, he will want to try to find a way of using both goalscorers in the same XI.
"Both are happy to act as a lone centre-forward, but there is no evidence to suggest the duo are incompatible.
"Whether that means lining up against Brighton with a back three and an Aguero/Jesus axis up top, or incorporating the young Brazilian just behind or to the right of his fellow South American within a 4-1-4-1, we will have to wait and see.
"It will be fascinating to see which way Guardiola goes."
Speaking of Gabriel Jesus, the 20-year old Brazilian has been speaking to the Daily Mail about numerous topics, including how the competition between himself and Aguero can only help the team.
The forward is quoted as saying: "Sergio Aguero is a high-quality player.'
'I'm a big fan of his, both of his football and his humility. But ultimately it's the manager's decision. If he wants us to play together we can, as we have already shown. But if he wants me to play up front alone, it's his decision.
"I just hope that any competition between us benefits the team, that it inspires both of us to score plenty of goals for City and leads to the club winning lots of matches and trophies."
We end today's media round-up with a view from the other side and Brighton manager Chris Hughton says his side has to play with no fear on Saturday evening.
The 58-year old was speaking to the club's official website and believes they are ready for the challenge ahead.
He's quoted as saying: ""We must play with intelligence, as we're going to be playing against teams that are better than us.
"There will be some tough days, particularly away from home, but we must go into the season with confidence and no fear.
"We're very much ready for the challenges ahead. Fortunately for us, there isn't any player in our squad that doesn't know the Premier League, the players and their quality.
"It's not like going into the unknown; but it will be a tough, challenging season, and they need to make sure they're up for it."
That's all from today, Blues! Keep with us throughout the day as we build up to this evening's clash here on mancity.com, as well as on the CityMatchdayApp!