Media Watch
1
Press react to Arsenal draw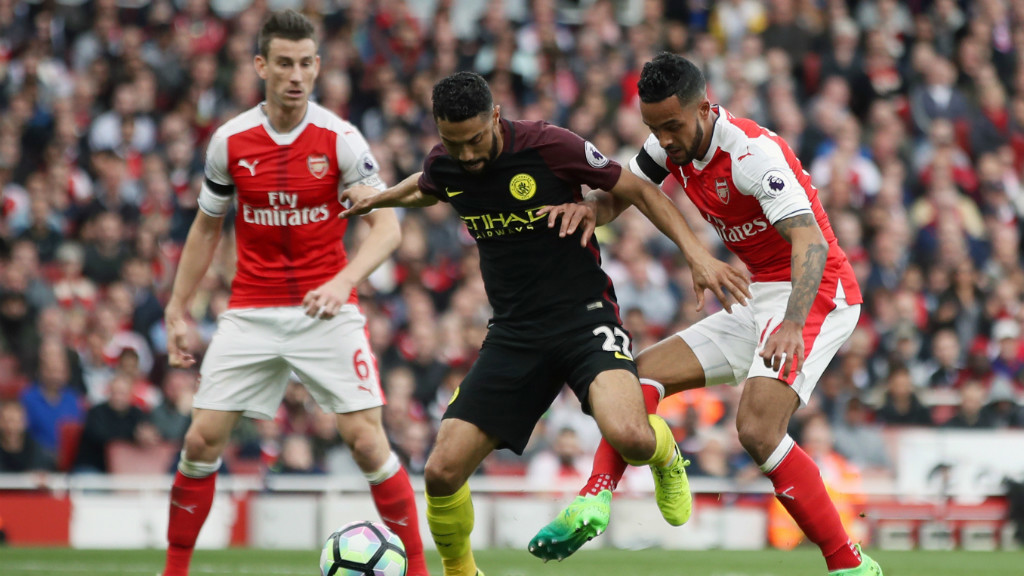 FAMILIAR FACES: Clichy battles with former team mate Walcott.
The reports are published, the post-match analysis has been discussed… and the verdict from Man City's 2-2 draw with Arsenal has been delivered.
The general consensus in the footballing world is this: two points dropped for the Blues, while the Gunners showed fighting spirit to salvage a point.
Hard to disagree when Pep Guardiola's men surrendered the lead twice, and many rued the missed opportunity for City to close the gap on league leaders Chelsea.
The Daily Mail's Martin Samuel reflected on an entertaining clash, declaring the Blues were more deserving of all three points.
He wrote: "City shaded this, the battle of the cavaliers. They hit the woodwork twice, forced the better saves and Sergio Aguero could have settled the game with two second-half headers.
"Arsenal spent 46 minutes chasing, and 44 minutes level. They were never in front and only really dominated a 20-minute spell in the first half. The rest of the time, they were forced to play City on the counter-attack.
"It is not a familiar position for Wenger's side and they never looked entirely comfortable with it. Losing Laurent Koscielny to an achilles injury at half-time was a blow, too — although there was consolation in not losing 5-1 from that position, which was how it panned out in the Champions League against Bayern Munich.
"So, this was a game that was fun and thrilling, yet at the same time very predictable. Finishing 2-2 meant it went entirely to form. We know what Arsenal are about, and City too.
"This was a cracking game — just as Liverpool's meeting with City was last month — but there remains the suspicion that some of the beauty may have to be sacrificed if there is to be advancement from either club next year.
"Yet that upgrade may be easier to come by at City with bigger resources and a likelier chance of Champions League football.
"Looking at the league table, this point was of considerably more use to them than Arsenal, now trailing fourth-placed City by seven points with only a game in hand.
"Still, whatever flaws there have been in Guardiola's plans for City this season, his philosophy does produce some thrillers."
Jack Pitt-Brooke of the Independent concluded the Blues are still learning from the Catalan.
"All good teams are a reflection of their manager," he stated, "but this Manchester City side are not – not just yet.
"Pep Guardiola is an intense driven winner but his team are not consistently showing those qualities, even as they enter the final straight of his first season in charge.
"That is why here at the Emirates this afternoon City drew their third consecutive Premier League game, failing to take advantage of their obvious superiority or the two times they had the lead.
"That is why they failed to capitalise on Chelsea's defeat to Crystal Palace, leaving their gap to the league leaders at 11 points. And that is why they are not seriously challenging for the title this season.
"This game was perfectly set up for City to win. They faced an Arsenal team who had won two of their last six, and those against Sutton United and Lincoln City.
"Arsenal have been playing badly and find themselves in a state of political crisis with many of their fans furious about Arsene Wenger's likely continued future as manager.
"If City had been able to exploit that discord they could have turned the atmosphere against Arsenal but that never happened.
"Arsenal, in blunt terms, were there for the taking. City's attacking football was good enough to take an early 1-0 lead and then to go 2-1 up just before half-time.
"They easily found space in the middle, David Silva was as influential as ever and Sergio Aguero found dangerous positions in the box.
"Laurent Koscielny went off at half-time, a departure that was deadly for Arsenal in both of their games against Bayern Munich recently, twice prompting a collapse to a 5-1 defeat.
"If City had played well here they would have continued to show confidence and that touch of football arrogance that Guardiola demands from his teams. But instead they dropped off, slackened their grip on the game, and it cost them."
There was praise for the Blues' attacking prowess, courtesy of Phil McNulty's BBC column.
"City may have been offered just the slightest hope of a route back into the title race by Chelsea's surprise loss at home to Crystal Palace - and a win here against Arsenal would have further cemented their place in the top four," he explained.
"So a draw represents a real missed opportunity for Guardiola and his players, who failed to take advantage of the perfect start given to them by Sane's goal.
"City cut Arsenal apart in the opening phases, when De Bruyne hit the post and Ospina saved well from David Silva.
"Guardiola's side play some scintillating attacking football but must discover a ruthless streak, with even the world-class Aguero missing inviting headed chances either side of Mustafi's equaliser.
"City, without question, are fashioning an exciting attacking side with Sane, Aguero, Raheem Sterling, De Bruyne and Gabriel Jesus to come back, but this was another example of them being a work in progress."
The Manchester Evening News' Stuart Brennan agreed: "In the end, both teams will be kicking themselves for blowing their big chance to claim three points and advance their chances of a Champions League place.
"Indeed, had Manchester City not twice tossed away the lead, they could have set up a scenario where a win at Chelsea on Wednesday night would have seen them once again breathing down the necks of the leaders.
"But, one again, their inherent defensive frailty let them down."
David Mooney of ESPN scribed: "Almost befitting of April Fools' weekend, Manchester City and Arsenal both put in performances that summed up their seasons.
"The joke was on both teams; it was a defensive horror show at either end, but Pep Guardiola will feel more aggrieved at the draw -- having seen his players again squander chance after chance. It's a draw that does neither side any favours.
"When City weren't being masters of their own downfall, they looked like they were able to take command of the match.
"For spells, especially in the first half, they were overrunning the Arsenal defence time after time and should have been out of sight before each of the Gunners' equalisers."