Media Watch
1
Media City: Press react to Swans win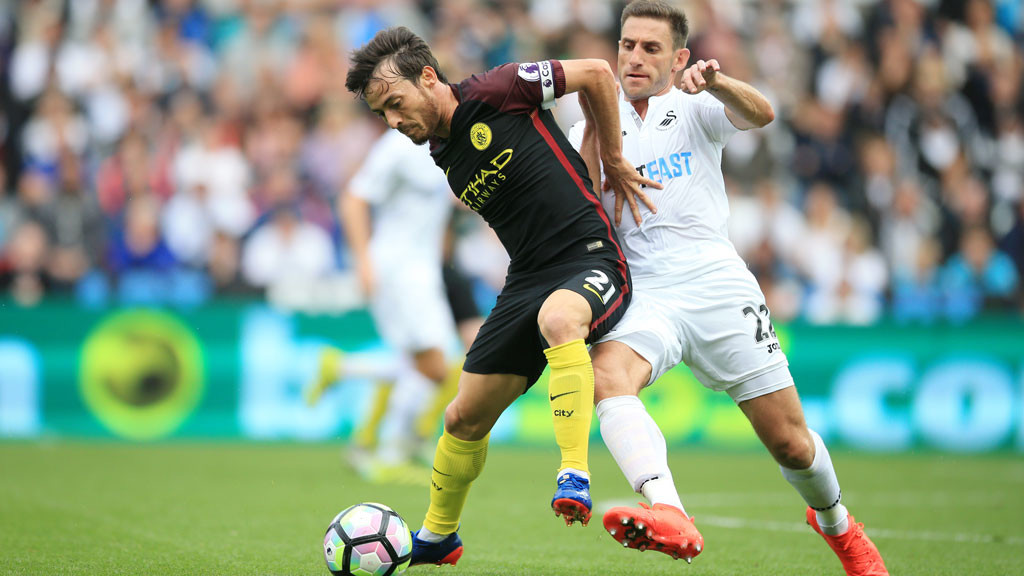 POSSESSION: Silva on the ball
Reading through the media's City post-match analysis has become a rather pleasant task these days.
Once again, the footballing world were impressed with the Blues' display of the previous day, as Pep Guardiola's men earned a hard-earned victory at Swansea for the second time in four days.
Let's see what other journalists made of the triumph…
Writing for the Daily Mail, Riath Al-Samarrai stated: "A perfect 10 for Pep Guardiola and an excellent 11 for Sergio Aguero. Together they really are adding up to a half-decent team.
"The question now is who can stop this wrecking machine, which so far this season has destroyed all in its path at home and in Europe.
"To Swansea's immense credit, and a significant level of surprise, they gave it a good go here. But just like the first nine opponents that found themselves bludgeoned out of Manchester City's way, the Welsh were also pushed aside with rude force eventually.
"With it, Guardiola has 10 wins from 10 games in all competitions and also equalled a little piece of history in matching Carlo Ancelotti as the first manager to win his first six Premier League matches.
"Even against the elevated standards of a manager who has won so much in his life, that is a brilliant start. With Celtic, Tottenham, Everton and Barcelona as their next four fixtures, only Everton of which will be faced at home, some serious effort will need to go into preserving that flawless run.
"Truly, there is a lot for Guardiola to be excited about, particularly when it is considered that this was one of City's less impressive performances."
BBC Sport's Daffyd Pritchard declared: "Manchester City had already beaten Swansea in the EFL Cup on Wednesday to make it nine wins from their first nine games under Guardiola, but this was a far more important fixture for both sides.
"While the midweek cup match was a battle between two shadow sides, the likes of De Bruyne and Sterling were restored for this game - and, most significantly, so too was Aguero.
"Manchester City poured forward with typical pace and fluidity but they struggled to create many clear chances, one of which was uncharacteristically dragged wide by the recently irrepressible De Bruyne.
"However, Guardiola's side addressed those issues with a ruthless second-half performance."
Stuart Brennan of the Manchester Evening News echoed: "The performance was far from a ten out of ten, but Manchester City continued their perfect start to the season with a hard-fought win at Swansea.
"And on a day when it seemed that Pep Guardiola 's team's shoddy finishing would see them concede points for the first time this season, finisher extraordinaire Sergio Aguero came up with the goods."
ESPN's David Mooney reflected: "Perhaps the biggest success of the afternoon was that Guardiola's tactical switch at half-time won control of the game.
"He moved Kevin De Bruyne into the middle from the left and pushed Ilkay Gundogan further forward, meaning Swansea had no answer to City's possession higher up the field.
"On top of that, the visitors stood up well to a tough challenge on a difficult afternoon."
Finally, the Telegraph noted: "They did not fire on all cylinders in west Wales, but there was enough star quality at key moments to make a telling difference."
What did you make of the game? Share your thoughts on Twitter @ManCity.