Media Watch
1
Media City: Press react to derby triumph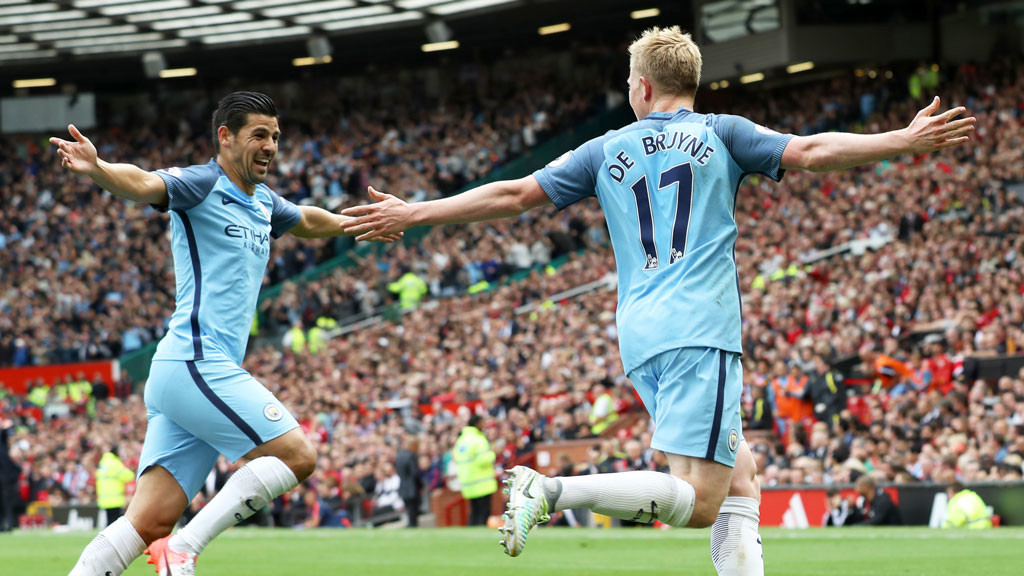 KEVIN DE BRUYNE: Celebrates with Nolito
Dissecting the morning's headlines following a victory is always pleasant work. Doing so the morning after a derby win doesn't feel like work at all – it's downright enjoyable.
It's all the sweeter when the media world are impressed with the manner of a win. That's certainly the case today and there's plenty of praise for the boss and our star man Kevin De Bruyne.
In a piece entitled 'City put United in their place', BBC Sport's Phil McNulty reports: "Pep Guardiola delivered the first meaningful blow in a rivalry with Jose Mourinho that will become a central part of the Premier League's narrative as Manchester City recorded a well-merited win against Manchester United at Old Trafford.
"And this was Spaniard Guardiola's day on every level as City claimed the win and his celebrated methods were on show for all to see at Old Trafford, the fiercest enemy territory.
"Guardiola was bold enough to play Kelechi Iheanacho as replacement for the suspended Sergio Aguero and the 19-year-old responded with his ninth goal from just 13 shots on target in the Premier League.
"And his introduction of Fernando for the youngster after 53 minutes demonstrated a pragmatism that is often overlooked amid Guardiola's purist instincts. He was prepared to use a shield when required.
"City were also prepared to work for their success, running a total of 119.63km in comparison to United's 111.34km. Guardiola demands the full package from his players."
Nick Wright and Gerard Brand of Sky Sports agree: "Manchester City delivered what Gary Neville described as one of the best first-half performances he had ever seen in the first 40 minutes at Old Trafford.
"Guardiola's men were utterly dominant, pinning United back and repeatedly targeting their right flank, where Antonio Valencia and Eric Bailly couldn't cope with a blur of blue shirts.
"City enjoyed 66 per cent of the possession in that first half, but the key to their dominance was their approach without the ball.
"City's forward players gave United no time to settle with their feverish pressing, and it was no coincidence that United's passing accuracy in their own half dropped from a season average of 93 per cent to 80 per cent before the break.
"De Bruyne still showed glimpses of class in his injury-hit 2015/16 season, and on Saturday at Old Trafford, the Belgian was the best player on the pitch by some distance. His position, placing himself in the pocket between the Manchester United central midfielders and centre-halves in the No 10 role, caused havoc."
Writing for the Mail, Oliver Holt stated: "Manchester City's performance in the first 40 minutes in particular gave this occasion the feel of a new dawn for domestic English football.
"It was dazzling. There is no other word for it and, yes, amid the relentless excitement, we squinted against the grandeur.
"It felt in those first 40 minutes as though City were redefining English football.
"Watching them toy with United, watching them make United chase shadows and give the ball away repeatedly, watching their comfort in possession, watching them pass, pass, pass — it felt for all the world as if we were watching one of the great continental sides teaching one of our teams a harsh lesson."
The Mirror's Simon Mullock declared the two sides were 'on different planets' at times.
He scribed: "The score suggests this Manchester derby was a tight affair, edged by the Blues. But the reality is that City could – and should – have won by more.
"Apart from a 20-minute spell either side of half-time, Man United were chasing shadows as Guardiola served notice that there is a new Special One in town.
"It is to United's credit that they found a response from Zlatan Ibrahimovic just before the break to set up an intriguing second half that had everything apart from further goals.
"Remember, this was a City side without their suspended star striker Sergio Aguero and captain Vincent Kompany and new midfielder Ilkay Gundogan, who are both still striving for fitness. In addition, goalkeeper Claudio Bravo and sub Leroy Sane were making their debuts.
"But the visitors were a class apart – and it was only Mourinho's tactical changes and the determination of his players not to be humiliated that enabled United to launch a late onslaught that could have brought a point."
The Independent's Jack Austin reflected: "City dictated the play with their superior possession, leaving the Red Devils to play on the counter attack – only Mourinho had left his best counter attacking players on the bench in Martial and Marcus Rashford.
"While the game became stretched and ragged in the second half – something neither coach would have planned for – City's first half display was as good as any seen in the Premier League this season.
"They shifted the ball from left to right, with De Bruyne pulling all the strings alongside David Silva in the attacking third.
"Guardiola's challenge now is to keep that performance up for the entire 90 minutes as it is plainly obvious to see that his players have complete trust in their manager's tactics."
ESPN's Simon Curtis echoed: "40 minutes of pulverizing possession football top open the game. City's passing and movement was majestic for periods and they later finished the game much as they began, passing their way through United's bewildered players.
"It is only the sixth competitive match under the new coach, so an improvement on even this can be expected."