Media Watch
1
BBC: Premier League predictably unpredictable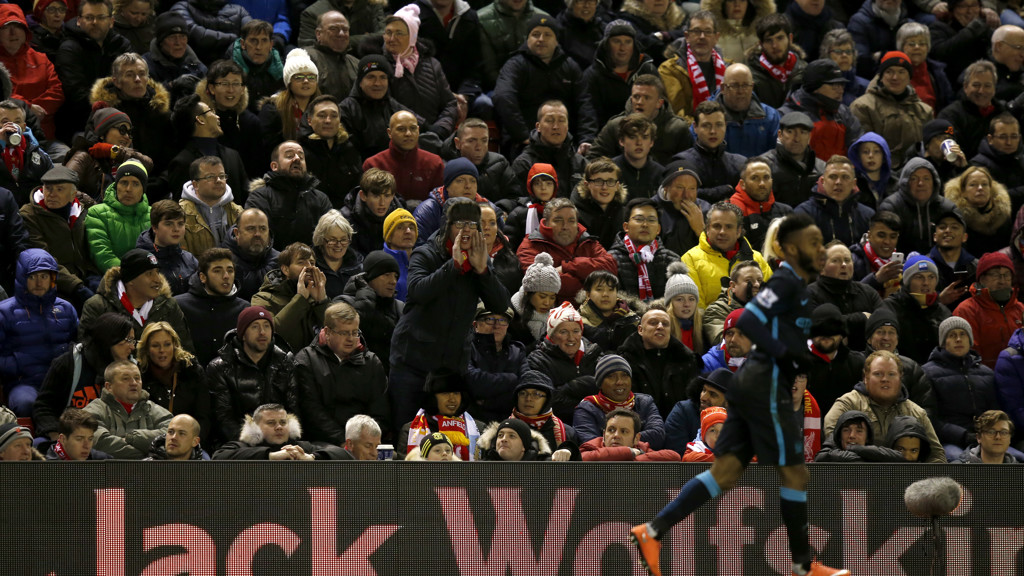 TOUGH CROWD: Raheem Sterling at Anfield
City may have suffered a stinging defeat at Anfield on Wednesday night, but they weren't the only title hopefuls to slip up.
Both Spurs and Arsenal lost to leave it almost 'as you were' in the Premier League, with of course one fewer game remaining.
City trail leaders Leicester by 10 points but have a game in hand - at Newcastle - and with Manuel Pellegrini's men still playing for 33 points, it is surely too early to make any title calls at this juncture.
BBC Sport's chief football writer Phil McNulty has written a piece assessing the Premier League landscape after the midweek mayhem: "Leicester City were left convinced it was a case of two points lost when they drew with West Bromwich Albion on Tuesday, but 24 hours later they were celebrating one point gained.
"A Premier League season that has become predictable only by its unpredictability delivered new twists as the three closest members of the pack chasing the Foxes all lost to leave Leicester three points clear.
"Spurs missed the chance to go top by losing at West Ham United, Arsenal suffered arguably the most calamitous reverse of all at home to Swansea City, while Manchester City were comfortably beaten at Liverpool.
"With 10 matches remaining, who wants to claim the top prize in the best and craziest Premier League season of all?"
Read his full assessment here.
The Daily Telegraph carry quotes from Pellegrini that suggests a hectic recent fixture list, plus the absence of influential midfielder Yaya Toure who injured his foot in Sunday's Cup final, caught up with City at Anfield.
Chris Brascombe reports: "City should have been buoyant after Sunday, momentum pushing towards a treble assault. Instead, Pellegrini suggested it was a game too far after a hectic seven days which began in Kiev.
"'From the beginning we were not fresh. Liverpool had more energy. They recovered the ball at high pace," said Pellegrini.
"'They could make more changes. We didn't have any midfielders to change without Yaya [Touré]. We had just defenders or one striker to make the change.'"
Manchester Evening News City reporter Stuart Brennan believes City should be looking over their shoulder at United - who are now level on points after their win against Watford - as well as up towards Leicester.

Stuart Brennan

Manchester Evening News
"Defeats for Spurs and Arsenal mean the title hope is still alive," he reflected. "But United's win means that priority now has to be securing Champions League qualification. It won't be easy."
The paper also carries quotes from striker Wilfried Bony, who felt a slow start cost City dear against Liverpool.
"'We lost because we didn't start well in the game,' he told the MEN. 'They were pressing high and we didn't create chances.
"'They made better chances than us and scored them, and then controlled the game.'
"'We are worried because we lost but we are still confident and will fight until the end - we are only looking to catch the teams above us.'"
Finally a touch of transfer gossip - what would our media round up be without that? - and City are reportedly battling United for a West Ham target.
The Times' Matt Hughes writes: "Manchester United and Manchester City could become engaged in a direct transfer battle this summer after they both identified West Ham United's Angelo Ogbonna as a potential solution to their defensive problems.
"With both clubs seeking to sign at least one centre back and possibly more at the end of the season, Ogbonna's recent impressive performances have caught their eye, particularly given the experience the Italian has gained in the Barclays Premier League."