Media Watch
1
Sport: City in for James Rodriguez?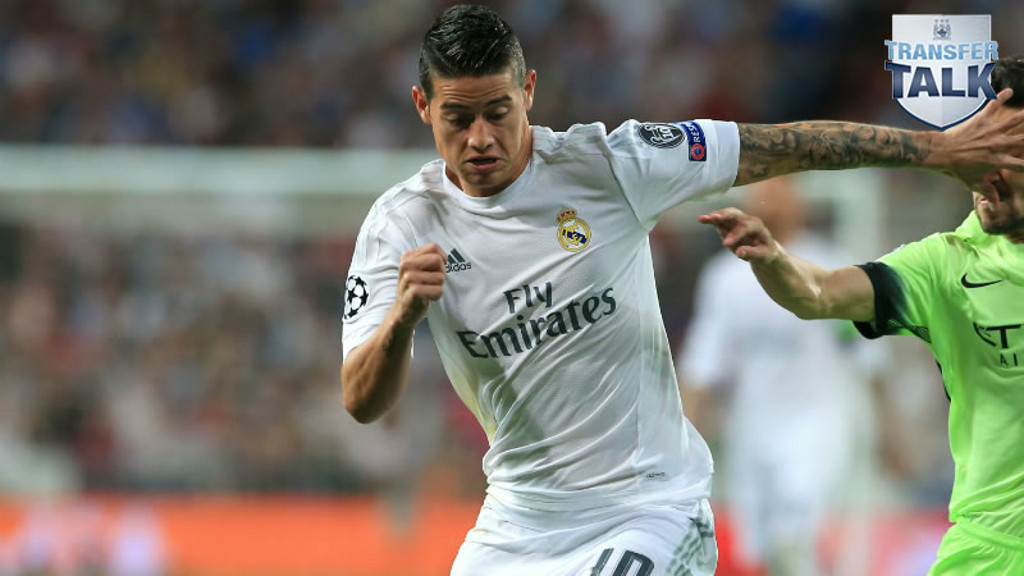 SPANISH SPECULATION: James Rodriguez
Good morning City fans and welcome to Thursday's media round-up, where transfer gossip shows no signs of letting up despite the impending arrival of real football in the form of Euro 2016.
First to the Spanish press, who are now linking City with one of the biggest names from the last World Cup, Real Madrid's James Rodriguez.
"James Rodriguez's future at Real Madrid remains in the balance, with rumours now suggesting that Manchester City are interested in signing the forward," reads a report in Sport.
"The 24-year-old is currently on Copa America duty for Colombia, but that hasn't draw attention away from his difficult season at Real and his future.
"James' list of potential suitors is long and, above all, illustrious.
"Paris Saint-Germain and Bayern Munich, whose new coach Carlo Ancelotti coached James during his time with the Blancos, are waiting in the wings.
However, the significant interest is coming from the Premier League from both Manchester United and Manchester City.




Sport
Over to the Guardian, who report that City have pulled out of the race to sign central midfielder Paul Pogba.
Daniel Taylor writes: "Manchester City have left the way open for Manchester United to pursue Paul Pogba after deciding not to go after the France international as part of a summer of extensive transfer recruitment preparing for Pep Guardiola's first season in charge."
He adds: "City's stance indicates they have other priorities. Guardiola's new employers have already brought in Ilkay Gundogan from Borussia Dortmund and have been quoted a reputed £55m if they also want to sign Pierre-Emerick Aubameyang from the same club. Gundogan's arrival already increases the competition for places in midfield, with no plans for either Fernando or Yaya Touré to leave. As such, the link with Toni Kroos of Real Madrid can be discounted.
"As the Guardian revealed in April, City are also making plans to sign Aymeric Laporte despite the Athletic Bilbao centre-half being ruled out until August with a broken leg and dislocated ankle."
Continuing the Laporte theme, the Daily Mail's Adam Crafton reports that the La Liga club have not given up hope on keeping the player yet.
"Athletic Bilbao intend to hold talks with central defender Aymeric Laporte this week as they make one last attempt to persuade him to remain in the Basque Country and spurn Manchester City's advances," he reports.
"French defender Laporte, 22, is one of manager Pep Guardiola's key targets as he seeks to bolster his new side ahead of his first season in English football.
"Laporte has a £39million buyout clause in his contract and City will have to meet this asking price if they are to secure the defender."
A number of news outlets followed up on Tuesday night's Aubameyang reports, with Sky Sports taking the extra step and analysing what the player would bring to City if he were to arrive. We know, if ifs and ands were pots and pans... City would have a team full of them!
Head this way if you're interested though!
Finally, City right back Bacary Sagna took part in France's press conference in Clairefontaine ahead of his country's Euro 2016 curtain raiser against Romania on Friday.
Sam Wallace was there for the Daily Telegraph and writes: "The Manchester City right-back Bacary Sagna is one of the senior members of the squad who, at 33, has clear memories of the last tournament on French soil, the ground-breaking 1998 World Cup triumph in which Les Bleus were captained by Didier Deschamps, the current manager. When asked to draw comparisons with today's team, Sagna, 15 when the 1998 tournament took place, chose to recall the pressure on the team from the French public and media.
"'I remember a lot of the criticism of the French team," he said. "I remember that everybody had doubts about the team. That everyone was against the team and against the coach. The team was very strong though and they started the World Cup very well. I think we have to be inspired by what they did and the way they surprised everyone by winning the tournament.'"