Media Watch
1
MEN: Fernando wanted; Guardiola ponders Kroos bid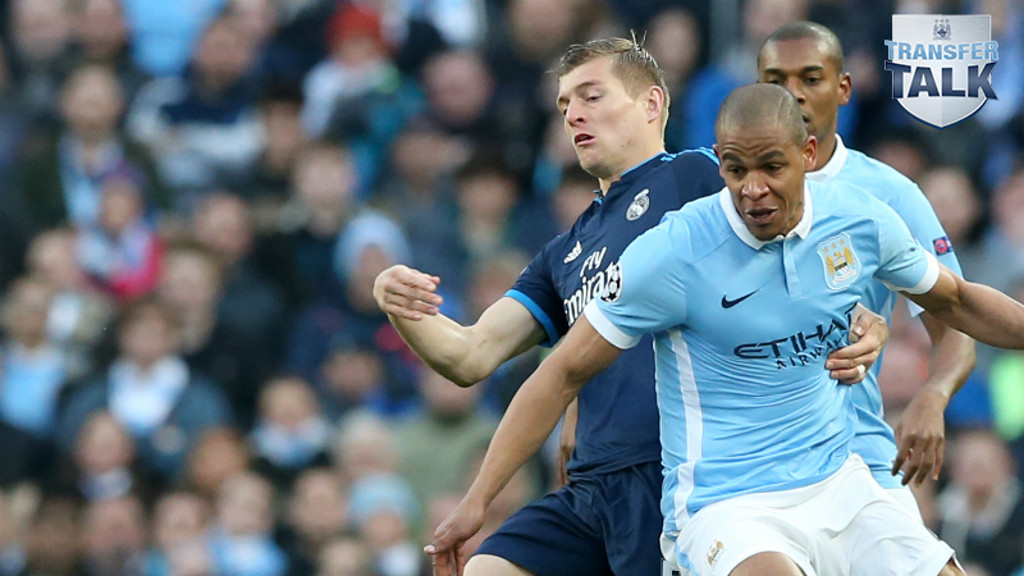 Transfer Talk: Fernando and Toni Kroos battle for possession
If you're a fan of City and transfer gossip (and City-related transfer gossip), you're in luck.
Today's headlines are packed with tales of potential incomings and outgoings so without further ado, let's take a look at what's being said...
Well, according to Anthony Jepson of the Manchester Evening News believes new boss Pep Guardiola is keen to capture the services of Real Madrid midfielder Toni Kroos.
He claims: "The new Blues boss has already landed Ilkay Gundogan from Borussia Dortmund for around £20m and is believed to be keen to continue his overhaul of the team's engine room.
"Toni Kroos, who was sold by Guardiola's former club Bayern Munich to Real Madrid against his wishes , is the next on his list of targets.

"The 26-year-old has just helped Real to a record 11th Champions League crown and Guardiola has identified him as a player to inspire City to Euro glory.
"His arrival along side Gundogan would likely mean departures, with question marks over the futures of Yaya Toure and Fernando.
"Fernando could have two exit options available with La Liga clubs Villarreal and Valencia said to be keen on taking him to Spain.

"Reports suggest that both are ready to test City's resolve to keep the former Porto midfielder who cost them £12m on his arrival in 2014."

On the subject of Ivorian powerhouse Toure, Gazzetta World believe they know where he is headed.
Julian Cardillo writes: "Inter coach Roberto Mancini has placed Manchester City midfielder Yaya Toure at the top of the Nerazzurri's summer transfer list, though a move will have to wait until the club's ownership is sorted.

"The Ivorian, who recorded eight goals in all competitions last season, could be much easier to sign now that Suning Commerce Group have all but completed their takeover of the Biscione, enabling the club to spend more on new players.

"However, the Giuseppe Meazza outfit aren't enthusiastic about the 33-year-old's current salary, which is €13 million per season.
Arranging the transfer won't be easy, as a number of other clubs that can offer Champions League football next season are also interested in the Ivorian.

Gazetta World
Meanwhile, Squawka insist the Blues are eyeing two Arsenal stars.
Pete Sharland's piece reads: "Manchester City want to sign both Jack Wilshere and Hector Bellerin this summer from Premier League rivals Arsenal, according to reports.
"The Times reports that new City manager Pep Guardiola sees Bellerin as his first-choice right-back for next season with Pablo Zabaleta set to join former manager Roberto Mancini at Inter Milan.
"However, Arsenal will reportedly resist any bids for Bellerin, who still has four years left on his contract and recently has been attracting the attention of La Liga champions and former club Barcelona.
"It is also understood by the Times that City are still interested in Wilshere, and he could be the more likely transfer as he has slipped down the pecking order in Arsenal's midfield."
As reported yesterday, there's also a story on the alleged battle between City and United for Borussia Dortmund's Pierre-Emerick Aubameyang, courtesy of Goal.
Elsewhere, changing topic, Joe Hart has told press how he plans to keep his place between the sticks.
Quoted in the MEN, he explains: "I can't just roll out of bed and perform like I've been lucky to do for so much of my career.

"I've had to change my lifestyle, begin thinking about diet. Before and after training I do Pilates on the reformer machine and strength sessions around that.

"I do leg-based strengthening but I don't really do any prison weights. It's much more isolated work to keep fit.
"I'm an old man now and I need to keep myself strong and able to train on the pitch. More and more, I feel like I need to be at my optimum in terms of fitness.
"There's basketball, volleyball, handball — in all those hand-based sports, the narrowing of angles and the jumping styles are crazy. Even stuff like cricket."
In other news...
BBC: Leicester striker Jamie Vardy to decide on Arsenal move