Media Watch
1
City front-runners for transfer trio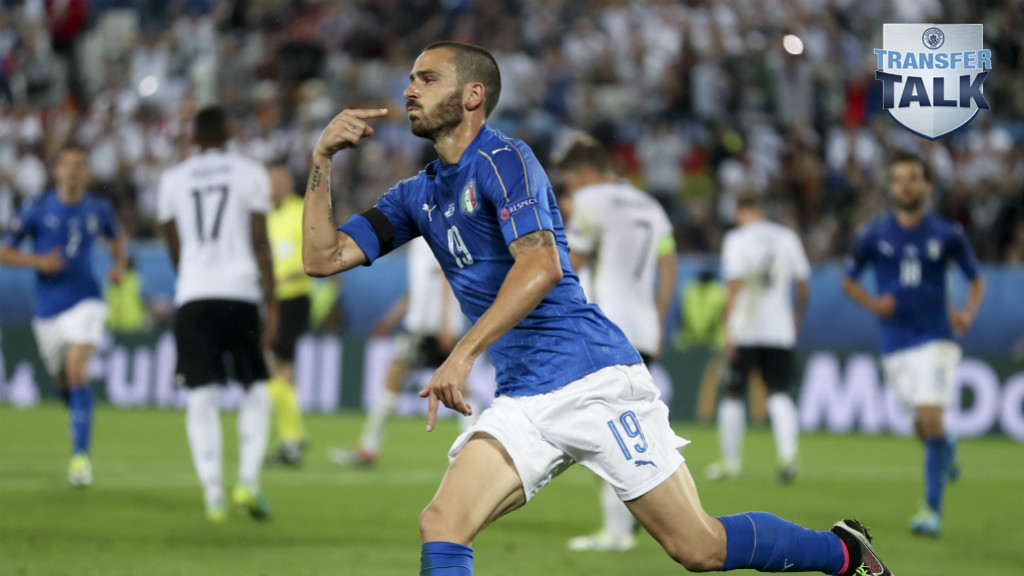 ON POINT: City are close to agreeing a deal for Leonardo Bonucci, according to reports.
City have moved into pole position in their pursuit of three transfer targets, according to this morning's papers.
That's right, our latest instalment of Blue tinted football gossip features a trio of familiar names who the media believe are edging ever closer to a move to Manchester.
We'll start with news on Leonardo Bonucci's future. The Manchester Evening News suggest City have usurped Chelsea in their pursuit of the Italian and are now favourites to land his signature.
Writes Rob Pollard: "City are close to landing the centre-back for a fee of around £50 million after talks progressed rapidly over the past 24 hours.
"It is understood Juventus are now prepared to allow the 29-year-old to leave, with City very much at the front of the queue to take him."
In a U-turn from yesterday's transfer talk, Leroy Sane's long-predicted move to Manchester is reported to be well and truly back on.
The Guardian's Ed Aarons is the man with the story, which suggests Schalke are now open to coming to an agreement with the Blues for the German winger.
"Schalke's sporting director has confirmed Leroy Sané will be leaving the club this summer, with Manchester City confident of completing a £42m deal for the Germany international," he writes.
"After Carlo Ancelotti admitted on Tuesday that Bayern are no longer interested in signing him, Pep Guardiola will be encouraged to hear Christian Heidel's admission that Sané is set to leave the Bundesliga side.
"'Leroy has made it clear, he would like to leave this summer,' he told Sky Sports. 'We will consent to a transfer if Schalke's conditions are met.'"
West Ham youngster Reece Oxford is the final name on the press' list, with the Independent's Ian Herbert reporting that the Blues have made an enquiry about the defender's availability.
He states: "Manchester City have made an official enquiry to West Ham about the availability of top England talent Reece Oxford and would find the 17-year-old very receptive to a move which could cost them as little as £15m.
"City scouted Oxford at this summer's under-19 European Championships and having been impressed by what they saw in the young defender, followed up their interest with an enquiry on Monday night. That puts them ahead of both Manchester United and Tottenham Hotspur in pursuit of the youngster."
Of course, we couldn't finish a Transfer Talk without mention of John Stones after the Daily Mail claim that Everton are keen to resolve his future.
Dominic King writes: "Everton are demanding a swift resolution to John Stones' future to enable Ronald Koeman to press ahead with his plans to overhaul the squad.
"Manchester City want Stones and registered their interest in the England international at the beginning of the year but they have yet to make a formal bid.
"The uncertainty of when City will make their move, though, is not something with which Koeman is satisfied and he has met with Stones' advisers to tell them his feelings.
"Everton, Koeman and the player do not want to endure another summer of intense speculation and the onus is now on City - whose new manager Pep Guardiola is a firm admirer of Stones - to make their move."
That's all for today, folks. Stay tuned to mancity.com and @mancity for all the build ahead of tonight's friendly against Bayern Munich.