Media Watch
1
Bravo: We must keep passing from the back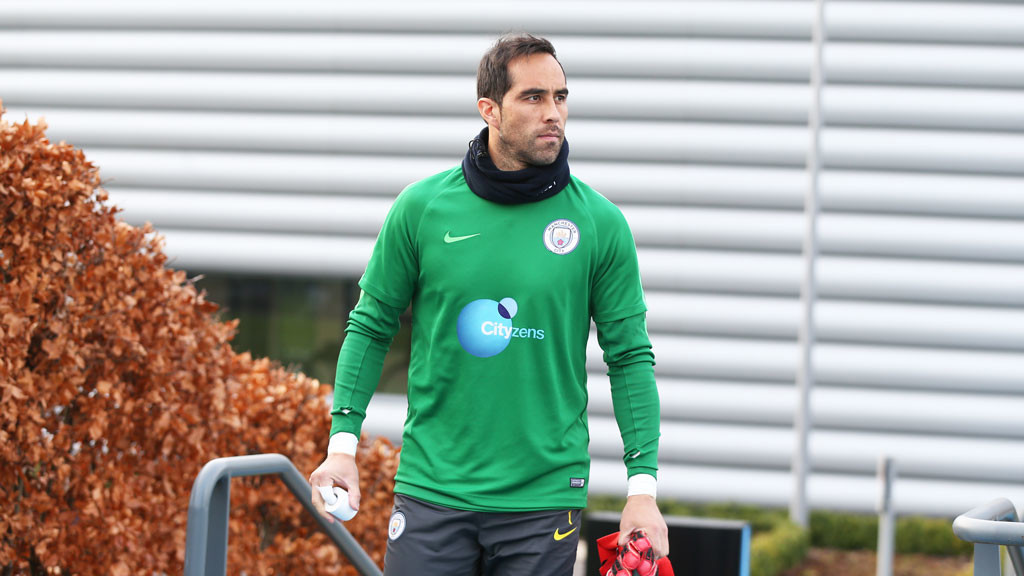 HERE COMES BRAVO: The Chilean makes his way to training
Manchester City goalkeeper Claudio Bravo believes City must continue to play passing football if they are to return to winning ways.
City are fourth in the Premier League after last week's loss to Chelsea and they travel to Premier League champions Leicester City this afternoon hoping to seal another victory on the road.
Bravo insists that the only way City can return to the form that saw them go the first ten matches unbeaten is by keeping possession and passing around the opposition.
Speaking to the Manchester Evening News, he said: "I think only success will give us the fact of playing this way, engage the fans and people from other places. We are aware of that and we value a lot the way we compete, because it's a way we like.
"We need to get ball possession and generate the maximum amount of chances of goal. And that's the only way to get success."
"I play in a way that means taking risks. From 300 passes, you make one mistake ... I had the bad luck in one game, in Barcelona, with the sending off.
"It's a risk you must take. And the criticism is going to exist based on those things. I have no problem with that.
"I feel comfortable with my role. Our style of play makes me be involved in the game. Also the team needs it because if you have a goalkeeper far from the defensive line or that doesn't give support to the central defenders playing with the foot, I don't think the system works.
"I think you need to have the ease to know where to move, what are the positions you need to be in… because besides saving goals, you need to do many more things. And to be able to do that, you must be comfortable in your position.
Elsewhere, Leicester City boss Claudio Ranieri has praised Pep Guardiola ahead of their meeting in the dugouts at the King Power Stadium this afternoon.
As reported by the Daily Mail he said: "He is an intelligent man because he blends very well the Spanish philosophy with also the Italian philosophy because also he played in Italy and now he has also the German philosophy.
"He is getting better and is one of the best managers in the world. Every country is different, every league is different."
That's all for this morning's media round-up! We'll have full coverage and highlights of Leicester v Man City on mancity.com!