Jose Mourinho believes that City are capable of beating Real Madrid in Wednesday night's match but even that won't save their Champions League campaign.
Mourinho was speaking on Tuesday evening alongside Pepe at the pre-match press conference at the Etihad Stadium.
"I think this season they will be out," he declared.
"They have a team to compete against Real Madrid – they can win and they can do the same against Borussia but eight points is not enough, so I think City will be the big team to be out."
Mourinho feels that City are one of the teams with justified aspirations of winning the Champions League and admitted he was surprised at their failure to gain more than two points after four games.
"I think that City are one of the teams that can win the competition," the former Chelsea manager said.
"I don't think it's normal when you are out of the competition at this very early stage as a big team.
"I speak for myself – if Real Madrid loses a final, a semi-final, even a quarter final – that's football – when you're out at the group stages and a big team, it's less easy to understand."

...Jose Mourinho...
A last minute winner from Cristiano Ronaldo denied the Blues a point from the Bernabeu in September and Mourinho feels that moment was pivotal in the tournament's so-called 'Group of Death'.
"That game was crucial and if City had won that match it would be a different history but we had a fantastic reaction and we won," he stated.
"Those three points were crucial in putting us in a position where we depend on ourselves and are in a good position to qualify.
"Other teams are playing easy groups, other teams know that they can qualify easily.
"City, Real Madrid and Borussia all want to win the competition but we all know that one of those teams will be out at the group stages – especially as Ajax have started taking points from teams."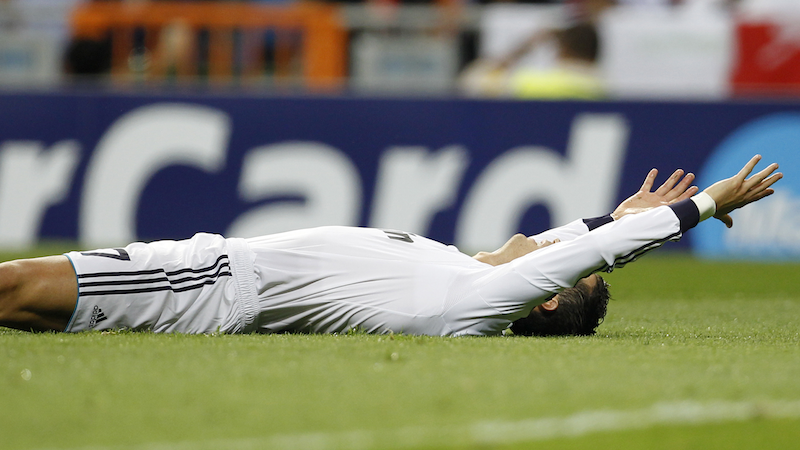 Since his three year spell at Stamford Bridge, Mourinho has made no secret of his desire to return to English football and he took this opportunity to once again praise the league he has won twice.
"I never hide my feelings even if that makes some people not so happy but I always said how much I loved my time here and I always like to be back," he said.
"I know when you play in England you have difficult matches, difficult opponents, difficult atmospheres because the fans are very strong behind their teams – I enjoy that and I think all of my players will.
"In this moment you can say that the Spanish league has three teams at the top separated from the others by many points and probably during the season that gap will get bigger.
"In the Premier League you have four teams and Tottenham and Arsenal should also be up there – you have more equal teams and maybe it's more competitive because of that."
Meanwhile, his compatriot Pepe refused to single out Sergio Aguero as the main danger to his side, stating that the City threat is spread across the pitch.
"It's not all about Kun, what's strong about City is their team spirit – they will be at us for 90 minutes," he said.
"We need to earn the right to play, to do that we need to match their spirit and desire."