Men's Team
1
Guardiola prefers pressure of being top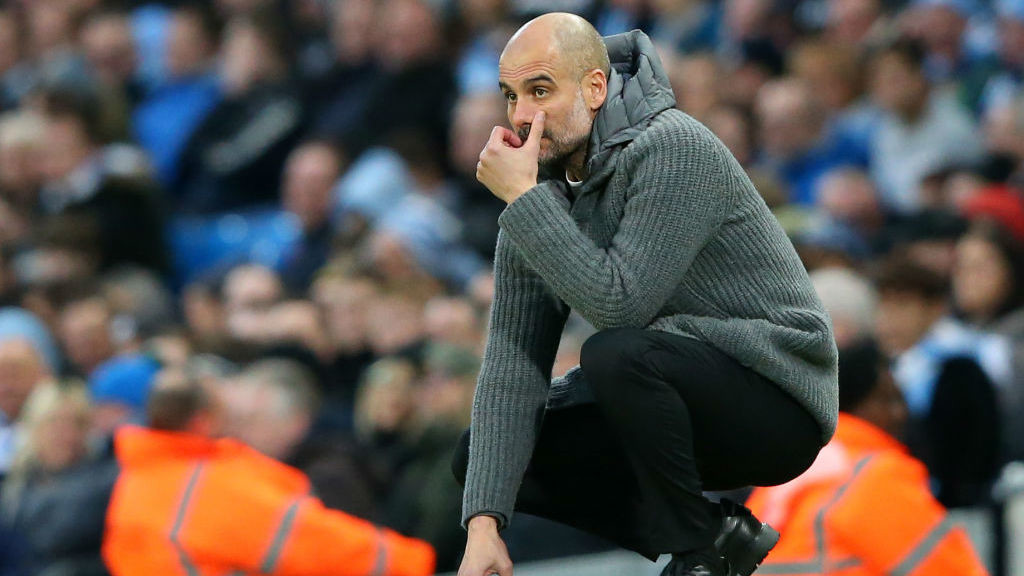 PEP TALK: The boss discusses the title race after City's 3-1 win over Watford.
Manchester City manager Pep Guardiola says he prefer the pressure of leading from the front.
The Blues' 3-1 win over Watford on Saturday moved us four points clear of Liverpool in the race for the Premier League title, although the Merseysiders cut that lead to a point with their win over Burnley on Sunday.
And although Guardiola expects City to drop points before the season is over, he says he is happy to be on top with eight matches remaining.
"I prefer to be top of the league than behind because it's in our hands," he said.
"But I feel we will drop points, as few as possible, and try to keep the distance with Liverpool until the last few fixtures and have a chance in the last few fixtures."
WATCH: Every Angle | Sterling v Watford
READ: Match Report | City 3-1 Watford
READ: Pep | More to come from Sterling
With just eight games of the Premier League title race, City now have a 21-day period without a league game.

Tuesday sees us face Schalke in the Champions League, before next weekend's trip to Swansea in the FA Cup.
After an international break, we then resume Premier League duties at Fulham on 30 March.
Guardiola says his player should not focus too much in the title race, instead taking things game by game as City look to balance the demands of the remaining three competitions.
"Today we started a competition with nine games – not one with 38," he said. "One with nine and we won the first one. Now, there's not time to think too much. We now have 21 days without Premier League. Tuesday we have a final for us and a chance to go to quarter-finals of the Champions League.
"Yesterday I saw at home the game between Norwich and Swansea and I was impressed with how good Swansea play against a team top of the league. We go game by game. It's nice to be there.
"I think Gundogan made an incredible game. He's an incredible player in all senses. Raheem can do better. He scored three but he can do better. First half he can do better."