Men's Team
1
​Trophies will define our season says De Bruyne
Kevin De Bruyne believes silverware is the only barometer for a truly successful season.
The Blues are still gunning for four major trophies, but the Belgian says it will mean nothing unless some or all of the titles are secured.

READ: Triple injury boost for Blues
READ: Which TV channel is Schalke v City on?

"The goal is not to win all four competitions," said De Bruyne.

"The goals are to win every game. We are happy with where we are, but we want to progress in every competition we are in.

"We want to win as many games as possible, but obviously it's about winning the trophy."
On the plane...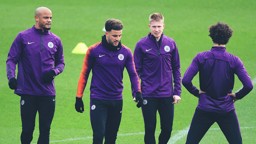 De Bruyne says the team are hungry for Champions League success, with the Blues' best run in the competition ending at the semi-final stage in 2016.

"The level of the Champions League is higher than the Premier League," he said.

"The record we have until now… hopefully we can make it better.

"We are going well. In the league we have lost a few more games, but we are still fighting in all four competitions.

"I don't think there's a lot of difference between how we did last season and this - the standard we are setting is still very high, but in the end it's all in the titles

"As a football player you want to have your personal goals. You have your team goals where you want to do better and win more.

"I think the team wants to win as many titles as possible. I think the team standards are the most important and anything personal is a bonus."
De Bruyne added that he is feeling sharper each game after being out for the majority of the first half of the campaign.

The Blues' playmaker has been gathering steady momentum – and he could be reaching optimum levels at the perfect stage of the campaign.

"I've been fortunate in my career with injuries, but I feel OK," he said.

"I feel better and better and I feel I'm performing better than I was in the beginning with my injury, so I'm happy about that."