Men's Team
1
Left foot forward: Is David Silva the greatest?
JUST CHAMPION: David Silva celebrates his stunning goal with Benjamin Mendy
Last weekend, City's starting XI had a somewhat unusual stat to boast with seven left-footed players in the line-up.
Ederson, Benjamin Mendy, Aymeric Laporte, Riyad Mahrez, Leroy Sane, Bernardo and David Silva are predominantly left-footed players – some more so than others – and it certainly got our fans talking about the topic of 'lefties'.
When we asked for suggestions of favourite left-footers on Twitter, there were numerous names from the past that cropped up including winger Peter Barnes and midfielder Kevin Horlock.
Of all the names mentioned, only one was continually dubbed the Blues' greatest ever left-footed player – David Silva.
READ: The last Hyde Road season-ticket
READ: Sudden impact - City's super subs
Many suggested he was the best player with either foot and after nine years of continued brilliance, who could argue?
Moreover, many City fans have been left drooling at our Spanish magician this season and asking the question whether this, in his ninth season at the Club, could turn out to be his best?
The indications are it could well be.
A day for the lefties! 👈

Seven left-footers involved for #mancity today.

But who's our best-ever left footed player? 🤔 pic.twitter.com/z9yMWc1pUt

— Manchester City (@ManCity) October 20, 2018
Silva's form to date has been exceptional, with his performances in the last two games against Burnley and Shakhtar as good as you will see.
Clearly, the system Pep Guardiola sets is perfectly suited to Silva's style, giving him freedom to glide around the midfield and create magic.
Pep keeps it simple and allows Silva the space he needs to use his vast array of passes and almost telepathic vision.
And he has clearly been encouraged to get into the box more often, with four goals in 11 games putting him well on the way to double figures for what would only be the third time in City colours.
Against Shakhtar, he struck the woodwork twice before a sweetly-struck volley opened the scoring.
It was his last-minute winner at Hoffenheim that kick-started the Blues' Champions League campaign, too, a trophy he desperately wants to win.

City are without doubt the beneficiaries of Silva's international retirement.
ICYMI: The City striker who had the lot...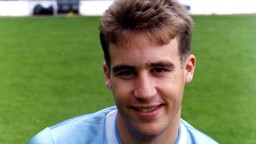 His 125 caps ensure he will always be thought of a Spain legend in his homeland, but at 32, he felt he'd served his country with great pride but that it was perhaps time for others to have a chance.

That decision would not have been taken lightly, but it means he can rest up during international breaks and recharge his batteries. – and the Blues are already reaping the benefits.
Last season, David had to juggle his time between his prematurely-born son and playing football – add to that international duty and it is a wonder he managed to be as consistently good, even winning a place in the PFA Team of the Year.

But now Mateo is here with him and making fantastic progress.
A huge weight has been lifted off El Mago's shoulders and he is probably enjoying his football as much as he ever has.
He looks fit, sharp and at the very top of his game – an amazing achievement in his ninth year with the Blues.
On this evidence, he will continue to be integral to City for many seasons to come and stats-wise, he has a number of targets to aim for if this is to be his best campaign yet.
He's averaged around 40 games per season for City since 2010/11 when he clocked up 53 starts in all competitions.
His highest goal tally was 12 in 2014/15 and the most assists he's made in one Premier League campaign is 15 in 2011/12.
It's still early days and Pep is likely to protect his prized play-maker and ensure he gets the necessary time to rest up during the more hectic spells of the campaign – so while topping 53 appearances looks a tall order, 15 assists and 12 goals is very doable for a player who just keeps getting better.