Today is the 70th birthday of our popular former manager, Manuel Pellegrini.
It also pits two of his ex-clubs against each other as City take on West Ham, kick-off 15:00 (UK) at the London Stadium.
To mark the occasion, we have taken a look back at the Chilean's stunning first season in charge at the Etihad.
This article was first published on 22 November 2018.
City ended the 2012/13 campaign with no trophies having won the Premier League title so dramatically the season before and the FA Cup two years earlier.
A disappointing FA Cup final defeat to Wigan Athletic in May 2013, an early exit in the League Cup and failure to win any of the six group stage Champions League games – not to mention a nine-point gap between the Blues and Premier League champions Manchester United - meant that the Club decided to part company with boss Roberto Mancini.
It wasn't an easy decision, but the Blues felt that a new direction would be beneficial to kickstart the momentum that had been powering the Club forward between 2009 and 2012.
It's probably fair to say that Malaga boss Manuel Pellegrini was not on the radar of many City fans after the announcement of Mancini's departure was confirmed, but on 14 June 2013, the Chilean was unveiled as the new manager at the Etihad.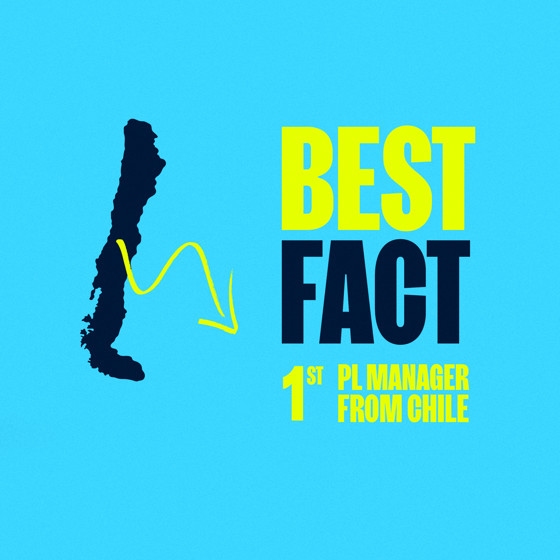 Pellegrini arrived as a manager who had got teams to punch above their weight.
He had made unfashionable Villarreal genuine La Liga title contenders, finishing runners-up and guiding the Yellow Submarine to the last eight of the Champions League.
That earned him the manager's job at Real Madrid, where he guided Los Blancos to their highest ever points tally in his one and only campaign – but was still shown the door after a trophyless season at the Bernabeu.
He wasn't out of work for long, becoming boss at Malaga and within two years he had taken the Spanish side to fourth in La Liga and their first ever Champions League qualification.
Malaga flourished in the Champions League and looked guaranteed for a semi-final spot until Borussia Dortmund scored two stoppage time goals to lose 3-2 and agonisingly bow out.
It is his exploits in Europe that may well have convinced the Blues that he could do the same again at the Etihad.
Pellegrini brought in trusted La Liga stars in Jesus Navas, Martin Demichelis and Alvaro Negredo, along with Stevan Jovetic and Fernandinho.
After a tour of South Africa and Hong Kong, City took part in the Audi Cup in Munich and the early signs looked very promising.
Against AC Milan, the Blues raced into a 5-0 lead with just 36 minutes played with some breath-taking football – before conceding three goals in six minutes just before the break to go in 5-3 up at half-time.
There were no more goals, but Jovetic in particular seemed to have brought a new dynamism to the attack, with Negredo looking an excellent foil for Sergio Aguero and/or Edin Dzeko.
In defence, Pellegrini opted for Pablo Zabaleta as first choice right-back ahead of Micah Richards, with the pair having previously shared the role under Mancini.
In fact, Zabaleta would form a defence that included Demichelis and skipper Vincent Kompany, with Aleks Kolarov at left-back and Fernandinho shielding the back four.
That was the foundation that allowed David Silva, Samir Nasri, Navas, Yaya Toure, Negredo and Aguero the freedom to focus on attacking the opposition.
It would prove devastatingly effective, too, with Yaya, Negredo, Dzeko and Aguero scoring 101 goals between them in Pellegrini's inaugural campaign as boss.
Ahead of his first game with Newcastle United, he said: "Of course the new players – and the manager and staff - all need to time to get to know each other and I am sure that we will improve as the season progresses but we do not have that time; we have to hit the ground running and that starts against Newcastle," he declared in his programme notes for the curtain raiser.
"We now start a new cycle after Roberto Mancini's work from the previous seasons. He created history here, brought the Club its first silverware in a long time and the first title in 44 years. He will never be forgotten and shouldn't be.
"But football moves on and evolves, it has always been that way, and now we have a new era starting tonight with some new players. We had a good squad before I got here but I think we have bought well and bought wisely during the summer.
"I would like to say a big thank you to all City fans for the warm and generous welcome that I have received from you since I arrived here in Manchester. It has been very special, and my staff and I are very appreciative."
City started the season with a mixture of brilliance and indifference.
A stunning opening 4-0 win over Newcastle United was followed by a 3-2 defeat away to Cardiff City; a 4-1 win over United saw the Blues then lose 3-2 to Aston Villa and single goal losses to Chelsea and Sunderland meant City had taken 19 points from a possible 33 – hardly title form.
But Pellegrini's City rallied.
The goals started to flow, with a 7-0 home win over Norwich followed by a 6-0 Etihad win over Spurs. And who could forget the all-out attack goal-fest that was City 6 Arsenal 3?
The Blues impressed in the Champions League, too, coming with one goal of topping the group after a thrilling 3-2 away win over Pep Guardiola's Bayern Munich.
The adventure in Europe was ended in the next round against Barcelona, but the foundations for an even more impressive run in the competition the following season had been laid where City would go within a whisker of a first final.
A run of 11 wins in 12 Premier League games ended with a quite brilliant 5-1 win away to Tottenham before a 1-0 home loss to Chelsea was followed by more dropped points in a 0-0 draw at Norwich.
The title race was between City, Chelsea and Liverpool, but the League Cup had been a welcome distraction and when the Blues beat Sunderland 3-1 at Wembley in the final, it was the first time the trophy had been won by the Club since 1976.
There was a freedom and determination about Pellegrini's side that made the football both thrilling and entertaining in equal measure.
Away to Hull, City lost Kompany to a red card just minutes after kick-off, yet the 10-man Blues held their nerve with a defining 2-0 win at the KC Stadium.
The manner the players, Joe Hart in particular, celebrated with the travelling fans suggested the team believed they were on their way to a second title in three years.
A 3-0 win at Old Trafford all-but ended defending champions Manchester United's challenge, but Liverpool's 3-2 win at Anfield firmly swung the pendulum the Merseysiders' way – there were just seven games left and it was Liverpool's to lose.
But whereas Mancini had played down the Blues' title chances in the final weeks of the 2011/12 campaign, Pellegrini said he still believed City could overhaul Liverpool.
A disastrous 2-2 draw with bogey side Sunderland saw more ground lost and to have any chance of the title, the Blues had to win their final six games and hope Liverpool dropped points.
The Blues had a game in hand on the Reds who also played their third from last game before City on 27 April – if Liverpool beat Jose Mourinho's Chelsea, City would be nine points adrift with only four games remaining.
Prior to the match, Pellegrini said: "I don't know what Chelsea are going to do – the only important thing and the only thing we can do is to win our game and that is what we're going to do from now until the end of the season.

"I think that every team tries to do the best thing for their teams. We must win our games.
"Liverpool have to win their three last games – if they win them, they win the league.
"Of course, we can win the league – everyone who is working in football knows that anything can happen. When the pressure is high, anything can happen."
At Anfield, in what would be a title-defining game, Chelsea defended stoically, with Mourinho angered prior to kick-off at suggestions he would field a weakened team ahead of their midweek Champions League semi-final against Atletico Madrid.
Instead, the Portuguese delivered a tactical masterclass and as Steven Gerrard slipped in the halfway line allowing Demba Ba to race through and score, City were handed an unexpected title lifeline.
The Blues had to respond, and a hard-fought 2-0 win away to Crystal Palace reduced the gap to just three points – plus City had a game in hand against Aston Villa for the penultimate match of the season.
Before that, the Blues had to travel to face Everton, knowing three points would really turn up the pressure on Liverpool.
It proved a thrilling contest, with City coming from behind to edge a 3-2 win at Goodison and move on to 80 points with two games left.
The Blues had a superior goal difference at that stage, but Liverpool's Monday night fixture away to Palace gave them a chance to narrow the gap and, crucially put the pressure firmly back on City.

In an unforgettable encounter at Selhurst Park, the Reds raced into a 3-0 lead and with barely 10 minutes left, looked home and hosed – but Palace staged an incredible fightback, scoring three goals in the time that remained to draw 3-3.
City needed to win the last two matches against Villa and West Ham and the title was ours.
For more than an hour, Villa held firm at 0-0 with the home fans growing increasingly concerned – but they needn't have fretted – Edin Dzeko netted in the 64th and 72nd minutes and further goals from Jovetic and Yaya Toure completed a 4-0 victory.
It meant a draw against West Ham would be enough – unless Liverpool could beat Newcastle by 13 goals or more!
Pellegrini's City eased past the Hammers with goals from Nasri and Kompany giving an ecstatic Etihad a second title in three seasons.
A flag with Pellegrini's face and 'This Charming Man' written on flew proudly among the celebrating City fans – the Blues had chased down their quarry yet again, just as they had in 2011/12.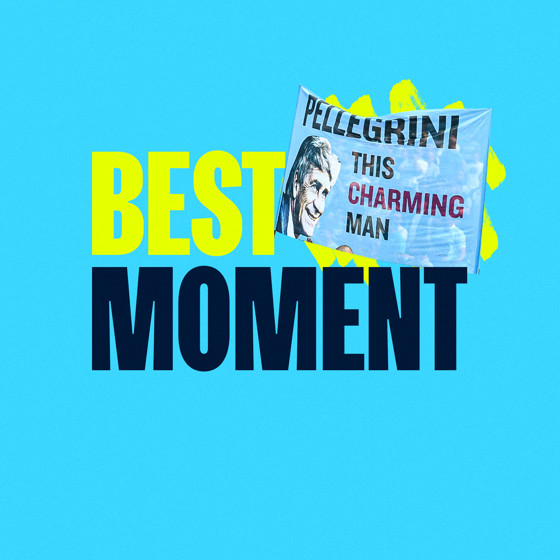 For Pellegrini, it was quite an achievement in his first year in English football and though the two seasons that followed would not match the achievements of 2013/14, in many ways, Pellegrini was the perfect manager to hand the baton to Pep.