Men's Team
1
Aguero: We can keep growing under Guardiola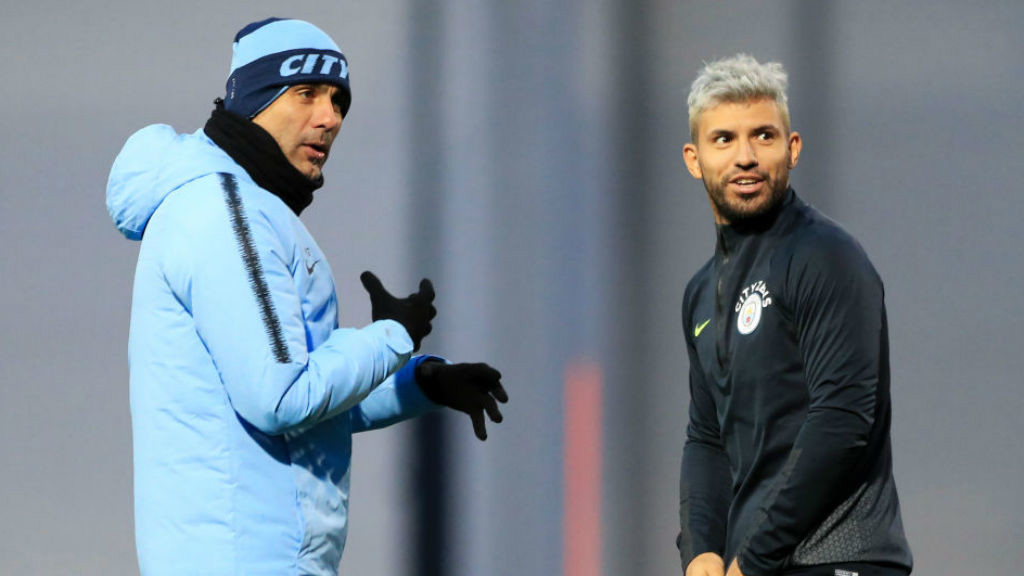 TRUE BLUES: Sergio Aguero has hailed the influence and impact of Pep Guardiola on his own development as a player
Sergio Aguero says he and his Manchester City colleagues can continue to grow and prosper under the inspired leadership of manager Pep Guardiola.
Having recently notched up his 150th Premier League goal for the club, Aguero has arguably become an even more accomplished all-round striker in the two and a half years since Guardiola arrived at the club.
In that time the Argentine has also become the Club's all-time leading scorer and played a pivotal role in last season's record-breaking Premier League title and Carabao Cup winning campaigns.
The 30-year-old says that the influence of Guardiola, who enjoyed huge success in charge of Barcelona and Bayern Munich before taking over at the Etihad, has been crucial.
And he believes there is still more to come from a City squad that is competing for silverware on four fronts.
READ: Benjamin Mendy ruled out for up to three months
WATCH: Man City doctor Max Sala Race Across America
"No matter the players you have, at the end of the day what matters is the one who manages the whole team - in this case Pep Guardiola," said Aguero.
"We know how he is and what he wants from us.
"In the first season, it was more complicated to adapt to his style of play, but after some time, we managed to understand his philosophy.
"I think he is a great manager and no matter which team he manages, you know he's going to do well.
"The Premier League is not easy. Staying unbeaten is not within the reach of many teams. I think we have undertaken a big process since Pep arrived.
"We are progressing very well. We won the Premier League last season and we just think about how we can keep growing.

"If we manage to keep this up, stay focused, keep thinking of winning and doing the things right, we can keep the unbeaten record."
Following November's international break, Aguero and City return to Premier League action away at West Ham on Saturday afternoon, with City two points clear at the top of the table.
READ: John Stones can become the next Bobby Moore says Buzzer
WATCH: Elano | My time at City was a joy for me
However, the striker believes that if the Blues are to successfully defend their title, it will be a far tougher assignment than it proved last season.
Aguero said: "I think the Premier League is going to be more complicated this season than last. I think Liverpool and Chelsea are our main threats, without forgetting Arsenal, as they have been playing really well recently.
"At the end of the day, it's going to depend on us. If we keep playing well and getting three points after three points, what the rest of the teams do is not going to matter. But I think it's going to be tight until the end of the season.
"It's very difficult to win the Premier League again, but I think we have a good team. We are on top of the table and we have the desire to achieve that (consecutive titles).
"I don't think many teams have managed to win back-to-back. It's always good to set goals and try to achieve them. We are focused on our goal, so I think if we all pull together, we can do something historic."

Aguero also revealed the inspiration behind his new silver-coloured hairstyle which he sported for the first time in our 3-1 derby win over Manchester United earlier this month.
"I thought about doing something different. It was a decision made with my brother," Kun revealed.
"Luckily, most people liked it so I'm going to leave it for now. Now, all the players are going to know straight away who I am! It's going to be very easy to spot me. It's impossible for them to get mixed up!"