Men's Team
1
City's Premier League fixtures: Talking points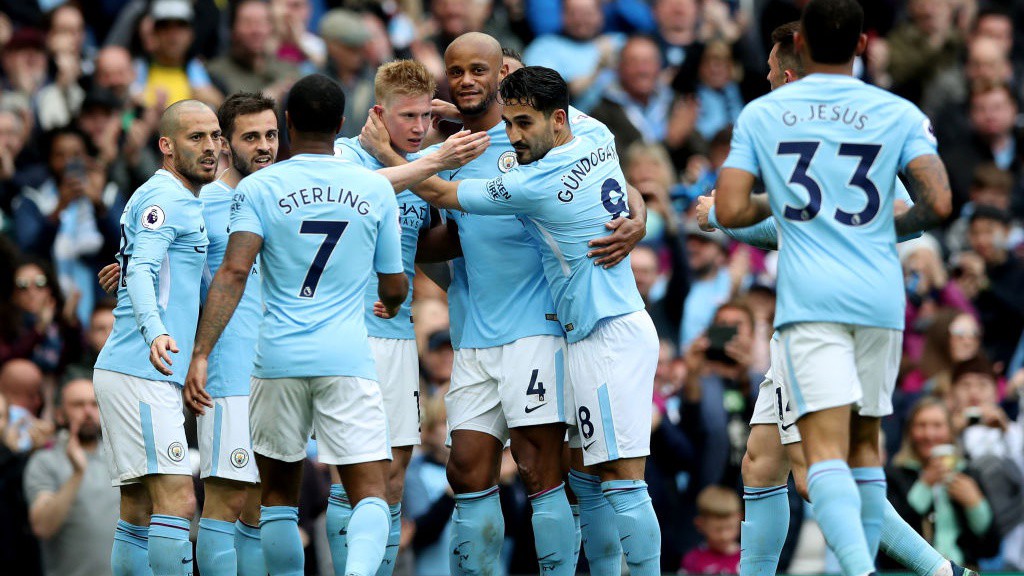 DREAM TEAM: City players celebrate De Bruyne's twelfth goal of the season.
With the release of City's 2018/19 Premier League fixtures, we analyse the stand-out matches and potentially key periods...
1

The opener

The Blues' defence of the Premier League title kicks off with one of the toughest of tests – a trip to Arsenal.

Pep Guardiola's men will travel to North London to face a Gunners side who will have a point to prove after a disappointing season and will perform under the leadership of new manager Unai Emery for the first time competitively.

City's record at Arsenal leaves a lot to be desired with just two away victories clinched since 1975 – but the Blues secured a hat-trick of victories against Arsene Wenger's side last season, including a 3-0 triumph in the Carabao Cup final at Wembley.

Another 3-0 win followed four days later at the Emirates – our biggest away win at Arsenal since 1912, while Guardiola's side swept the Gunners aside in the home clash with a 3-1 victory.

A similar result on the opening day would certainly issue a statement of City's intent.

FULL LIST: 2018/19 FIXTURES
2

Derby days

One of the first fixtures every Blue (and Red) looks for on release day… the Manchester derby!

City host the first of the 2018/19 clashes, welcoming United to the Etihad Stadium on 10 November and our visit to Old Trafford takes place on 16 March.
WATCH: Best of the Best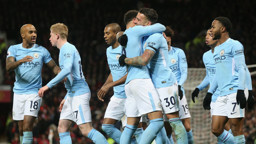 The home fixture against the Reds follows Matchday Four of the Champions League (6/7 November), while the return derby takes place after the Round of 16 knock-out stages (5/6 or 12/13 March).

Last season's encounters ended in a victory apiece with both sides claiming victories in their neighbours' own back yard.
Goals from David Silva and Nicolas Otamendi earned a 2-1 win at Old Trafford, while United staged a second half comeback to triumph 3-2 and postpone the Blues' title win.
3

Festive fun

As is traditional, the month of December presents gifts of games galore.

City have seven league games (plus the final Champions League group match and a potential Carabao Cup encounter), kicking off with Bournemouth at home on 1 December.

There's a midweek clash as we travel to Watford on 4 December before facing Chelsea at Stamford Bridge the following weekend (8 December).

We then entertain Everton and Crystal Palace (15 and 22 December) but are away on Boxing Day against Leicester.

A journey down to Southampton follows on 29 December and we bring in the New Year with a mouth-watering visit of Liverpool on 1 January.
4

Back in the big time

We'll face familiar foes as the three promoted sides make their return to Premier League action.

Wolves, Cardiff and Fulham replace Swansea, Stoke and West Brom in the top flight.

City won five of our six games against newly-promoted clubs last season – drawing 0-0 against Huddersfield – and have a fine record against all three of the 2018/19 newbies.

The Blues have won our last five encounters against Wolves and Fulham and last two against Cardiff.
5

Déjà vu

Oddly, for the third consecutive season, we lock horns with Arsenal and Chelsea in consecutive games.
Celebrating Beautiful Football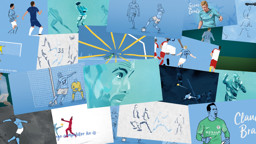 February could prove a crucial month, as we host both London sides at the Etihad Stadium before facing a tricky trip to Everton and completing the month's schedule at home to West Ham.

City claimed a 100% record against Arsenal and Chelsea last season with our 1-0 triumph at Stamford Bridge a stand-out victory and performance.
Same again please!
6

Run-in

After our mid-March trip to United, City's remaining seven opponents include two of the newly-promoted sides and just one side who finished in the 2017/18 top six – Tottenham, who will visit the Etihad Stadium on 20 April.

As run-ins go (and without tempting fate!), on paper, that one is fairly kind.

Of course, all the above dates and times are subject to change, but as it stands, this is how the campaign will pan out.