Men's Team
1
Aguero goals and captain KDB: Talking Points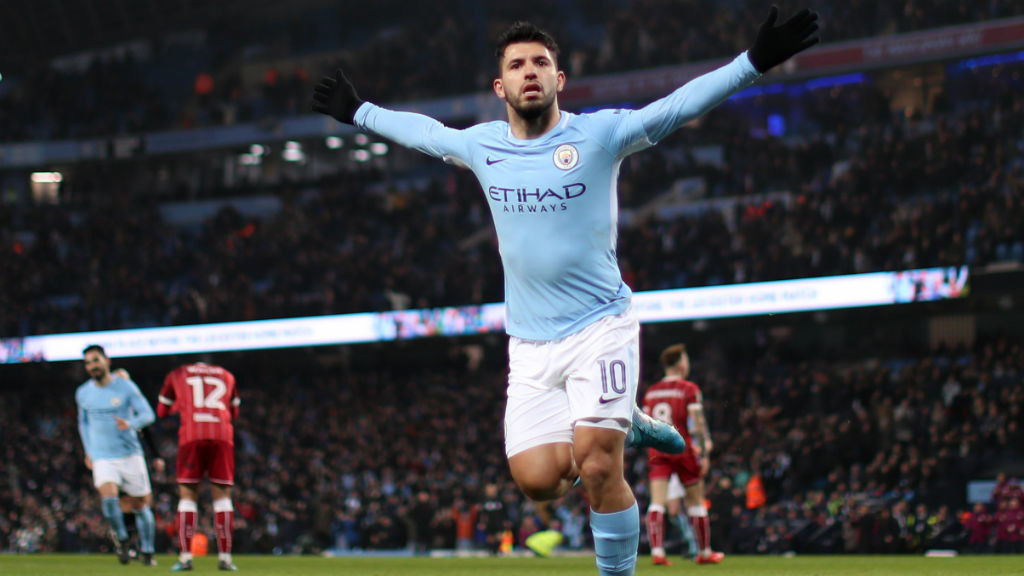 โกล!!! เซอร์กิโอ อเกวโร่ กับประตูชัยในช่วงทดเวลาบาดเจ็บเหนือบริสตอล
Manchester City spirit, Sergio Aguero goals and captain Kevin De Bruyne all feature in our latest Talking Points feature...
1

Aguero on a roll

City's all-time leading goalscorer motored up to 19 goals from 25 appearances for the season with as he stepped off the bench to head home an added-time winner against the Robins.

That's four in three games at the Etihad for Aguero, and with Gabriel Jesus sidelined with a knee injury, the Argentinian's goals will be more crucial than ever.

Left-foot, right foot, headers - Aguero is firing on all cylinders early in 2018.
2

Captain KDB

De Bruyne was handed the arm-band and truly led from the front in a tough cup tie. He scored the leveller and was everywhere on the night.

He took the responsibility with trademark aplomb, reflecting: "I try to play always the same. I don't think it changes that much. Everybody has to take their responsibility on the field. We see it is more of a sign of trust but I try to do the things I do good and tried to change the game in the second half. That was good."
3

The late show

It takes a brave City fan to leave early these days.

For much of this season Pep Guardiola's men have produced convincing wins. But on the occasions where a finishing twist has been required, more often than not it is delivered.

Late wins have been secured against Bournemouth, Feyenoord, Huddersfield, West Ham, Southampton - and now Bristol City can be added to the list.

That is testament to the spirit of this squad. Regardless of the circumstance, there is the overriding feeling that this group of players simply wants to win the match they are involved in.
4

Rest and rotate

Through a combination of quantity of games and injuries, City's squad are enjoying a good amount of game-time. Danilo, Ilkay Gundogan and Oleksandr Zinchenko have enjoyed back-to-back starts to name but three.

And although changes have been made, the 'W's' continue. That can only be good for squad morale and fitness, and surely helps foster the City spirit.