Men's Team
1
Talking Points: Kun's best yet, Leroy & Zinchenko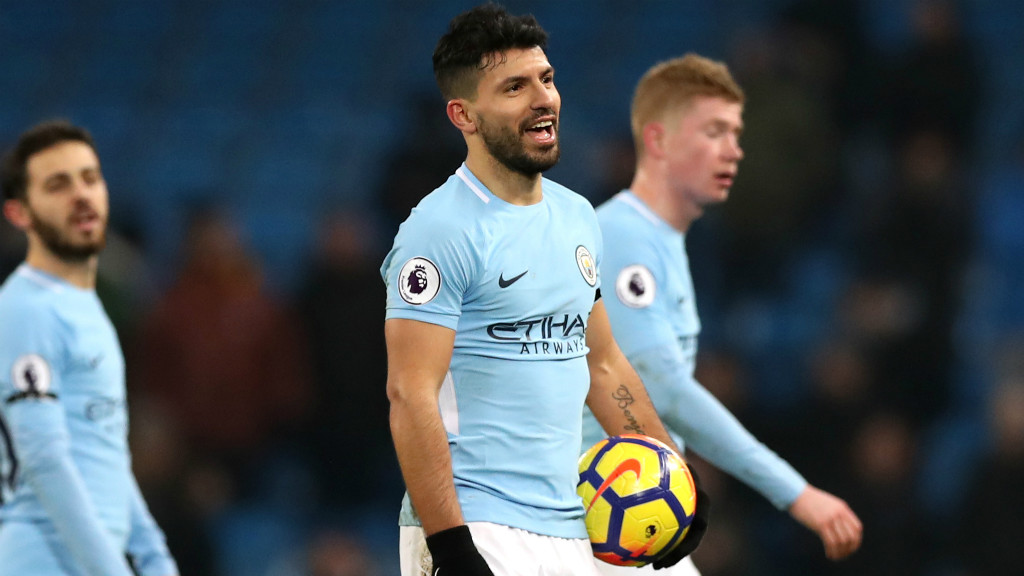 CALLING THE TOON: King Kun
A hard-fought 3-1 win over Newcastle and five talking points to consider...
1

Sergio set for best yet?

Sergio Aguero's perfect hat-trick took him to 22 goals for the season so far.


Kun has set the bar even higher in this, his seventh season at the Club, with his highest tally yet at this stage of a campaign.

The Argentinian's 11th hat-trick for the Blues puts him way out in front of anyone else for City trebles and took him to 14 goals in 12 games against the Magpies.

With 14 Premier League games to go and at least four matches in various cup competitions, Sergio is well on target to top the 33 goals he scored in 2016/17 and is now just nine goals short of a double century for City.

What a player.
2

Blues respond immediately

All week we've heard various theories and opinions about how to stop City.

'Press high and unsettle the Blues' back four' or 'have a good go' were the most common lines and that's exactly what Newcastle did initially, perhaps buoyed by Liverpool's win last weekend.

But it would foolhardy of any opposing manager to think that Pep Guardiola and his players hadn't already planned for teams to come at us.

It was vital City answer those questions immediately – and against Newcastle, the Blues dealt with the high press by playing through, around or even over it.

It's hard to play against a side who's aim is to stop you playing and nullify – even if it's understandable – and though City weren't quite firing on all cylinders, the warnings were posted – sit deep at your peril.
3

Solid Zinchenko

Apart from one or two tired passes towards the end, Oleksandr Zinchenko had a great game against Newcastle.

The Ukrainian youngster has had to adapt to playing left-back this season, and with Benjamin Mendy and Fabian Delph both side-lined, he has the opportunity to really establish himself in the first team.

A popular member of the squad among his team-mates, Zinchenko is studious, dependable and has plenty of promise – now it's up to him to grasp the opportunity and more performances like this and he'll do just that.
4

City's cup runneth over

In a week's time, we'll have a clearer picture of how the Blues' quest for silverware is panning out.

Two tough-looking trips to the south-west will reveal how many trophies City can realistically aim for, but neither match will be treated as games the Blues will simply have to turn up to win.

Far from it. Cardiff and Bristol City would not look out of place in the top flight and could well be a part of it next season.

On Tuesday, Bristol City will look to overturn a 2-1 first leg defeat suffered at the Etihad in the Carabao Cup, and next Sunday, Neil Warnock's Cardiff will give their all in the FA Cup 4th round.

Both Championship promotion-chasers will be backed by a 25,000+ partisan home crowd and both will look to claim the scalp of the Premier League pacesetters.

With the Blues' next league game against West Brom a week on Wednesday, Pep can mix and match his troops for the two cup games, so expect to see Claudio Bravo, Yaya Toure, Bernardo Silva, Ilkay Gundogan and Eliaquim Mangala in both or either contest.
5

Magical Leroy

Leroy Sane's breath-taking run to set up Aguero's hat-trick against Newcastle confirmed what City fans already know – he is a special talent.

Sane will get better and better and it's true that not everything he tries comes off – but when it does, he is devastating.

Though he didn't beat the 37 Newcastle players Match of the Day presenter Gary Lineker tweeted, he did fend off six challenges, threw in a trademark nutmeg and then teed up Aguero the goal that sealed the game.

That's his 10th Premier League assist of the campaign – the best in the division - along with a player called Kevin De Bruyne…