Men's Team
1
Guardiola: Mendy is Mendy!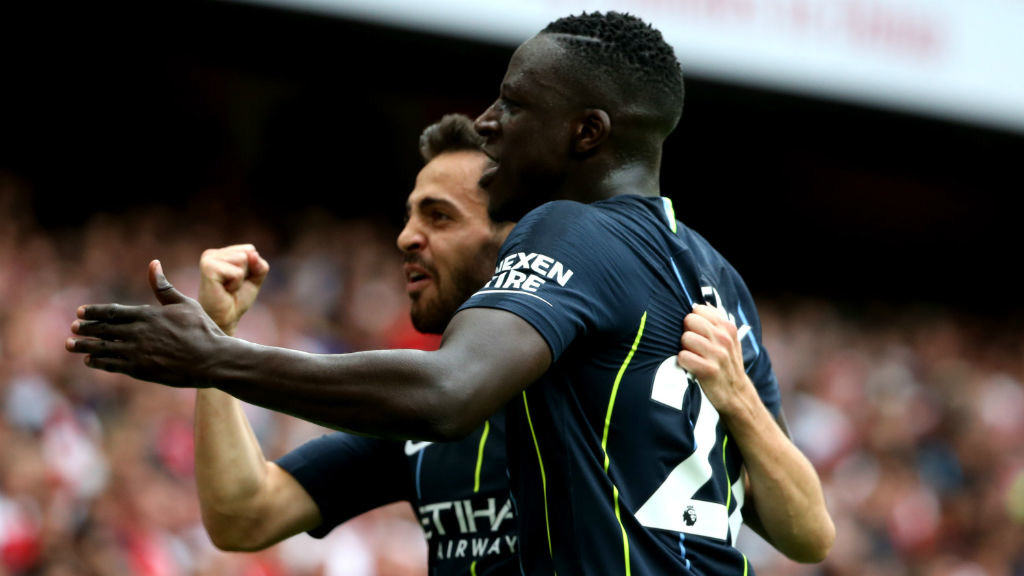 DUO: Mendy with the assist, Bernardo with the goal!
Pep Guardiola believes that Benjamin Mendy's return to the squad will have a huge impact on City's season.
The Blues secured a 2-0 win over Unai Emery's Arsenal in our Premier League opener, which saw Mendy make his first start in the competition since sustaining a serious knee injury last year.
And the boss believes the charismatic French World Cup winner - who provided assists for both goals - can have a key effect for the Blues this season.
"I said many times, our average level is high, you cannot deny that. I have a feeling we can improve. Like inserting Mendy into the group," Guardiola reflected after the match.
"Today our pressing was different than Chelsea. To understand that needs time. But in general, I am more than satisfied what I saw against Chelsea and Arsenal.
"Mendy is Mendy. Sometimes we want to kill him and sometimes you think wow what a player we have.
"He gives us energy.
READ: Arsenal 0-2 City - match verdict
READ: Bernardo and Sterling react
"Mendy has a lot of things to improve and hopefully we can convince him to forget a little bit the social media and improve a few things."
On City's performance, Pep was pleased with the standard he saw despite a number of his players returning late due to World Cup duties.
"I think going away to the Emirates is always so complicated. Especially in the first game when Arsenal have a new manager. Every supporter wants to do their best and of course, winning the Community Shield this week was so good.
"We played a high level considering the lack of physical condition for many of the players who arrived back late after the World Cup.
"Our performance was good but this is just the first step so we keep going."