Men's Team
1
Guardiola: Belief behind Sterling's success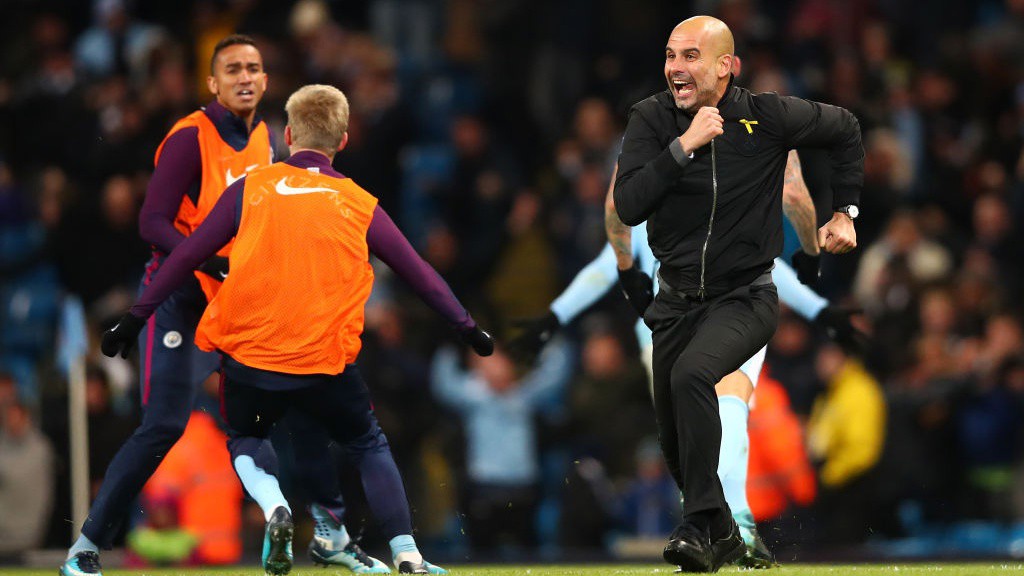 DELIGHT: Look how much that late winner meant to the boss!
City manager Pep Guardiola identified a new-found confidence as the key to Raheem Sterling's scintillating form.
The winger struck a wonderful curling effort in injury time to snatch all three points for the Blues against Southampton, clinching a 19th consecutive win for the Club and his 13th goal of a superb campaign.
The strike sparked delirium inside the Etihad Stadium – so much so the manager felt the need to apologise for his joyous celebrations.
"It was a good night!" he reflected. "All of the supporters created some special moments in the last seconds and we enjoyed the celebrations.
"I apologised (to the referee). I could not control it. I wanted to run with Raz but I was not quick enough!
"It was a good moment in the locker room (after the game) with the staff and the players. We have to enjoy these moments.
"We have had a lot of special moments. At Bournemouth, we were happy and today, it's been amazing.
City 2-1 Saints: Match and player stats
"When you win so many games in a row, sometimes you relax but we didn't and we are so happy.
"You have to discover the pleasure of winning games. The guys who are scoring goals are full of joy.
"The goal was amazing because there was no space - there were ten players in the box.
"Raheem is still young enough (to improve). He is making steps. I know he is feeling he can do it (change games).
"Before, he was feeling shy. His teammates are giving him confidence.
"You have to have the personality to create the pass with Kevin De Bruyne in injury time and put it in (the top corner). It was a fantastic goal."
On the subject of Benjamin Mendy's post-match elation, in which the Frenchman limped over to join his teammate's huddle, Guardiola laughed: "Mendy is crazy!
"He has a six-month injury and is running!"
The City boss praised his side's fighting spirit though, as the Blues overcame a Saints side which sought purely to frustrate.

"They had ten men in the box, which is difficult to face," he added. "We tried to attack all the time and we didn't concede any counter-attacks – just some set-pieces.
"They didn't want to play. They defended all the time. They came and were time wasting.
"In the first half, they deserved one goal. When teams only defend, it's complicated.
"We have to improve our (defending of) set-pieces. Other teams are taller, stronger and higher than us. We have to spend more time on that.
"We have had a lot of games in our legs and big wars but we have been winning in a row.
"We have kept that momentum. The players are so happy.
"We were close to a draw but when that happens, I will not be able to be angry with the players. They do absolutely what they have to do.
"They deserved to win because we were the team that tried to win.
"It's important (to maintain the eight-point gap). This kind of game, we are going to play a lot. There is no space to attack.
"The only space is when they open up a little bit and try to go on the counter-attack.
"We kept on trying and that's why I am so pleased for the victory. We tried to win and we did it."