Men's Team
1
Van Bronckhorst: City are one of Europe's best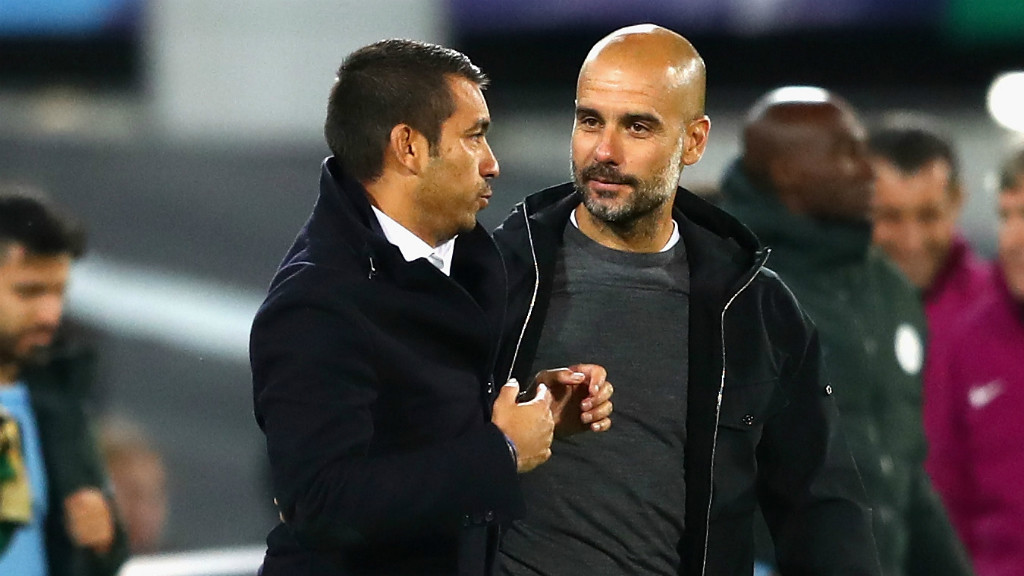 TOP COACHES: Giovanni Van Bronckhorst and Pep Guardiola share a lot of mutual respect
Feyenoord manager Giovanni Van Bronckhorst hailed City as one of the best teams in the Champions League.
Speaking ahead of Tuesday night's clash at the Etihad Stadium, the Dutchman dubbed the Blues' performance in the away leg 'outstanding' and asserted few people in the world would argue they are ranked amongst Europe's elite at the moment.
Asked if he agreed with Napoli manager Maurizio Sarri's recent praise for Pep Guardiola's side, he replied: "I think so.
"Not a lot of people would argue that. In the first game we played against them at home, they gave a very outstanding performance.
"They have only drawn once – in the league at home. Other teams couldn't cope with the quality they have and the football they are showing.
"I don't think you will find a person in this room, in Europe or perhaps the world that will say City are not one of the best teams at the moment."
Reflecting on City's 4-0 triumph at De Kuip, he continued: "When you see the home game, the difference is that in the first half, we had to get used to the tempo of the Champions League and everything that's needed in order to win games.
"We didn't hit the ground running – maybe due to tension or nerves with our current status quo and the fact we are not performing so well.

"We didn't give away that many chances and City weren't playing to their usual standard but you always see their quality. They are able to adapt themselves and create chances for themselves. You have seen it in all of the games they have played since.
"After the City game, we didn't win any game in the group. We have one of the toughest groups in the tournament with three fantastic sides – City being the best."
Feyenoord brought a 19-strong squad to Manchester. Renato Tapia, who was rested for the home match against VVV-Venlo, was recalled, while Karim El Ahmadi (suspended) and the injured duo of Eric Botteghin and Jan-Arie van der Heijden did not make the journey.
With the Dutch side unable to progress in the Champions League, Van Bronckhorst was quizzed on how he will approach the game – from a tactics and squad perspective. He revealed striker Nicolai Jørgensen is a doubt and insisted he will not risk his squad ahead of the weekend.
"Nicolai Jørgensen felt today not quite fit," he added. "Bart Nieuwkoop and Sam Larsson are strong, also T (Tapia) is fresh.

"Our aim is to get a result, as with any game. We have to be honest – not all teams are equal and we know who we're playing against: one of the best teams at the moment in Europe.
"They won't be using all of their top team but it's still going to be a good team and we have to be on our toes to get a result.
"It's a tall order. Everybody would agree but at the end of the day, we're here to show what we're made of and go for gold. It's possible but not easy.
"We have an important match this weekend against Groningen. We don't want to run any risks tomorrow with players that have any small complaints.
"It's not an approach I would normally take but at this stage of the competition and where we're at, it's something I'm bearing in mind."