Men's Team
1
Aguero lauded by world media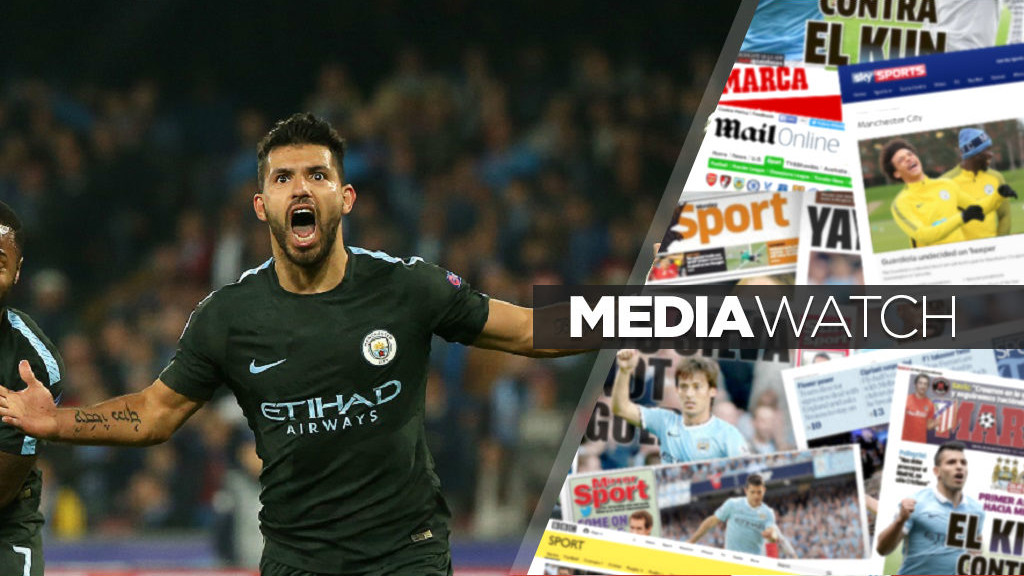 178 NOT OUT: Press react to Sergio's record goal
The plaudits keep coming for Sergio Aguero who today is, of course, the subject of a media round-up special.
There are tributes, analysis and opinion aplenty on our greatest-ever goal-scorer – as well as praise for a stunning win in Naples - so let's kick-off with The Telegraph where James Ducker writes: "It was some way, some moment, some game and some occasion in which to chalk up goal number 178, and with it claim Manchester City's all-time scoring record, but then Sergio Aguero always did have an acute sense of timing.
"A fine game of football was ultimately decided by a fine finish from a player small in stature but huge in personality and influence. Aguero's personal reward was a place in City's history books. City's reward on the night was a place in the Champions League knockout rounds with two group games to spare and more plaudits coming the way of this swashbuckling side.
"To put this result into context, Napoli had only conceded three times at the Stadio San Paolo this season going into this game. That City breached their opponents' net four times said as much about their quality as their perseverance, and while Aguero will steal the headlines, this was very much a bravado team performance."
BBC Match of the Day pundit and record Premier League goal-scorer Alan Shearer is well-placed to give his opinion of Sergio – so here it is!

In his column on bbc.co.uk he writes: 'The 29-year-old Argentina international is already a City legend, but landmarks like this one cement his place in their history, and he deserves it. There is no doubt Aguero is also one of the best strikers of the entire Premier League era.

'His scoring statistics in that competition alone - 129 goals in 188 appearances - tell you how good he is, and why I rate him so highly.

'I find it strange that, so far, he has never made a Professional Footballers' Association team of the year during his time in England, but there is not much he can do about that and I am not sure he will be too bothered.

'He has two league titles and a shed-load of goals to show everyone how good he is, as well as City's record, so he has had an amazingly successful time no matter which way you look at it - and it could get even better still.'

Reuters go with a mix of stats and quotes as they add: "Vincent Kompany, City's captain, led the tributes to Aguero by calling him a "true legend" while their former England international Francis Lee tweeted that he was a "superstar".

"Aguero's feat has been compiled relentlessly over the six years he has been at City ever since he struck twice in a memorable Premier League debut in August 2011 against Swansea City.

"It took him nine minutes to score his first goal and there have been many memorable and significant ones since, not least the 94th minute winner in the last match of the 2012 season against Queens Park Rangers that brought City the Premier League title."
Newsday continue the theme: "Aguero finished off a swift counterattack in the 69th minute to move onto 178 goals for City -- one clear of Eric Brook, who scored 177 goals in 453 appearances from 1928-1940.

"Aguero has scored his tally of goals in 264 games for City since joining from Atletico Madrid in 2011.

'When one guy has achieved what he has achieved just (say) big congratulations,' Guardiola said. 'He's a legend.'
'The goal showed that Aguero is back in form after breaking a rib in a car crash in September during a day off in the Netherlands.

'"This moment has been a long time coming,' Aguero said.
Elsewhere, a couple of former City favourites have had their say, starting with Gareth Barry's recollections of Kun in the Daily Mail.

It reads: "And West Brom midfielder Barry, who became the Premier League's record appearance-maker after playing in his 633rd game in September's defeat at Arsenal, reckons his former team-mate will be considered one of football's great forwards when he hangs up his boots.
"He said: 'In terms of strikers, Aguero is one of the best. When he finishes, his stats are going to be right up there with the best of them.
'That moment, you're waiting for him to produce a bit of magic, he's capable of it. (Carlos) Tevez was fantastic to play with, they complemented each other really well that season (2011-12). I've been lucky to play with them.
'He was great to play with, the link between David Silva, Aguero, Tevez and Yaya Toure... it was a great mix and I enjoyed playing at City.'
And Craig Bellamy, talking on Sky Sports believes the Blues should have had more credit for the impressive win in Naples.
His quotes, picked up by the Daily Star who report: "But Bellamy suggested that, of the two sides, City should get more credit.
'It sounds crazy because it's Real Madrid and they haven't lost a group game in five years, but I felt if Man City could go to Naples and win that was a big win,' he said on The Debate on Sky Sports.
'For me, that was Manchester City's biggest challenge of the season. Of course, they've had Chelsea, but look at the form Napoli are in at this present moment.
'Real Madrid are not in great form, but the way Napoli have been playing at this moment, for Man City to go there and win is incredible.
'Napoli are one of the form teams in Europe, a possession-based team. I've been really impressed with Napoli. Playing-wise in European football they have really impressed me this year, so that is a really good win.
'That's a really good statement for Pep Guardiola's team.'
Finally, more good news but moving away from Sergio's thread as Kevin De Bruyne's interview with Sky Sports' Jamie Redknapp has seen the Belgian claim he sees himself staying with the Blues for a long time.
'I like it here, it is the perfect environment and since I came here there has been a lot of trust in me. I like the project they are doing from the moment I came here.
'There was an older team (when I first arrived), they did a lot of transfers, a lot of young people, they are building for the future.
'I like the project and I am really happy here and I see myself being a long time here.'
Phew! That's you lot for today – more tomorrow…