Men's Team
1
Silva targets trophies with 'improved' City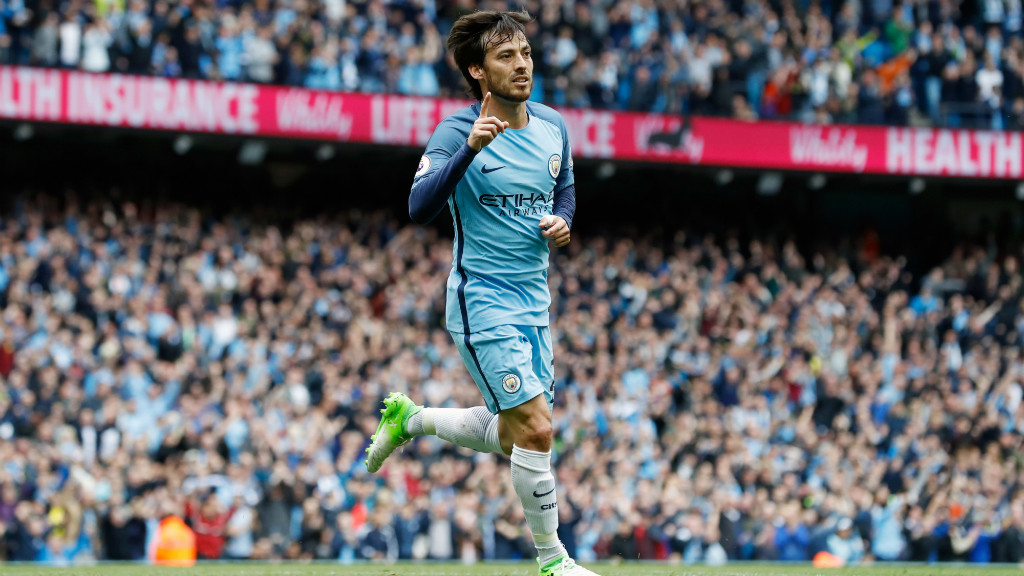 SUPER SILVA: Our number 21 pictured moments after giving the Blues the lead.
David Silva believes he has seen a significant improvement in Manchester City's performances in recent months and has called on his teammates to take their good form into next season.
The Spain midfielder has been one of Pep Guardiola's most consistent performers this season and was once again voted man of the match by the City Matchday app users after the 2-1 win over Leicester on Saturday.
That victory saw City take a step closer to securing a place in next season's Champions League and Silva says the signs are good as the Blues head into the summer.
"The final weeks of the season have been tough, but we could win against Leicester and I'm very happy for these three important points," he said.
"We played well but we couldn't score enough goals and we had to fight until the very last minute.
"This is the story of this season; we had improved during the last months and I hope we will improve more next season.
"I'm very grateful [for the man-of-the-match recognition].
"It comes from people that see my work every day.
"Now what I want are more trophies for the club. We are a team."
Saturday also marked the five-year anniversary of City's 2012 Premier League win that saw Sergio Aguero's last-gasp goal snatch the title from rivals Manchester United.
It's widely considered to be the most iconic moment since the English top flight was rebranded in 1992 and Silva, who was a key player as City won their first title in 44 years, says it was an "unforgettable" occasion.
"It was unbelievable, very beautiful, unforgettable and a big mark in the Club's history after a long period of waiting," Silva said.
"When you win, everything changes.
"Everybody started to look at things in a different way.
"City had a big and ambitious project and this is why I decided to come.
"Then trophies arrived. First, it was the FA Cup and then this Premier League that helped us to achieve all we had achieved later."