Men's Team
1
Pep praise for 'brave' referee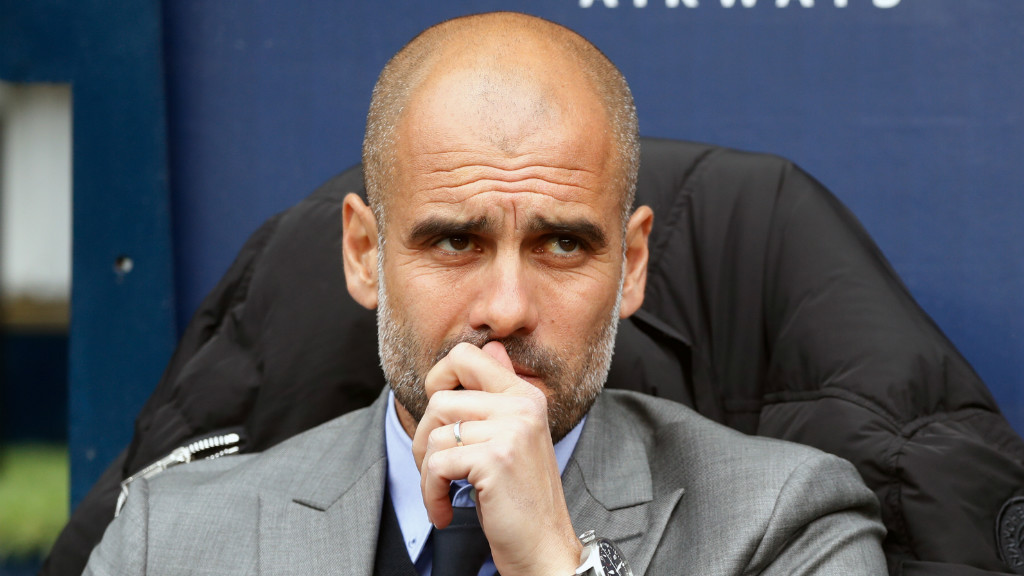 PEP PONDERS: The boss looks on during in the early stages of the game.
Pep Guardiola described referee Robert Madley as 'brave' after disallowing Leicester's second-half penalty.
Riyad Mahrez slipped as he took the penalty that could have make it 2-2 on 77 minutes, but despite scoring, the eagle-eyed official spotted he had hit the ball a fraction before his kicking foot struck the ball home and Madley awarded City a free-kick instead.
"In golf, it is the same," said Pep. "When I saw the reaction from Willy, I understood immediately that it was two touches.
"The referee was so brave in making the decision. I've seen that happen before, a long time ago! It's not normal to see something like that, but it is what it is.
"Mahrez is so difficult to control in that situation. He can use both feet. He did that against all full backs in the Premier League throughout last season, he's an exceptional player.
"Leicester are a good side, it's clear to see why they won the league last year. Kasper Schmeichel is excellent at the back and has a fantastic pass that is hard to defend again so as I say, they are a top, top team."
The Blues' boss admitted his team were stuck in two minds after the break, unsure whether to go for a third goal or defend the lead they already had, resulting in a more disjointed display after half-time.
"In the second half, we didn't know whether to attack or defend the result," he said. "You don't want to concede another goal and then you're in the middle, whether to attack or defend is hard to decide – I understand the dilemma and Leicester played well and gave a good performance in the second half.
"We brought on Aguero to look for another goal. Both him and Gabriel Jesus have great qualities. They can play together.
"We cannot forget that Gabriel Jesus was out for three months injured. Gabriel is still young and has a lot of things to improve, but he's open minded and he will improve.
"Overall, our last pass was not quite right and we nearly missed the chance to win the game, but with almost ten minutes of extra time to play, we defended well.
"Congratulations to the team. On Tuesday, we've got West Brom and they have different types of strikers compared to Vardy and Okazaki."
Guardiola also had special praise for Pablo Zabaleta, who was given a rapturous reception when he came on as a sub late in the game.
"It's important to have players like Pablo in the team," said Pep.
"It takes time to have players like that in your side and it's the same with Yaya and Sergio. I wish we could have more English players or Academy players like these guys and I'm sure we will do in the future."