Men's Team
1
Man City to tour United States in Summer 2017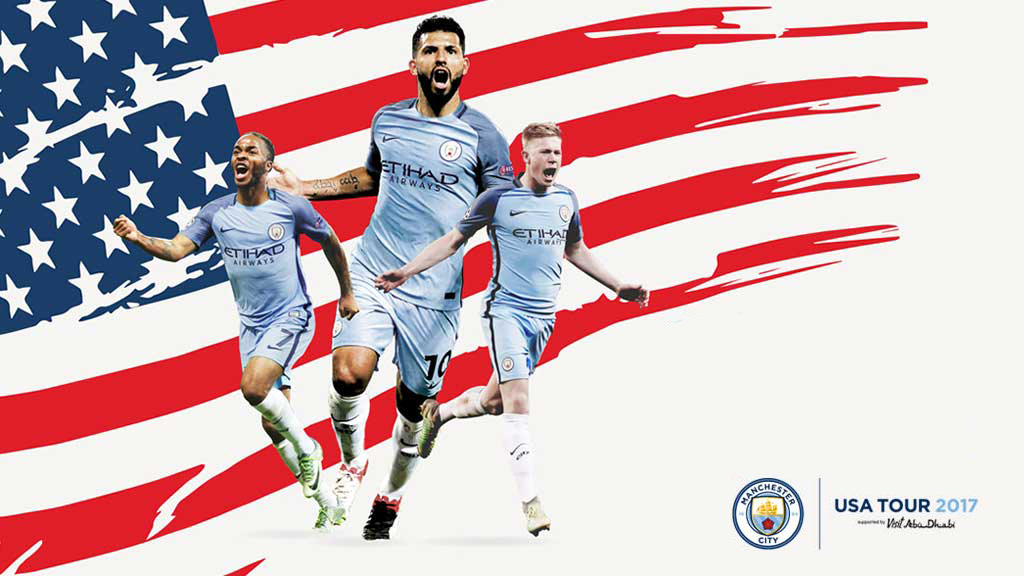 USA Tour
Manchester City will travel to the United States this summer as part of the 2017 International Champions Cup, presented by Heineken.
City will take on Manchester United in one of three fixtures scheduled - and that game will be the first time in history the sides have met overseas.
The venue is yet to be confirmed but the match will take place on Thursday, 20 July with City also set to face Tottenham and Real Madrid in this, the fifth International Champions Cup.
City will take on Tottenham at Nashville's Nissan Stadium and Real Madrid in Los Angeles as Pep Guardiola fine-tunes his squad ahead of the 2017/18 campaign.
Guardiola said: "Manchester City has a unique bond with the United States and our players and staff are looking forward to visiting this summer and playing in front of our fans.
"The International Champions Cup is a fantastic tournament, and we are delighted to be invited to compete in it once again. We have some great games lined up in some amazing stadiums.
"The Real Madrid game will be an incredible occasion in Los Angeles, and we know all about the strength of our English opponents Tottenham, for the game in Nashville. And it will be amazing for the fans to see the passion of a Manchester derby in the States.
"We're all very excited to begin our preparations for the new season in the USA."
City stars Ilkay Gundogan and Gabriel Jesus were in New York City for the launch event as they continue their rehabilitation from injury, also taking in Saturday's NYCFC game against Montreal.
Aside from the first Manchester derby to be held in the United States, Real Madrid will also play Barcelona in the first El Clásico outside of Spain since 1982.
Supporters can sign up at www.internationalchampionscup.com for access to the pre-sale tickets.
"This year's International Champions Cup will feature two of the most iconic derbies in sports: El Clásico and the Manchester derby," said Charlie Stillitano, chairman of Relevent Sports.
"The line-up of teams participating in this year's tournament is world-class from top to bottom, highlighted by current champions of three top domestic leagues as well as the reigning Champions League titleholder.
"Hosting this calibre of soccer competition in the U.S. is only feasible through the ICC, where these teams can compete in a highly competitive tournament in preparation for their upcoming domestic campaign."
Man City US Tour fixtures:
Thursday, July 20: Manchester United v Manchester City F.C. – NRG Stadium, Houston, Texas
Wednesday, July 26: Real Madrid v Manchester City – Los Angeles Memorial Coliseum; Los Angeles, California
Saturday, July 29: Manchester City v Tottenham Hotspur – Nissan Stadium; Nashville, Tennessee
More details can be fund at www.mancity.com/tours/usatour Further information will be released in due course.