First Team News
1
Yaya Toure: 2011 FA Cup changed everything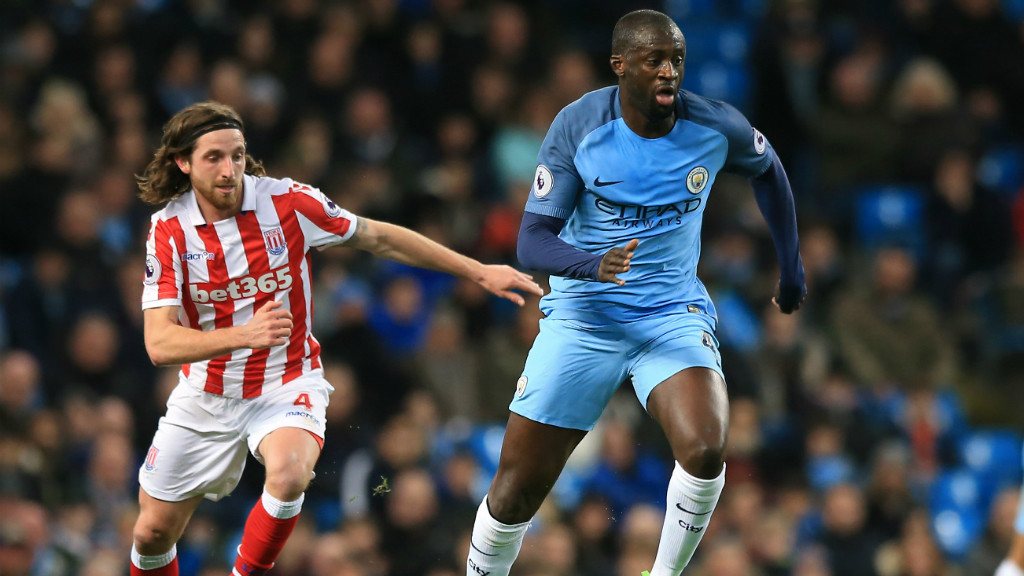 MIDFIELD GENERAL: Yaya leaves Joe Allen in his wake.
Yaya Toure believes Manchester City's FA Cup win in 2011 was a pivotal moment in the Club's recent history.
And the Ivorian says he is desperate to reclaim the trophy this season.
City travel to Middlesbrough on Saturday in the last eight of the competition knowing a win would see them book a semi-final date at Wembley next month.
And Toure, who scored the winning goal in both the semi-final and the final in 2011, says their triumph six years ago was the catalyst for the Club's subsequent success.
"The goal against Stoke [in the 2011 FA Cup final] was important," he said. "The first year I came to City, the manager told me it was very important to come because they were going to attract some big players and people were going to look at City differently.
"People looked at City as a big club – but a money club, just trying to buy players. But I was very delighted to come because my target was to try and be part of the story of this club.
"It's always important when you come to a new team and score important goals.
"When you talk to the newspapers before you come to do it, they don't believe you – but when you make it, it's something special.
"It's the way I always wanted things to happen. When I was coming here, it was quite difficult because City was in the shadow of United and my target was to change that.
"Me coming, and Silva, Aguero, Mario Balotelli – all those players – we try to make something big happen here.
"From winning the FA Cup, everything started and after that the players start to believe. The staff, the management, everybody start to believe it.
"It was quite brilliant."
Toure's winner in the 2011 semi-final against Manchester United, which saw him finish brilliantly through the legs of Edwin van der Sar, was for many City fans the moment they began to believe that the new era of success they had been hoping for wasn't a false dawn.
It was a hugely significant moment – and Toure followed it up by scoring the only goal of the game in the final against Stoke four weeks later, ending City's 35-year wait for a major trophy.
Toure says it's a competition he holds dear and he wants to see City bring the trophy back to the Etihad trophy room again in May.
"It was unbelievable," he says of his winning goals in 2011. "From that, everything started and I'm very delighted with that.
"I hope on Saturday we make it as good as anything we've done before because it's a beautiful competition. The way we play and the team we have, I think we need to get a trophy this year.
"It's not about talking something else, it's about talking how we deserve to have a trophy this year.
"I don't always want to be headlining in the big game, as long as the team wins – that's the most important thing.
"We need to get a trophy this year, otherwise all these beautiful games are going to be a massive miss.
"We have to win something.
"The FA Cup is very, very important to us - all the trophies are important to us.
"Against Stoke [on Wednesday], we missed the chance to go within eight points of Chelsea but we will never give up. It's in the name of the club and we'll continue to work hard.
"We have to concentrate on Saturday now and try to be at 100 per cent.
"Middlesbrough will be prepared to fight and we have to be prepared otherwise we could be out."