First Team News
1
De Bruyne embracing trophy expections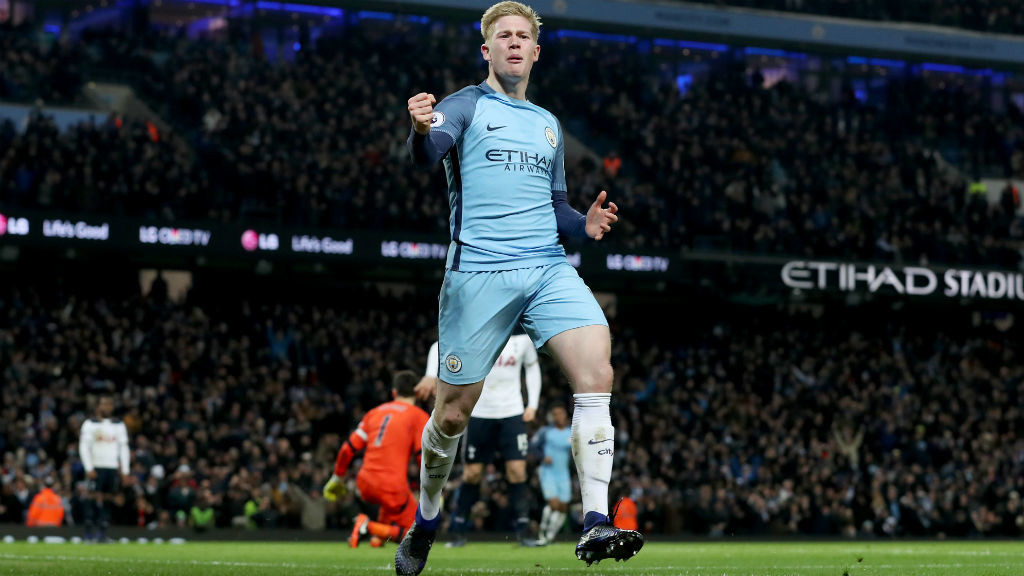 BACK IN THE GOALS: Kevin De Bruyne
Kevin De Bruyne has praised Manchester City's ability to excite their supporters and says there is a clear desire among the squad to win silverware this season.
City have been in fine form in 2017, winning 10 and losing only one of their 14 matches in all competitions, including a dramatic 5-3 victory in their Champions League last-16 tie with Monaco – the highest-scoring first-leg match in the competition's history.
De Bruyne says Pep Guardiola encourages the team to play an open, attacking style of football that should excite City fans across the world.
"Anyone that comes to this club wants to win things," he said. "Everyone expects us to be fantastic and win trophies and that's what we expect to do.
"We try to keep possession; we are very attack-minded. I don't think any fans watching our games can be bored.
"I always want to win no matter what. That's very important, even if you're behind. I think you can always see the fire in my eyes when I am playing."
De Bruyne's career has seen him make a number of brave moves in order to keep improving his performance level.
When he was just 20, he left Belgian side Genk to join Chelsea and when first-team chances at Stamford Bridge were limited, he moved to the Bundesliga to ply his trade in the German top flight.
He initially signed for Werder Bremen on loan before making a permanent switch to Wolfsburg and was named German Footballer of the Year in 2016 after scoring 16 goals and assisting 27.
A move to City followed that summer and in his first season at the Etihad Stadium he scored 16 goals in all competitions and was key in helping the Club reach its first Champions League semi-final.
The 25-year-old believes his move to Germany was a vital step towards becoming the player we see today.
"I learned to play at another level," he said. "The Bundesliga is better than the Belgian league and I think playing in a more competitive environment accelerated my development.
"That's what I always try to do – to keep progressing one way or another – and so far it's always worked out."
This season, under the guidance of Guardiola, De Bruyne has found himself operating in a new midfield position that sees him asked to dictate the team's passing from deep.
It's a role he says he is relishing, with his desire to help the team outweighing his natural tendency to attack.
"I am someone with a positive attitude," he said. "I am an attack-minded player. But the most important thing is I do what's necessary for the team.
"Individually you will benefit if things go well for the team. I came here to win things, that's what we're here for.
"I came here to do the best I can, win as much as possible and hopefully at the end of my career I can say I have won this competition at least once."