Men's Team
1
Etihad Unbeaten: Best Goal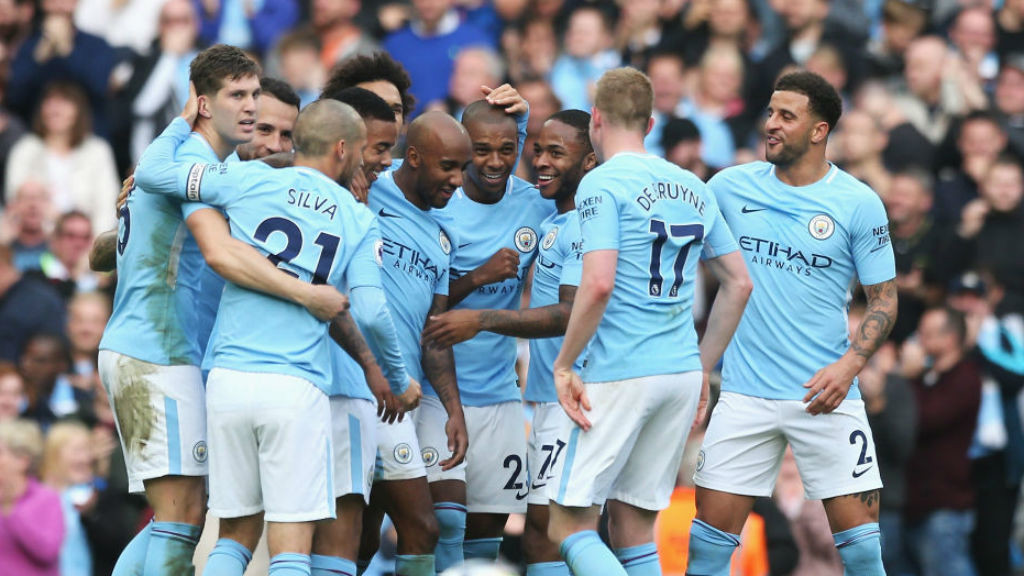 BRAZILIAN BLEND: The City players celebrate after Fernandinho's stunner
Manchester City's 4-0 victory over Bournemouth means Pep Guardiola's side have gone the whole of 2017 unbeaten at the Etihad Stadium.
To mark the occasion, our Club journalists have taken a look back at the best goal...
John Edwards: Fabian Delph v Crystal Palace
Fabian Delph has deservedly taken the plaudits for his performances at left back this season, but this strike was a timely reminder of the midfielder's attacking prowess.
We're well aware of the power in his left boot and evidently his less favoured right is just as adept as he shifted the ball inside and curled it into the top right corner to give the 'keeper no chance.
It was aided by the underside of the crossbar, but you can't take anything away from the Yorkshireman for this postage stamp goal.
A fantastic strike that will surely be in the running for City's Goal of the Season award.
Caroline Oatway: Sergio Aguero v Burnley
The first game of 2017 heralded the best goal for me. I've raved about it all year!
It shall not be remembered as the most important strike – or perhaps the most aesthetically pleasing one – but Sergio Aguero's match-winning effort against Burnley in January is the one that sticks in my mind.
The predatory instinct, the sheer desire to beat goalkeeper Tom Heaton to the ball and most impressively, the astounding first-time finish that crept inside the near post from a seemingly-impossible angle… it was a piece of individual brilliance.
The stunned expressions of the two Clarets defenders on the line spoke volumes. It was simply an astonishing goal.
Rob Pollard: Leroy Sane v Stoke City
This is a fine example of the effect Pep has had on this side; a sweeping team move that left the opposition floundering, finished expertly by Leroy Sane after one of the best passes you're likely to see.
We all know De Bruyne is one of the finest passers in world football, but even by his standards his ball for Sane was outrageous.
Paul Handler: Fernandinho v Stoke City
There have been so many great goals in 2017 it's tough to pick one – but at the moment looking back I'd go for Fernandinho's against Stoke. It was the purest of strikes, in off the underside of the bar, from a player who has been consistently excellent.