Men's Team
1
Guardiola: Aguero is one of the best I've seen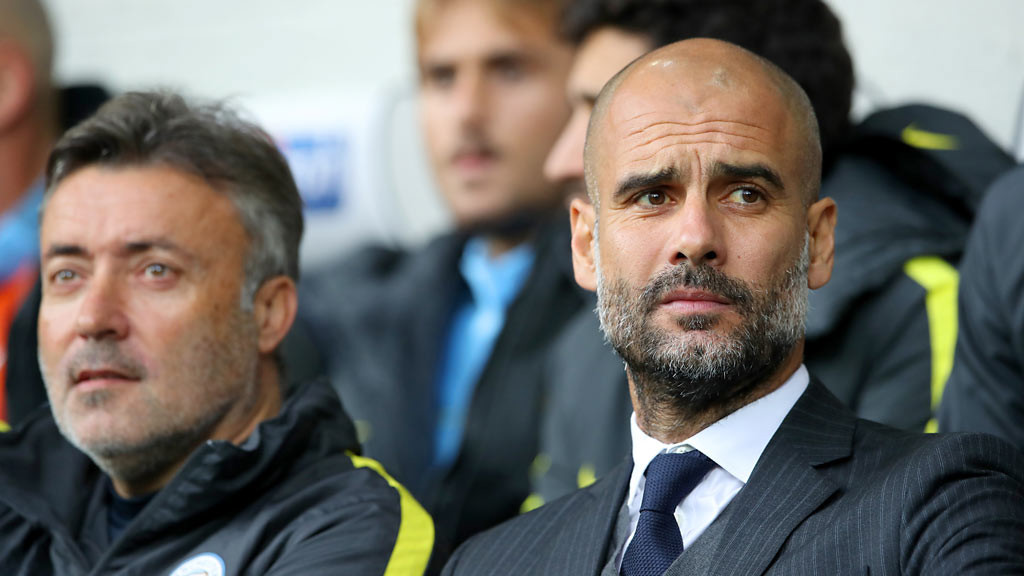 OBSERVING: Pep Guardiola watches on intently
The City manager has heaped praise on his star striker after his double helped the Blues to victory
Pep Guardiola says there is much more to come from striker Sergio Aguero after the Argentine's two goals helped City to a 4-0 win over West Brom – a result that sees them move back to the top of the Premier League table.
Aguero's first was a clinical close-range finish after great work from Ilkay Gundogan; his second was a quite brilliant effort from outside the area that few into the top corner and gave Ben Foster no chance.
He has now leapfrogged Francis Lee and moved into sixth on the club's all-time leading goalscorers list.
But Guardiola, ever the perfectionist, believes there's much more to come.
"We need Sergio," he said. "We know how important he is for us.
"He is part of the history of this club and will be forever but I would like to help him. He can still write the most brilliant pages in his career in this club. All of us we are there to help him and of course the first goal is really good and the second as well."
Aguero's double took his tally for the season to 13 in 13 games.
He looked sharp after going six games without a goal, with West Brom struggling to contain him – and afterwards Guardiola said he is one of the best strikers he's ever worked with.
"He's one of the best, yeah, absolutely. But I want to help him be much, much better.
"That is my target. Just to see how many goals he's scored here in the Premier League and how difficult it is, and that's why I'm so, so happy for him because he is one of the nicest people I have ever met.
"I love working with nice guys, nice people – and Sergio is one of them."
Despite the comfortable scoreline, Guardiola said the game offered him further evidence of just how tough the Premier League is.
The result ended a run of six without a win for City, something Guardiola believes will give his side confidence ahead of Tuesday's game at home to Barcelona.
"The Premier League, my friends, is tough!" he said. "You are winning 2-0 and West Brom start to play their best football. They start to put in crosses and win second balls. The first hour we had controlled these kinds of things, and after that we cannot because the opponents are really good.
"After three draws and three defeats, we tried to win again and we have a little bit more than in the last games, in terms of being a group and being a team. After that, the quality of the players made the difference. We are so happy because we are still there and for our confidence it will be good."