First Team News
1
Aguero: Guardiola game-plan key to victory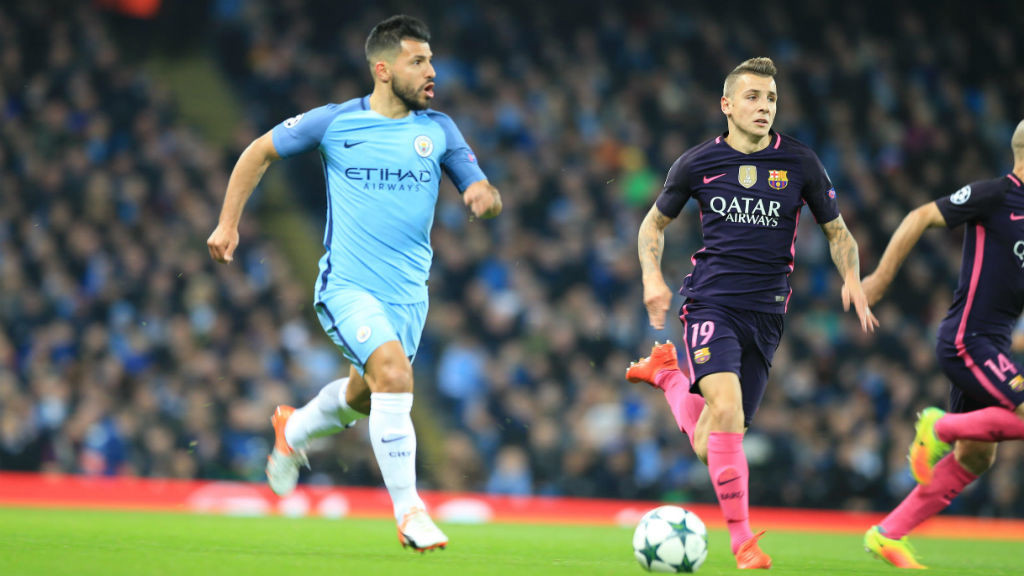 GET AWAY: Aguero powers away from Digne in search of a goal
Sergio Aguero said City's Pep Guardiola-inspired pressing game spurred the Blues onto the historic victory over Barcelona on Tuesday night.
The Blues regrouped after Lionel Messi's goal to force Barca onto the back foot and secure a crucial 3-1 Group C win.
Aguero said of the manager's half time team talk: "He said keep playing the same way, that we were fine, he spoke a bit about pressing and how to do it. We were saying we had to finish our attacks and score a goal, that was the most important thing, and that's how it turned out, right?"
He added: "I don't know if they were playing bad but we were good, and that's the main point. We pressed the ball when Neymar and Leo, the most dangerous players, and then we tried to press in the centre so they don't do what they usually do with a slight touch and Leo sending the ball to the far post. In the second half he did send the ball a couple of times to Suarez and Neymar, but well, we tried to stop him from doing that."
Barcelona appealed for handball against Aguero in the moments before Ilkay Gundogan's second goal, but the Argentinian striker denied the claims.
Aguero declared: "I thought that Ter Stegen would touch it, because of that it went past me a bit but I had my hand by my side and there was no intention to use my hand.
"It's normal that they complain (about the goal), but luckily we were 2-1 up already and that goal calmed us.
"They're a difficult team, obviously. If you give them the time and the space to think, they will beat you. We tried to press them when the ball was in midfield, and try to hit them on the counter to see if we could score, and it happened like that, but you always have to respect Barca and any team would respect that.
"We had to pretend that it wasn't Barca and try to play how we know, and win, which was the most important thing."