Men's Team
1
The Final 12: We fight to the end...
"No way we are giving up…"
That was Vincent Kompany's message after City were edged out by Spurs at the Etihad Stadium on Sunday evening.
These were no idle post-match sentiments from a defender who has been in tighter spots than this before and has still ended the season raising aloft the Barclays Premier League trophy.
Titles are never sealed in February with nearly a third of the season still to play as City have learned in their previous two title-winning campaigns of the Premier League era.
With that in mind, let's take a look back at some of our previous title run-ins and see whether we have cause to be optimistic despite the defeat to Spurs…
2011/12: They think it's all over…
In 2011/12, what was described as "the point of no return" by many pundits, arrived on 8 April at the Emirates Stadium when ten-man City lost 1-0 to Arsenal, leaving them eight points behind United.
History, and the 50 foot pictures on the side of the Etihad Stadium, tell us it was far from over.
A 4-0 win over West Brom followed our defeat to the Gunners, on the same night as United lost Wigan at the DW Stadium and all of a sudden, there was the smallest chasm of light.
City beat Norwich 6-1 at Carrow Road to further improve their goal difference and stay in the hunt on the next Saturday but it was the weekend after that really blew the race wide open.
In Sunday 22 April's early, Everton were trailing United 4-2 at Old Trafford with eight minutes remaining when Nikica Jelavic and Steven Pienaar struck to complete a remarkable turnaround.
That gave the Blues the chance to have control of their own fate again and they certainly grasped onto Everton's favour with both hands, defeating Wolves 2-0.
A night that recently ranked no.1 in our list of "Nights That Shook the Etihad" followed as a towering, now-iconic Kompany header defeated United and put City back on top of the table with two to play.
Yaya Toure inspired City to victory over Newcastle at St James' Park before *that* incredible finale when Sergio Aguero won the title with one definitive lash of his boot.
City had been dead and buried at the start of April, down by a points margin wider than the one that exists between them and Leicester at the table summit now, and had reigned in Sir Alex Ferguson's Red Devils.
2013/14: We go again…
Perhaps the final seconds of our last title win in 2014 were less dramatic but our run-in was just as thrilling as City clawed back a seven-point deficit to overthrow Liverpool and secure the title on the final day.
That gap became seven points when City were beaten 3-2 at Anfield on what mcfc.co.uk described as a "thrilling, chaotic but ultimately fruitless" afternoon.
It, arguably, got even worse for Manuel Pellegrini's men in the midweek game that followed as Samir Nasri had to rescue a point for City with a late goal against relegation-battling Sunderland at the Etihad Stadium.
As in 2011/12, however, there was to be another twist in the title race as City capitalised on Liverpool's defeat to Chelsea and 3-3 draw at Selhurst Park to seize the initiative, winning their last five against West Brom, Palace, Everton, Aston Villa and West Ham.
That was enough to claim a second title in three years and to complete a league and Capital One Cup double in Manuel Pellegrini's first season in charge.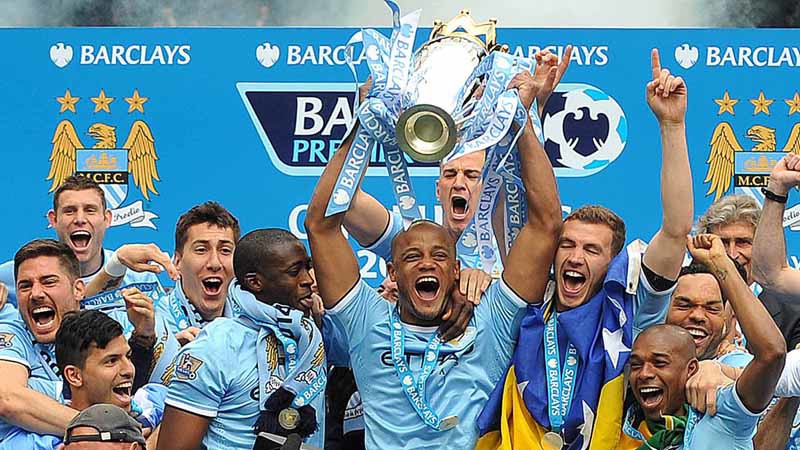 2015/16: All is not lost?
Although it wasn't enough to win the title last season, City did still go on an incredible run at the back end of 2014/15, also winning their last six, which could bode well for this campaign.
Of City's 12 remaining Premier League games, only three are against fellow members of the top six, Southampton and Manchester United, as well as Arsenal in our final home game.
Four of the games are against teams in the bottom six, although there is still a tricky away clash to come against a much-improved-of-late, Chelsea.
City round off their 2015/16 campaign away at Swansea on Sunday 15 May and time will tell if the Liberty Stadium will be host to another special afternoon in the club's recent history.
Regardless of Sunday afternoon's result there are 36 points left to play for and all you need to do is to read Vincent Kompany's post-match interview to know for sure…
"We are Man City, we fight to the end."