Men's Team
1
Guardiola: Bravo won't play on Sunday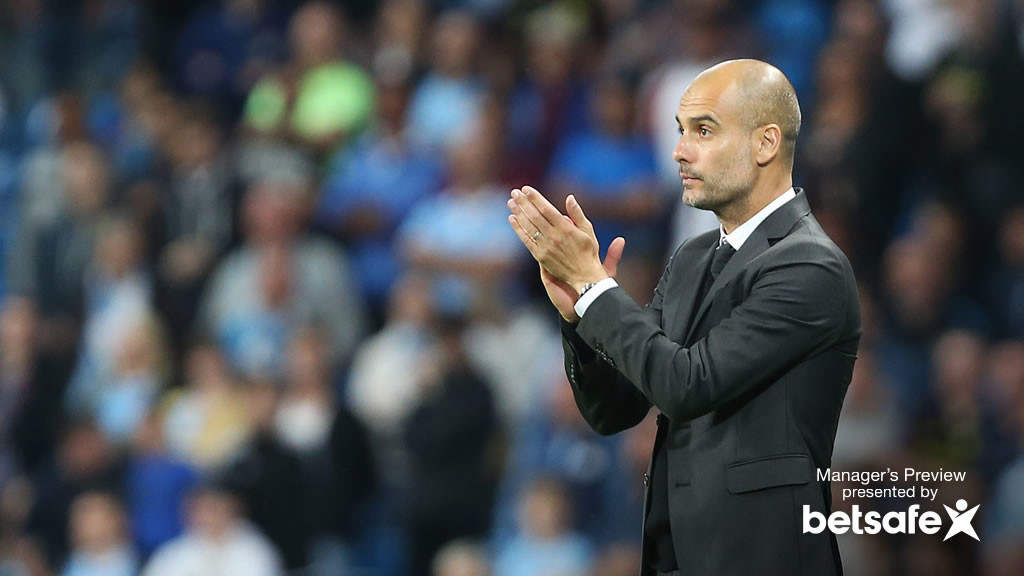 MANAGER'S PREVIEW: Pep on Hammers test
There were 30 first-team players training at City Football Academy on Friday afternoon as the squad prepares itself for West Ham United on Sunday.
Pep Guardiola confirmed that there were no fresh injury concerns ahead of this home clash with Slaven Bilic's side and confirmed that new goalkeeper Claudio Bravo will play no part.
He also revealed that Kelechi Iheanacho has no issue after his scare against Steaua on Wednesday night.
On Bravo, Pep told journalists at his pre-match press conference: "He's fit but he's not going to play this weekend. He's a goalkeeper with a lot of experience in Spain and in the national team.
"He played in important games to create something special for Chile. He's good in the build-up plays and quick off his line. He's a good player for us."
On having a fully fit squad, Guardiola said: "No injuries from midweek. Kelechi was almost nothing so it was a scare but he's fine. Everybody's fit and ready - we trained with 30 players today."
In addition, the City boss confirmed that there will be no more new faces through the door in this summer transfer window and spoke of his excitement at the UEFA Champions Group Stage draw.
The Blues were paired with Borussia Monchengladbach, Celtic and Pep's former side FC Barcelona in Thursday's draw in Monaco.
He declared: "We'll have to make our best performance to go through to the next stage. I know Barcelona quite well and Borussia Monchengladbach. I have a lot of respect for Celtic. They have a lot of experience in Europe.
"I cannot deny it's something special for me to return to Barcelona - I grew up there, to play there at 13 to become a footballer. Most of my life I spent there, I know the people, the club, the media, most of the players - the emotion is there but it happened with Bayern last season.
"If I continue to train at a high level and if we are lucky to be in the Champions League again, it will happen again in the future
"The first time it's 'wow' the second time it's the second time, then it's normal."
While there will be no further incomings, Guardiola hinted that players will leave the club before the end of the transfer window.
The Catalan said that the club will work for the best solution on Joe Hart, both for him and the club.
Pep said: "Txiki said we spoke with Joe and spoke about that, we want the best for him. The club will help him find the best option. I will treat him like anyone if he stays, I will be fair. Until now he's our player and that's all.
"If Joe stays here with the other goalkeepers, he'll be treated like the other players. For Willy, Angus and Joe, if they stay we will find the best solution for them and for us. They all need to play, the situation is not easy but we'll find the best solution."
Finally, Guardiola spoke on Aleks Kolarov and expressed his delight that the Serb has provided a new option at centre back.
He added: "I know he's a left-back but how he played against Sunderland and against Steaua at home, as a central defender it's difficult to find a better one than him.
"He's strong in the air, his passes through the lines in the build-up, his long passes to the right wingers… he has everything to play in that position.
"After three, four days together I asked Mikel and Rodolfo, I asked if they think if he can play there - it's hard to find a centre back who can play with his left foot.
"We agreed and we're convinced he has the ability to do that. He can do everything and he's a great professional - we're happy to have another option to play in that position."