First Team News
1
De Bruyne looking forward to Hammers test
Kevin Thanks
Kevin De Bruyne has enjoyed his first few days as a City player and is looking forward to facing West Ham United this weekend for his home Premier League debut.
The Belgian midfielder has made two substitute appearances so far, coming on midway through the first-half against Crystal Palace and towards the end of the home loss to Juventus.
After what has been a hectic summer for the 24-year-old, he is looking forward to no just focusing on City and settling into his new life with the Blues.
"It was a little disappointing that we lost on Tuesday, but I enjoyed the experience," said De Bruyne.
"The Etihad Stadium is very nice and I was given a very warm welcome by our supporters. It's probably twice the size of Wolfsburg's Volkswagen Arena and the atmosphere was also very good, but I think it will be even better in certain games this season.
"It's not necessarily a bad thing to come on and play the games I have – I've still only been here for just over a week, which is not a lot - so it's probably a good thing to pace yourself and get to know your team-mates better and for them to know how I play."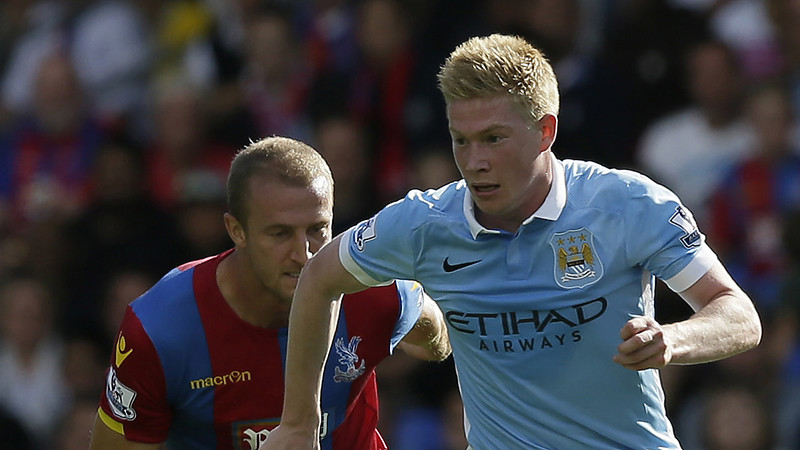 With in-form West Ham United next up for the Premier League leaders, De Bruyne admits he's been impressed with what he's seen so from the Hammers and is expecting a tough afternoon.
He is also aware of the danger Dimitri Payet poses, with the Hammers' midfielder making an explosive start to live at Upton Park.
"I saw bits of their game against Newcastle on Monday because we were in the team hotel and from what I saw, they played pretty well on the night," he said.
"I know of Payet because one of my Belgium team-mates, Michy Batshuayi, played alongside him at Marseille for one season and he told me a lot about him. I know Payet had a lot of assists last year and that he's a really good player so he will be a threat, especially in his current form."
After appearing at the stadium City Store where De Bruyne signed autographs and posed for pictures with City fans, the former Wolfsburg star admitted he enjoys the quiet life but has enjoyed the past few weeks.
He said: "I'm taking everything in slowly but everything is fine. I'm not the most open guy – I'm just trying to do my stuff, prepare properly and even though it's been a busy few weeks I'm very happy and things are going well at the moment."