Men's Team
1
Pellegrini: Young players must seize this opportunity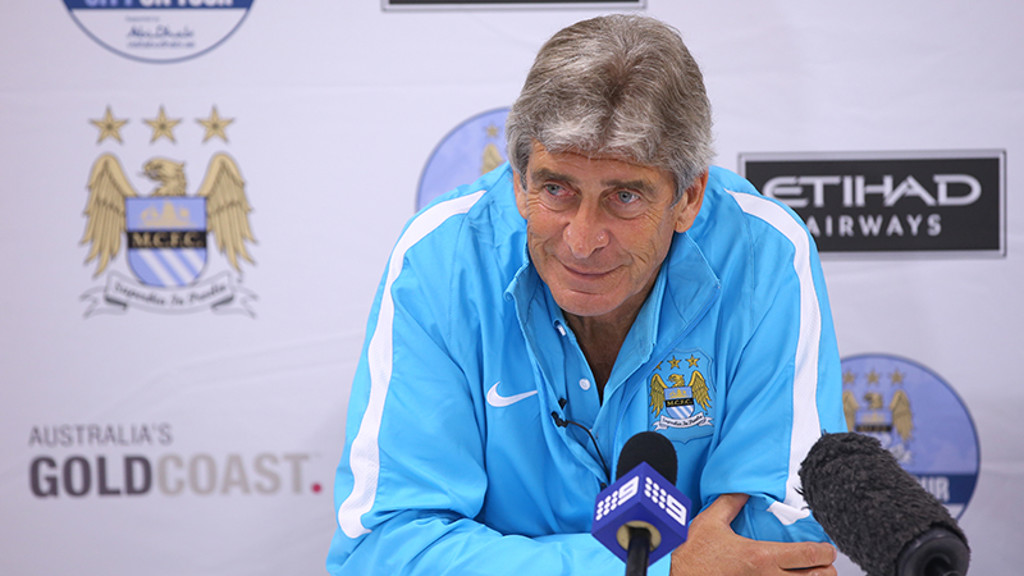 A lot has been made of the absentees from City's initial tour party which touched down on the Gold Coast on Friday night.
The Copa America which finished seven days ago, as well as June's batch of European qualifiers, means that there were nine recognised first-team players on the 21 hour flight from Manchester to Brisbane.
More will join up with the squad in the next week but City boss Manuel Pellegrini prefers to focus on those who have travelled Down Under, including 16 youngsters from Patrick Vieira's Elite Development Squad.
The Chilean revealed that he will field a blend of youth and experience in the upcoming games against Adelaide and Melbourne City here on the Gold Coast and has called upon the junior squad members to shine.
"We'll have a mix of the young players and the first-team – we've brought many important young players who have the chance to demonstrate why they are in this squad," Pellegrini told local journalists at Cbus Super Stadium.
"For that reason, I am sure supporters coming to see us play against Melbourne will see a very beautiful game.
"We expect it will be a useful game for both teams – we are just starting the season, so it's important we play as hard as we can and it will be a good experience to play.
It's Pellegrini's first time in Australia but the 61-year old told us that he has adapted seamlessly any disruptions to his circadian rhythms.
He is delighted with the incredible training facilities his team will use and is ready to make full use of them.
Manuel smiled: "I had no problem with the change of hour – I slept very well.
"We're very happy to be here – it's my first time, I've never been here before.
"It's a very beautiful place – it will be a very comfortable week – we have all of the facilities we need so I know we've chosen the right place."
---
City on Tour 2015, supported by visitabudhabi.ae.